There is no relation between square feet and style; hence, you can style your small living room elegantly. However, many people do not feel like decorating their small living room because it's small—no need to sacrifice the style, even if your living room is cramped. Focus on creativity and furnishings; arrange a high-design small living room.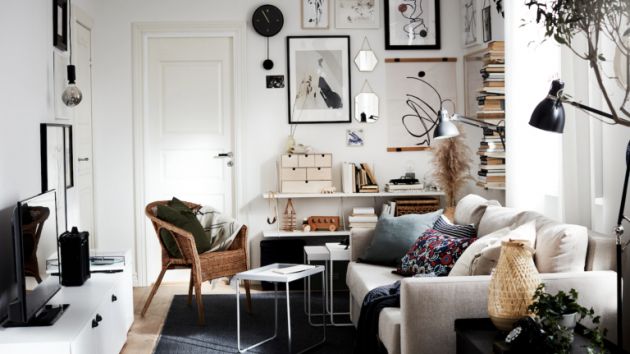 There is so much that you can do with your small living room. However, if your living room is cramped and cluttered, you will never spend time there. Trick your eye into thinking that space is more significant than it seems. Bookmark this guide, and transform your small living room into a stylish oasis.
1. Natural light
If your living room has a window or access to natural light, remove the blocker. Let the light come in to make the living room feel more airy and open. Even if you do not have a large window, do not use dark-colored curtains or shades.
2. Ottomans
Ottomans are our favorite. Instead of placing a traditional coffee table and chair, make better use of the space. You can also use ottomans as extra seating. Solid-colored ottomans look aesthetically pleasing. You can also get ottomans with opening lids; you can use them as a storage unit as well.
3. Swinging chairs
No need to add giant chairs; instead, get swing chairs. Most importantly, declutter the furniture. Swing chairs are fun and look chic as well. Moreover, swing chairs do not take a lot of floor space.
4. Color of the room
Turn the walls and ceilings to one-tone bright color. However, you can add a black-and-white or combination artwork on the main wall. But, keeping the wall color bright will add more space.
5. Low-seating
To create a visual effect of high ceilings, add a lower sofa or setter. Strategically play with proportion and scale.
6. Add a Rug
Choosing a large rug that, too, with bold patterns, will make the room look bigger. The size of the rug attracts and does not visually break the room. Adding a rug will give you an excellent piece to design the rest of the room around.
7. Smart-lighting
Choose lighting that can hang from above and save room space. Bring dimension to the walls. Moreover, you can also add a standing lamp at the corner of the room. The light of the lamp will visually create more space.
8. Reflection
Creating an illusion of space by adding mirrors. It is indeed the oldest trick in the books, and it also works. Get an oversized mirror to cover an entire wall; the mirror will create a proper illusion of space and reflect the light doubling up the interior space.
9. Add a console
Free up the floor space by adding a console. Moreover, you can create your own media center that takes up minimal space. You can also fix an MDF panel to the wall and mount your TV screen. You can utilize the area of the console by placing a scented candle or an urn.
10. Multi-functional furniture
Multi-functional furniture works like magic for small living rooms. Buy furniture pieces that work in a multi-dimensional way. For example, an ottoman with a storage unit, a coffee table doubles as a storage bin.
There are hundreds of small living room ideas. However, the key is to keep your living room fresh and uncluttered with storage. The essential part of decorating a small living room is to keep it tidy; everything should be in its place.
Try to add functional decorative pieces; floating shelves are perfect for small rooms as they can hold many things in one go. Try to be more creative with your small living room; instead of feeling low with a small space.