Ceiling fans are coming back in style, and it's not hard to see why. They're an energy-efficient and environmentally sustainable way to cool your home in the summer and even keep it warmer in the winter, if you reverse the direction of the fan blades. You can turn your A/C down by four or five degrees in the summer, and use ceiling fans in rooms where you spend the most time, instead. Plus today's fans come in a wide range of stylish designs, with features like smart home connectivity, wall controls, and remotes that make them easier than ever to control.
But if you're installing ceiling fans in your home, you need to make sure you choose the right fan or fans. You need a fan that's sized appropriately for your room and hangs at the right height for your ceilings. You should choose a fan with a high airflow rating to make sure it's powerful enough for your needs. And you'll need to shop around for fans that fit in with your decor.
Size Matters
Size may be the most important consideration when it comes to choosing a new ceiling fan. A fan that's too big will look out of proportion with the rest of the room, and might hang too low or be too powerful to be safe and convenient. Conversely, a fan that's too small might seem dwarfed by the space it's in, and may not be powerful enough to make a noticeable difference to your comfort levels.
Fans come in sizes ranging from 29 inches to 80 inches or more, measured across the diameter of the unit. Here's are the guidelines for sizing a ceiling fan:
29- to 36-inch fans for rooms smaller than 75 square feet
36- to 42-inch fans for rooms 76 to 144 square feet
44- to 50-inch fans for rooms 145 to 400 square feet
60- to 80-inch fans for rooms larger than 400 square feet
If you're hanging a fan outdoors, make sure it's rated for indoor/outdoor use. This means it's water resistant and can stand up to moisture. If you live near the sea, choose a marine-rated fan. These fans are made to withstand sea salt winds, so they'll last longer and won't corrode.
Low-Hanging Fans for High Ceilings, Flush-Mount Fans for Low Ceilings
Your new ceiling fans will need at least eight inches of clearance from the ceiling in order to move air efficiently. Depending on how high your ceilings are, you may need to use an extension rod to mount them much lower than that, so you'll be able to feel their effects. On high ceilings, use an extension rod to lower your fan to about eight or nine feet off the floor.
For low ceilings, you can buy flush-mount fans that minimize the fan's profile, leaving room to walk beneath the fan. For ceilings with an average nine-foot height, the extension rod that comes with the fan should be sufficient.
Choose Number of Blades Based on Aesthetics
The number of blades a fan has doesn't really have much effect on how much airflow it creates — at least, these days it doesn't. You can choose the number of fan blades, from one to nine blades or more, based on your aesthetic preference. But look at the fan's airflow capacity, which is measured in cubic feet per minute (CFM), to see how powerful it is. A good fan will have an airflow rating of 4,000 to 5,000 CFM, while a more powerful fan will have an airflow rating of 4,000 to 5,000 or more on the highest setting. The strongest fans have an airflow rating of more than 6,000 CFM.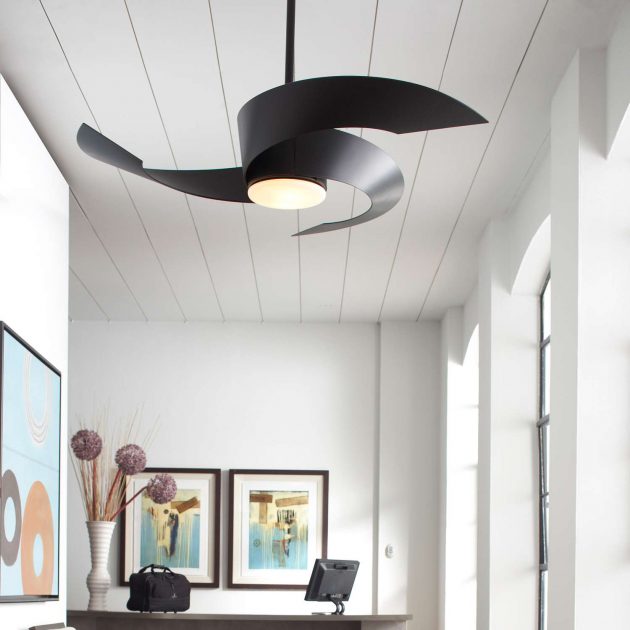 Grab the Right Style for Your Decor
There are many different ceiling fans styles and designs available to match every decorating scheme. For beach homes, choose a coastal style with blades made from natural materials like wood or bamboo, oiled bronze finishes, and nature-inspired blade designs. Classic white designs fit best in a cottage style home, while modern, contemporary fan styles feature clean lines, metallic finishes, and sleek, even futuristic, blade designs.
To match traditional decor, choose a classic-style fan featuring a dark wood finish, antiqued bronze or pewter accents and classic blade designs. Rustic fan styles featuring natural wood finishes and bronze or nickel accents fit in well with farmhouse decor.
Choosing the right ceiling fan for your decor and needs isn't always easy. You might need to shop around a bit to find the right fan for you. But don't worry — there are slews of beautiful, functional ceiling fans on the market, so finding the right one for your home is just a matter of time.