Busbars are essential elements of modern electrical power distribution systems in commercial or industrial settings.
They are not only more efficient and compact than traditional cable systems, but also less prone to voltage drops or energy losses. As a result, they have a direct impact on both internal operations and your company's profitability.
Nonetheless, once you know that you need busbars for your business, you need to choose the right busbar material. The choice is crucial for ensuring the efficiency, reliability, and safety of your electrical infrastructure.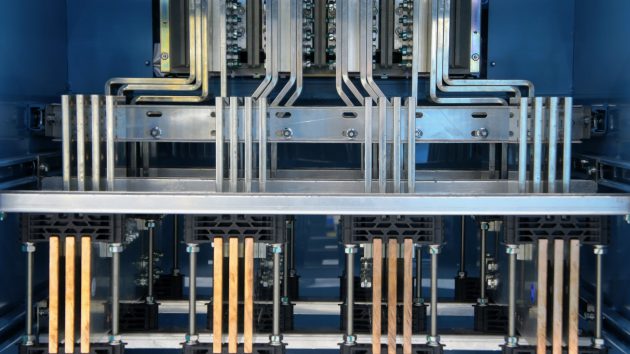 Let's then check what are the most common materials and how to choose the best one for your specific case.
What are the most common busbar materials?
In fact, there are two primary busbar materials: copper and aluminum.
Copper is the most widely used material. It is due to the fact that it has
excellent electrical conductivity,
high tensile strength,
resistance to corrosion.
What is more, it is able to carry a higher current load compared to other materials. Consequently, copper is a perfect busbar material for high-power applications. Unfortunately, it is relatively expensive and heavier than aluminum.
On the other hand, aluminum is cheaper and lighter. Nonetheless, it has lower electrical conductivity than copper, but it can still perform effectively in many applications. It is also worth mentioning that aluminum busbars require a bigger cross-sectional area to achieve the same current-carrying capacity as copper busbars.
As you can see, both materials can effectively perform in power distribution systems. Each of them has their benefits and disadvantages, so you need to choose the one that will be the most appropriate for your specific case.
What factors should you consider when choosing busbar material?
Therefore, when you make the final decision, you need to take into account a number of factors.
If high electrical conductivity, directly impacting the efficiency of the busbar (it will result in less energy losses and lower operating temperatures), is a priority, you should go for copper.
Busbars are exposed to various environmental conditions that cause corrosion and, consequently, impact their performance and longevity. If you want the maximum corrosion resistance, copper busbars will be a better choice. Although aluminum ones are also resistant to some extent, they may require additional coating.
On the other hand, if you have budget constraints as for busbar material, you can go for aluminum busbars to reduce initial costs. Nevertheless, it is worthwhile to consider long-term energy savings and the impact on the overall performance of the electrical system as well.
Another reason to use aluminum is when you need to be concerned about the weight of your application. In this case, heavier copper busbars would need additional supporting structures and mounting systems.
All in all, to select the best busbar material for your application, you should take into account your specific requirements and evaluate each material's properties in relation to your needs. Additionally, you can consult with an experienced electrical engineer, who will also provide you with valuable insights.