How can you place a roof over your head when you cannot even comprehend all the different types of roofing materials in the market? There is a lot to choose from. However, how about we narrow it down a bit and talk about shingles? There are very many different types of roof shingle materials that you can go with. Here's an outline of a few shingle materials as well as their pros and cons.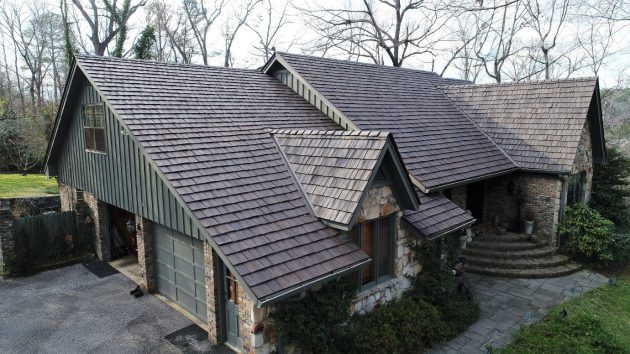 1.Asphalt Shingles
Having been around since 1901, asphalt shingles are by far the most popular roofing option for many homeowners. Whenever you hear someone talking about the standard 3-tab shingles, then you can be sure they are talking about asphalt shingles. There are two types of asphalt shingles differentiated by the base material used: Organic asphalt shingles and Fiberglass asphalt shingles.
Asphalt shingles are affordably priced, and they come in a wide variety of colors and textures. The ease of installation, as well as the reasonably long-life span ranging from 15-25 years, are other factors that make asphalt shingles a desirable roofing option. On the downside, roofing Austin advises that this kind of roof has a low insulation value, and you would need to perform some periodic maintenance on the roof. Asphalt shingles work with very many architectural styles, mainly traditional suburban homes.
2.Wood Shingles
A wooden shingles roof would be a fantastic way to customize the look of your home, making it stand out in a neighborhood full of asphalt shingles roofs. This naturally beautiful roof can complement a variety of architectural styles, and the timeless beauty of a wooden roof is sure to last for decades. If you are wondering about rot, then don't. Wooden shingles are popularly made from red cedar, which is readily available and offers a natural resistance to rot. Alternatively, other rot-resistant options such as redwood, white cedar, and cypress can also be used.
The rustic aesthetic of a wooden shingle roof is what often appeals to homeowners. Not to mention that this is an environmentally friendly roofing option, unlike asphalt shingles. Sadly, unless you choose wooden shingles with a Class A fire rating, this roof can be vulnerable to fires. So much so that in certain regions, the fire code will prohibit you from installing such a roof. Keep in mind that there are wood shingles and wood shake shingles. Contrary to common belief, the two are not the same thing. Wood shingles are often sawn to a precise tapered profile having precise dimensions. Shake shingles are often rough-hewn to give a rustic, irregular, textured grain appearance.
3.Clay Tile Shingles
Terracotta clay tile shingles are a popular choice when it comes to houses in the southwest or houses having an old-world architectural style. The ribbed 'Spanish tile' is the most popular clay tile shingle in the market. However, the clay tiles come in other styles, including flat, and scalloped. The most significant perk is that this kind of roof is more energy efficient when compared to most other roofing materials. Clay tiles are also very durable, non-combustible, and non-fading. When installed correctly, this kind of roof can last anywhere between 50-100 years. Clay tile shingles are quite heavy. Meaning you will have to consult a structural engineer to guarantee that your structure can support the installation of this kind of roof. The Spruce cautions that the weight of a clay tile shingle roof could be as much as 4 times the weight of asphalt shingles.
4.Slate Shingles
Slate shingle roofs have a very distinct, elegant appearance that is hard to miss. This kind of roofing comes in shades of black, grey, purple, red, and green. This extremely durable roof has a life span exceedingly well over 50 years. In fact, some old farmhouses still have their original slate-shingled roofs in near-perfect leak-free condition. 100% natural slate shingles are an eco-friendly roofing option that's also fireproof and carries a low risk of developing leaks.
Keep in mind though that natural slate can be quite expensive. A cheaper option would be synthetic slate, but this comes at the price of having a shorter life span, despite the similar appearance. Similar to the clay tile shingles, you'd need to consult a structural engineer before installing a slate shingled roof. This is because slate tiles are quite heavy and so you would need extra framing to support the extra weight. The reason why slate roofs are so popular in the Midwest is that they have the capacity to withstand large volumes of snow.
Final Words
Choosing which roof shingle material to use for your roof can be a bit overwhelming especially for first time homeowners, that is why we recommend you consult a professional roofing contractor that may help you understand your options and help you make your decision.