Having your own swimming pool is the stuff of the big boys. No cap!
However, I hope you aren't one of those guys who steal design ideas from their friend's court and then ask a swimming pool builder to regurgitate the idea for them?
Of course, you aren't.
If you were, you wouldn't be out here searching for swimming pool design ideas.
And I'm happy to inform you that we've got loads of swimming pool design tips in this guide.
Read on to find out about them.
Backyard vs. Front yard swimming pool
Do you want your pool at the back of the house, or you want it sitting on the frontal, where every first-time home visitor will be wowed by it?
If you check out most of the pool designs online (and probably your friend's), you'll rarely see front yard pools. And the biggest reason why people avoid this design style is because of its zero-privacy theme. Unlike a back yard pool, which is more private, everyone and anyone can literally see you hopping into a front yard pool.
Not to mention kids from next door can easily throw stuff into it.
Above all, it may impact your house resale value negatively, as most homebuyer may frown at the idea of a front yard pool.
On the upside, though, front yard pools are easier to watch over. This is particularly important if you have kids in the house.
Having said that, the final decision lies in your hands, so choose your poison wisely.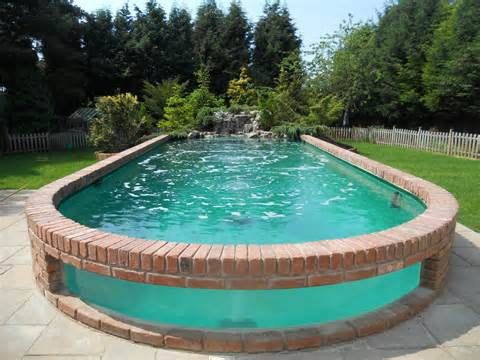 In-Ground vs. Above-Ground swimming pool
Other than the location, another important factor to consider is the nature of the pool.
Do you want something above ground level or something that's planted in the ground?
In most cases, Inground pools are more expensive – costing anywhere from $30k-$70k – than above ground pools – costing anywhere from $4k-$12k.
On the upside, inground pools add better resale value to your property, as buyers know their worth.
Furthermore, an inground pool can also have varying depths (above ground pools only have fixed depths) throughout, meaning it can be shallow on one end and deep on the other. And they're generally more durable than their above-ground counterparts, lasting a staggering 20 years (most above ground pools last between 7 and 10 years at best) before needing any lining replacement.
Saltwater or Fresh Water swimming pool
The majority of swimming pools built today are using saltwater with a chlorine generator. With a salt chlorinator system, you can have a great-looking backyard oasis with less swimming pool maintenance and chemical concerns. Less chemicals mean healthier skin and more comfortable eyes.
Decide on your basic shape
There are different types of swimming pool shapes.
Rectangular swimming pools are the most common type of swimming pool and usually tend to be the most formal and classic design. L shaped swimming pools will give you more division within the pool. It can be great when you want more of a separation between shallow and deep ends within your pool. Freeform shapes such as oval and kidneys tend to work great with irregular shaped backyards and spaces with trees. They also tend to feel less formal and a bit more fun!
Direction of the pool
The question of where a swimming pool should face is something that has often polarized opinions amongst homeowners.
For some owners, it's best to locate a pool towards the northeast direction of the house. While others feel a pool should be constructed facing the east direction.
Like most first-time owners, I know you don't even know where to face your own pool – whether east, north, or south.
Not to worry, that's what swimming pool builders The Pool Co. are there for. They will inspect the structure of your home, check for the predominating wind direction, as well as the direction of sunlight to the house, and then decide on what direction your pool should face.
Looks
Now to the most important part of the design: how your pool will look.
There are many things that can make a pool appealing and beautiful on the outside, including:
Separate Coping Color
Decorative Patio
Gravel Between Pool and Fence
Dressing Up the Fence
Arched Gate
Flowers/Greenery/Shrubs/Etc
Water Features
As far as the inside of the pool goes, the material of a pool is the most important.
Fiberglass pools are elegant and last a couple of decades but are much higher in cost than vinyl. A vinyl pool can also have an elegant appearance but are much cheaper, and the lining lasts only a fraction of the time. A vinyl lining will need to be replaced every five years.
A concrete pool can also be an option. Concrete pools are an alternative option to the more popular building materials. A concrete pool can last much longer than any other pool and is generally considered the most durable. This type of pool can only be built inground. They also take much longer to install. While the other materials listed here can take 1-5 weeks to install, a concrete pool may take as long as 2-3 months.