From the start of the pandemic up until now, we've gotten used to staying home. Schools have emptied and embraced online learning, businesses are encouraging employees to work from home, and Zoom has become a preferred platform for holding work-related meetings.
If you once fantasized about working from home, your fantasies are now mirroring reality. And now more than ever, it is necessary to carve out a permanent space in your home where you can concentrate on getting jobs done without the distractions that abound in the home.
Converting a spare room into a home office is a project that will require a lot of your time and effort. While there are many different aspects to consider when embarking on such an adventure, your choice of window coverings remains a priority.
Your office at work may possess some rigidity in its design and décor, but you have the freedom to design your workspace at home however you want.
The best way to begin is by choosing the most efficient window blinds. Lucky for you, we have some helpful tips on hand.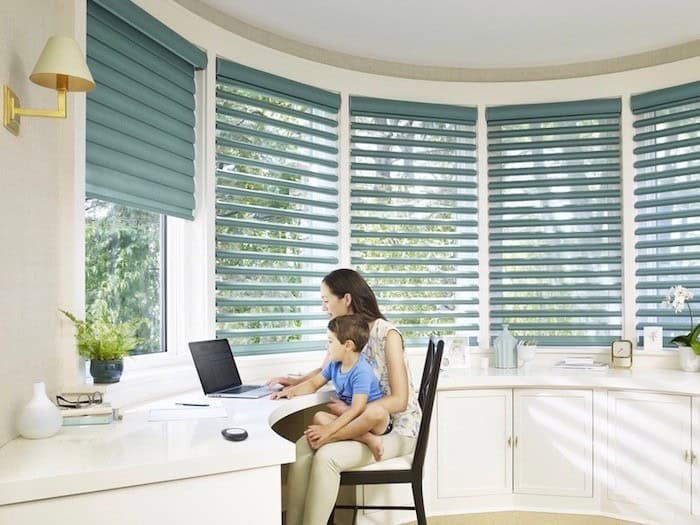 5 Things to consider when choosing window treatments for your office
1.Light control
For any other part of the home, letting in natural lighting is always a good idea, but this can prove counterproductive in your home office. The harsh glare of direct sunlight can make it difficult to view your computer screen.
It can also cause some discomfort and make you less productive. The right window treatment will provide sufficient protection from sunlight while allowing the flexibility of adapting to changes in temperatures.
2.Energy efficiency
Unnecessary heat loss and gain can greatly impact your energy bills. Getting proper window treatments can help limit this outcome. The right window covering will provide insulation while keeping the room's temperature in the perfect range to ensure your absolute comfort.
3.Privacy
When working from home, distractions can come from within the home but it's best not to underestimate how easily you can get distracted by things outside your home.
The best window treatment for your home office should offer a view without necessarily leaving the room completely open to prying eyes. You also do not want to get carried away by happenings outside your window when you ought to be working.
4.Durability
Window treatments are a worthy investment and to get your money's worth. It is important to choose window treatments that will provide years of functionality. A window treatment of substandard quality will require frequent replacements, and this will end up costing you more in the long run.
5.Automation
Finally, you want to have window treatments that require minimal manual control if any at all. The convenience of smart, motorized window treatments cannot be overemphasized as they allow you to control light and privacy in your office with ease, automatically without your required intervention.
Final word
Window blinds are the best option for your home office. They are affordable, easy to use, and offer the most comfort. They also come in a variety of designs and colors. While the new normal may seem bleak and uninspiring, you can boost positivity with colorful blinds in your home office.