A bedroom should provide you with the perfect sanctuary to rest after the exertions of the day. That's its purpose. There comes a time, however, when your room starts to look as tired as you feel. That just won't do. Breathe new life into the room by revising the decor. One material you can count on to deliver the goods for this is velvet. Soft, versatile, elegant, timeless…. The list could go on, but simply put: if your bedroom is feeling stale, velvet is the tonic. Here are a few ways you can harness the power of this luxurious material and restore your bedroom and its design to its fresh, punchy and sophisticated self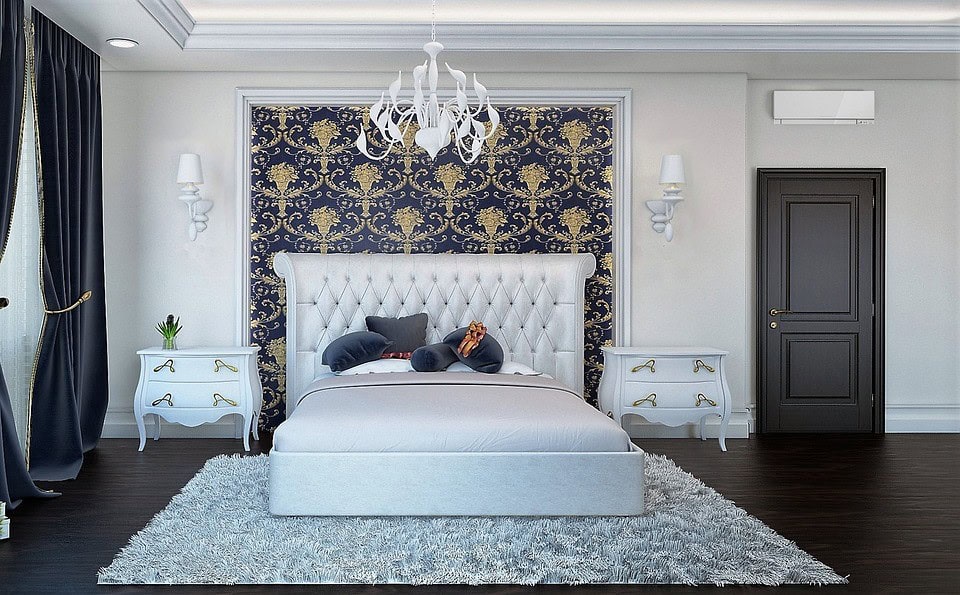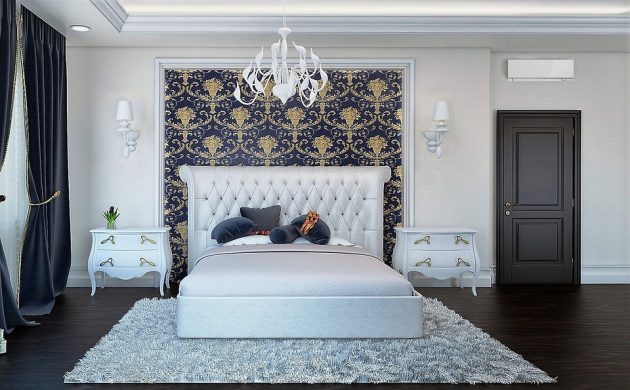 Decorate the walls with velvet
Walls don't have to be mere structures that are there to divide the rooms. Transform them into part of the overall design of the room. By decorating them in velvet, you can use your walls as an accent and make the room look gorgeously modern. In small bedrooms, a light colour and velvet pattern will work best. To really pull it off, though, you must light the room well, so combine the wall decoration with plenty of natural and artificial light.
There's no denying that velvet might be a touch on the expensive side, but that doesn't mean it's all velvet or nothing at all. If you want to keep your costs down, upholster your walls in velvet above the plate line. The room will still look appealing and you won't be inflicting such a heavy hit on your bank account.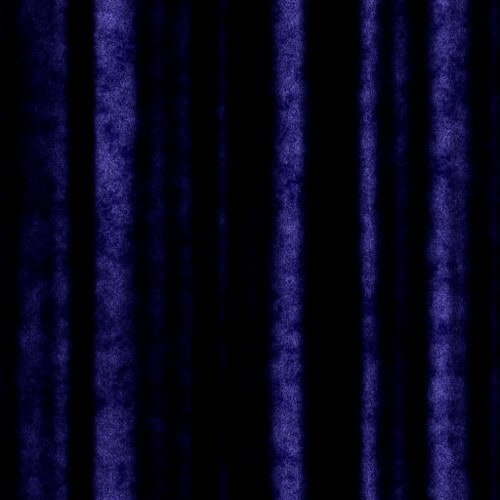 Image by Sharandra, used under CC license 2.0
Add accents
If any kind of velvet upholstery on the walls is beyond your budget, you can turn to other ways of adding velvet accents to the room so that it boasts that extra sense of plush. In this regard, praise be to velvet cushions! They contrast especially well against white, of course, and serve superbly as an accent on a bed, making it look that little touch more inviting and exercising a big, positive impact on the overall feel to the room.
When looking to add accents, think about the design style of the room, too. Dark velvet works a treat in pale, minimalist styled rooms. The room will take on extra depth, thanks to the splendid-looking texture of the velvet.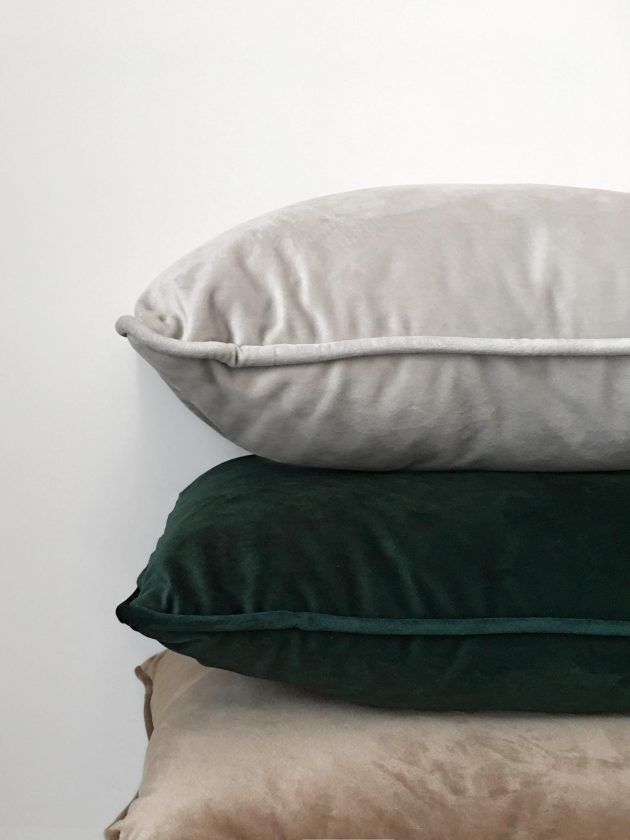 Switch to a velvet bed
Velvet beds are a marvellous opportunity to ramp up the glam factor in your bedroom and make it look truly inviting. They're stylish and, if you want them to be, romantic as well. Shiny grey crushed velvet gives the bed real sparkle, whereas a more toned-down grey generates a stronger sense of space. You can decorate your headboard or your bed frame in velvet. You could even go all out velvet and upholster both the frame and the headboard. Whichever option you take, your bedroom is always going to look the business.
The next trick is to layer the velvet with other materials. The velvet instils real balance between the materials and introduces some softness if it's competing with bolder colours. Any metals or marbles in the room can inspire a cool, sophisticated feel when the velvet is on the scene.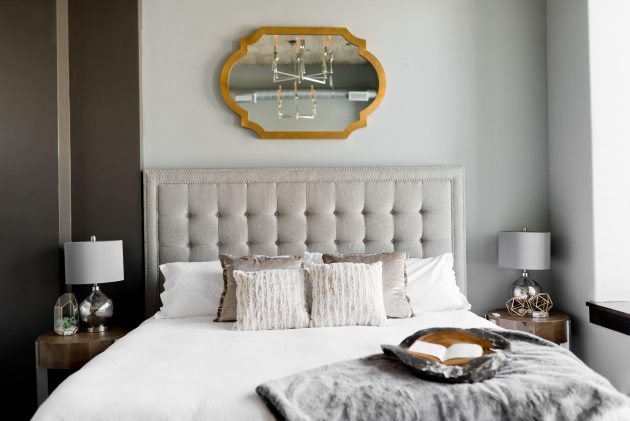 Invest in a quirky velvet touch
Sofas, bed frames, headboards and walls are all typical furniture items and features that you might expect to receive some of the lavish treatment from velvet upholstery. Why not boost the room with something that you see less often in velvet? Lampshades are one example. A light velvet and light colour will allow a warm glow. It's an impressive touch.
Any artwork in the bedroom? Shake paintings and sketches up by layering them in their frames with velvet. This is a none-too-complex bit of DIY. Just take a traditional picture frame and layer the picture onto a velvet ribbon border. The approach functions well with black-and-white sketches. Use one and a half inch border of velvet ribbon and some double-sided, heavy duty sticky tape. Be careful, though, not to overdo this touch. You want your bedroom to feel elegant and relaxing without seeming like a museum. If you have lots of pictures in your room, you might wish to think more carefully about using velvet in this way.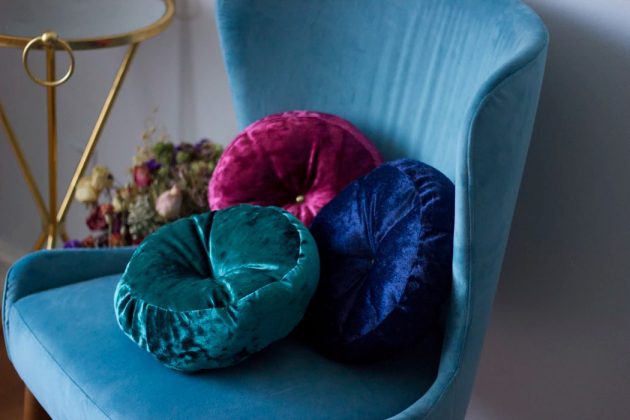 Capitalise on velvet curtains
Ditch your standard curtains for velvet ones and you can get your room looking seriously snug, especially in winter. Velvet curtains infuse the room with warmth and the colour scheme with richness. They look good in dark rooms when you have a light shining above them, which makes the most of the reflective nature of velvet. If you have an accent colour in the room, velvet curtains in the ever-reliable colour of grey operate well as a backdrop.
The room won't just benefit from the luxurious feel of the curtains; the velvet approach brings with it considerable practicality. Velvet has a natural facility to dampen noise, so traffic outside or the sound of cutlery chinking against the floor when it slips from your grasp will seem less harsh on your ears. Additionally, line the curtains with thermal lining and you can insulate the room.
When it comes to the design of a room, velvet has some immense power behind it. The power to make a room seem inviting and, once you're in the room, to ease you into complete and utter comfort. At the same time, it's versatile and can play all sorts of wonderful roles to imbue a room with real sophistication and also keep the design punchy. Want to boost the interior design of your bedroom? Bet on velvet to achieve just that.