When we construct homes, roads, and bridges, we expect them to serve us well and last long. There is one construction element that, though less thought about, helps hold these features together.
It is not the first thing you notice when you step onto a piece of real estate, yet it performs several vital functions from which we reap as we utilize architectural masterpieces. These silent heroes are retaining walls.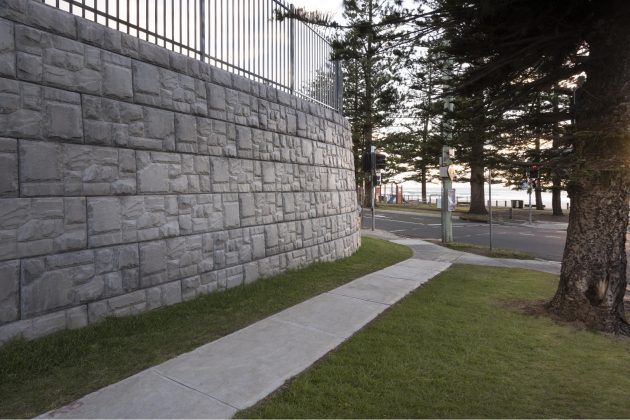 For them to keep the soil intact, to hold the garden in place, and to protect the entire building from collapsing, their integrity has to be beyond reproach.
Barricading low-lying lands from floods, making slopes useful, and dividing yards into sections are some of the noble tasks retaining walls are called to carry out.
MagnumStone has taken a keen interest in these tasks and swore to effect change in the retaining wall game. Their walls have stood the test of time, and you can trust them to do whatever it is you want them to do.
MagnumStone Big Block Retaining Wall
MagnumStone Big Block Retaining Wall by CornerStone Wall Solutions Inc. is engineered to defend itself.
It is strong, elegant, and compact. It is built to protect and to stand out when installed in your yard or on your commercial property.
This may seem too much to ask for from just one construction element, but this system has it all.
MagnumStone Big Block Retaining Walls are ideal for any retaining wall solution you can think of.
It presents you with limitless and endless design options to choose from. Besides, it is made with conservation in mind— it has a hollow core designed to use 40% less concrete than traditional block walls.
Crafted by engineers with an eye for detail, you can be sure you will get a structure put together with the expertise associated with CornerStone Wall Solutions.
MagnumStone Design Options
1. Concrete Cantilever Walls
These walls are made from vertical and horizontal steel-reinforced concrete. The concrete is cast on-site in the formwork during installation.
Existent in a variety of shapes, MagnumStone cantilever walls are constructed with a hollow core design. This design makes installation very easy and less costly.
The horizontal and vertical hollow cores of these wall panels provide a good form for the steel and concrete.
MagnumStone gravity cantilever retaining wall extenders further reduce the amount of concrete used for constructing the retaining walls.
The combination of the hollow core design and large spaces between extenders tremendously reduces the transportation and installation costs of the walls.
You can get the cantilever retaining walls in setbacks of 2.4, 4.5, and 0 degrees.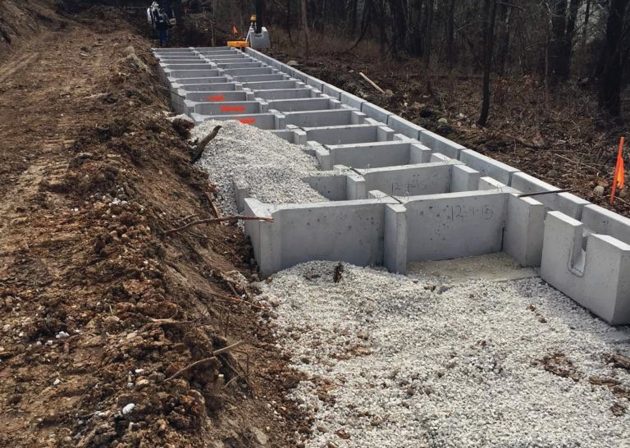 2. Gravity Retaining Walls
As their name suggests, these walls are designed to use their weight to resist the load and pressure exerted by the soil behind the structure. MagnumStone has introduced exclusive features into its gravity walls, making them the most versatile systems available.
Their gravity retaining walls are ideal for tight areas where very little to no room exists for excavation.
They are built with a tongue-and-groove system to allow them to lock together. The blocks are massive to increase their weight for more stability.
Their weight and the exclusive MagnumStone gravity extenders perfectly hold back the earth behind the structure. The extenders also reduce the amount of concrete used to construct the walls, compared to typical solid gravity walls.
The gravity walls are also available in 2.4, 4.5, and 0 degrees.
3. Planter Retaining Walls
The hollow core of the MagnumStone Planter retaining walls provides a retaining wall pocket that can be used for plants.
They are fitted with filter fabrics that keep the soil and plants in place within the intended areas. This retaining wall system features large vertical and horizontal hollow cores with a lightweight design.
The plantable terraces provided by planter retaining walls help maximize the green areas, reducing the negative effects of concrete jungles.
If you are looking for an environmentally friendly solution, look no further— these walls are designed to work in harmony with the environment.
4. Geogrid Retaining Walls
Their system can also be used to create tall retaining walls that are used to reinforce the mass of earth behind them.
Wall structures that may need geogrid reinforcement include parking lots and areas that experience the occasional application of water.
Geogrid walls are lightweight, considerably reducing the amount of cement used to construct them.
For very tall walls, geogrid walls are very cost-effective. And with the right length, appropriate layering, and well-compacted backfill materials, geogrid walls will effectively resist the forces exerted behind them.
5. Steel Grid Walls
These walls incorporate steel grids made from tempered galvanized steel wires with looped ends that are passed through precast openings at the back of each MagnumStone piece.
This reinforces the retaining wall exponentially, making it perfect for jobs that require some extra resistance for heavy loads.
6. Positive Connection
This system provides a mechanical connection between the MagnumStone units and the geogrids.
One length of geogrid is wrapped around the hollow core, creating an equal length reinforcement at the bottom and top of a single MagnumStone unit.
The hollow core that is wrapped with geogrid is filled with gravel to complete the ultimate geogrid positive connection.
This mechanical connection is safe for heavy loads such as bridges, and railways.
You do not need to invest in expensive connectors once you have installed this system. It provides enough tensile strength to sustain the weight and pressures it is subjected to.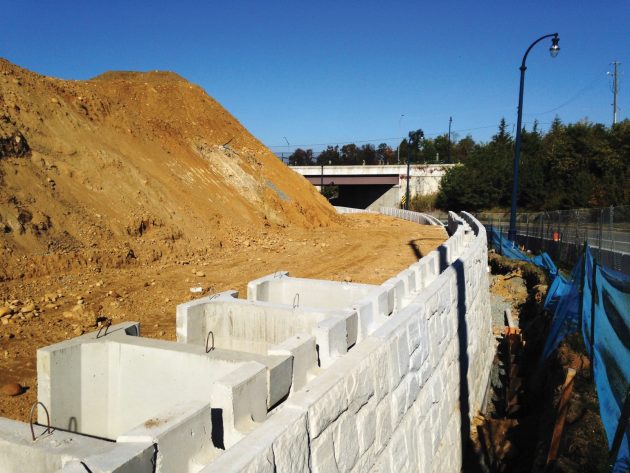 7. Soil Nailing Walls
In applying the soil nailing technique, reinforcement is provided for the MagnumStone retaining walls by inserting reinforcement steel bars or augers into the soil retained behind the wall.
The anchors or reinforcements are then mechanically attached to the MagnumStone units.
This technique is ideal for excavation projects where the excavation of the soil behind the wall is restricted for one reason or another.
Final Thought
The MagnumStone system is designed for innovative and effective retaining wall production and installation. Nothing else beats the elegance and efficiency of MagnumStone Big Block Retaining Walls.
It is designed for versatility and offers solutions for virtually any retaining wall problem. Soil nailing, for instance, is becoming popular in the construction industry due to the increased construction restrictions that are brought about by population growth.
MagnumStone is the king of present and future retaining wall solutions. Check out their retaining wall course to become adept at implementing their retaining wall solutions.