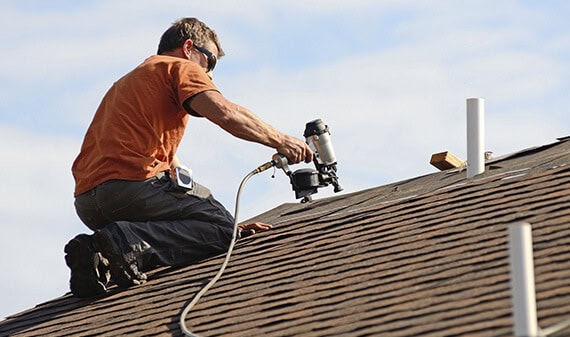 There are some decisions that even the most diligent of homeowners will put off if they possibly can. Near the top of that list comes the top of the house. Nobody likes contemplating the expense and hassle of a new roof. But if it needs doing, doing it now can save you bigger costs down the line.
What Sort of Roof?
There are several different materials that are used for roofs. They vary in cost, weight, and longevity. Local conditions in different parts of the country mean that some types of roof are more suitable than others.
Asphalt shingles are the most popular roofing material in the USA. They are inexpensive, light, and most last for up to 30 years.

Wooden shingles are also relatively cheap and light, and have a similar life expectancy. They are popular for their traditional appeal.

Metal, tile, and slate roofs are heavier, more expensive, and longer lasting.

New synthetic materials are becoming more common on new buildings, but may not always be suitable for replacements.
The chances are that, if you are thinking about a roof replacement, you have shingles, since these need replacing more often.
Signs of a Problem
There are a number of warning signs for any sort of roof:
Get up in the roof space and check for signs of water getting in. Look for staining and check after heavy rain for damp patches. If you spot daylight anywhere pay particular attention to that area.

Look at the roof from the ground. Note any areas where the covering looks suspicious.

If the roof as a whole appears to be sagging, you may have a serious problem, and your roof needs inspection by a surveyor as soon as possible.

If you live in an area with similar houses built at the same time and your neighbors are beginning to get their roofs replaced, then it may be time for you to do the same.
Shingle roofs also indicate problems when:
Shingles are curling up. This can result in the rainproof features being compromised.

Shingles are falling off. The odd one or two will happen at any time, but widespread loss indicates that they are near the end of their life.

Shingles are splitting. Wind will damage shingles in specific areas, but when it becomes a general pattern then the time for a new roof may be near.

The granules are coming off the asphalt (you will see them in the gutters). The

granules protect the asphalt

from the sun, and it will deteriorate more quickly without them.
Replace or Re-Cover?
Generally, it makes sense to use the same material when your roof needs replacing. The roof support timbers are designed to hold a particular weight, and using a heavier material will require structural work.
It can reduce the expense if a new roof is installed over the old one, as there is a considerable saving in the labor and transport. However, bear in mind that doing this will prevent the roofer from getting a really good look at the timbers, which is a golden opportunity to spot other problems before they develop. It will also stop you using the latest lining materials under the shingles, which can protect your roof more effectively.
What to Do Next
Get advice from a trusted expert. You may choose to have a survey by an independent surveyor, but any reputable roofing firm like Wildwood Roofing & Construction in St Louis will give you a fair assessment of your needs.
Shop around for a good roofing company. Check out the review sites, ask your neighbors, and ask trade associations about their certified contractors. Compare the warranty that different roofers offer.
If you possibly can, go for the best materials available. Some shingles come with a long warranty, which may mean you don't have to do the job again in your lifetime, plus it may be a selling point for your property when the time comes.
Check your local building regulations and your insurance company to see if there is any special paperwork that you need to complete.
Biting the Bullet
A new roof is the sort of thing that we would all like to put off, but once you have decided that it is necessary and have found a reliable contractor, you can look forward to relaxing in the knowledge that your home is protected from the elements for many years to come.
Liam Reynolds is a builder who has been sharing some of his knowledge online in the form of articles. Approaching retirement age, Liam has a ton of knowledge he is able to share.