Space in the home can be a precious commodity, particularly as we now have more tech, appliances and devices than ever before. However, the reality is that this trend shouldn't necessarily be a barrier to making your home appear and feel bigger and more spacious.
There are lots of different ways you can look to maximise space in your home, from cosmetic approaches to construction and simple design changes. What follows below are a number of examples you might want to try.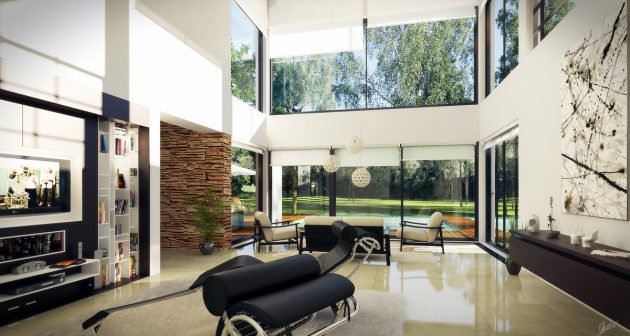 A Matter of Decluttering
If you're the sort of person whose idea of putting things away involves just leaving them on the floor, then this step is for you. The easy thing to do here is declutter your floorspace and have a clear out of the things you don't need. You'll quickly find that when you can see the flooring again, the room will look bigger.
Equally, be pragmatic and ask yourself if you need a wall of DVDs, or that extra chair you don't use. Adopting the principles of 'less is more' you can declutter your way to a more spacious interior.
New Colour Schemes
When you have a clear out, you might also want to think about redecorating too. Darker coloured walls and floors can make the aesthetic of a home seem much duller and ultimately smaller, so by using brighter but paler colour schemes on walls, carpets and curtains you can again create a bigger feel to any room.
Wall Storage
You might argue the point that by buying new storage units (if your cupboards are full) compounds the issue when it comes to space – well this is where wall storage can really come into its own. Putting up shelves, or even upcycling old pallets to create unique places to store items gets rid of clutter, keeps floors clear and uses otherwise wasted space.
As ever with building work, it's a good idea to seek professional help and use quality gear from an expert supplier like RS Components for example. The right help and tools for the job will make it much easier!
A Change of Floorplan
For those of you who're already quite tidy, but still want to make more space, a change of floorplan might be the solution you need. Try to arrange the room equally, and have larger weightier items placed around the walls rather than clumped together. Again, maximising as much floorspace as possible will work wonders.
More Light and More Mirrors
A final decorative touch you could make is to install thinner blinds and curtains and hang a few mirrors. More natural light can be an effective means of helping your chosen rooms to feel fresher and airy, while the reflections in the mirrors boost this by making interiors look a little larger than they are.
So, with all the above in mind, don't assume that a smaller-sized room means a limited amount of space, the reality is you can use these approaches to make the most of what you've got and make your room feel as big and open as possible.