Coming home to a beautiful home after a hard day of work should be a privilege that all of us get to enjoy. Many of us put a great deal of effort into making the insides of our homes look spectacular. Unfortunately, the same cannot be said when it comes to the exteriors of our homes. We believe that the outside features of a home deserve as much tender loving care as its interiors, which is why we're here to give you our top 7 tips to bring out the best in your home's exteriors. If you're ready to transform your home into your personal mecca by improving its curb appeal, all you have to do is read on to find out more!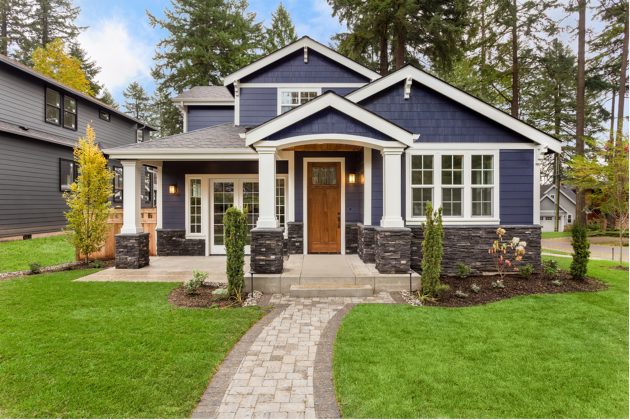 1. Don't Forget About The Roof
The roof is one part of the home that is often neglected when it comes to design. As we know, the roof plays a vital part in protecting both your home and self from the elements. However, that doesn't mean that it too doesn't deserve a little care once in a while. Your home's sculptural elements come to life with the right selection of roof styles, and a simple switch-up has the potential to completely transform your home's exteriors.
Some of the most popular roof styles include flat, curved, pitched and skillion. Regardless of which one you pick, a roofline with a point of difference is one that is sure to stand out and attract attention. Handy tip: before you go climbing onto your roof to have a look at its current state and design, be sure that you have the safety of a roof access ladder to avoid any unnecessary dangers in getting on and off the roof.
2. Give Your Front Door A Makeover
If your front door is looking a little sad, the best thing you could do is to either purchase a new one or simply slap a coat of paint in a bold and bright colour to breathe new life into it. When it comes to the front door, you don't have to stick to neutrals or boring colours such as white or grey. In fact, opting for bold hues such as orange, pink or red in contrast with a restrained colour scheme is one way to instantly attract the eye without being offensive.
3. Get Those Windows Professionally Cleaned
Dirt, debris, rain and nature in general often leave their mark on our home windows. Window washing is probably also one of your least favourite household chores, which is why we always recommend calling in a professional to get those windows bright and sparkly once again. You'll be amazed at how much better your home looks almost immediately, and you will also benefit from more unobstructed natural light that easily flows into your home. On top of making your home look pristine, professional window cleaning removes corrosive contaminants from your windows, reducing the likelihood of scratches and cracks in the future.
4. Consider A Vertical Garden
Landscaping is, of course, one of the most important aspects of a stunning home exterior, but it doesn't have to stop at your front yard. Enter the vertical garden. Also known as a garden wall, this added feature is guaranteed to make a lasting impression. Most vertical gardens are soil-less, thus mimicking the natural green wall ecologies that grow on rock faces and trees in the wild. Some of the benefits that a vertical garden can offer include added beauty and colour, sound buffering and diffusing the harsh afternoon sunlight that can sometimes be a little too much to handle.
5. Install Window Boxes
Are you looking for a way to really make your windows pop? Installing window boxes is a fantastic idea for anyone who is looking to truly elevate their home exterior. Window boxes come in a variety of different styles that suit any taste or look you are trying to go for. Be sure to get a professional to take on this task in order to ensure that ​​your window boxes are securely anchored down to prevent them from falling off in the future. Once installed, be sure to choose a variety of colourful flowers and foliage to complete the look.
6. Illuminate
Investing in some quality outdoor lighting to illuminate your home not only helps increase security but can also fully highlight the architectural features of your home. There are a variety of different outdoor lighting options, from LEDs to solar-powered, so be sure to do your research before deciding on which type suits your home best. We recommend investing in path lights, ambient spotlights and a pair of sconces to help brighten your front door.
7. Enhance The Footpath and Driveway
Last but not least, one of the simplest ways to make your home exteriors shine is to enhance your footpath and driveway. This could mean filling in cracks, tidying up your nature strip or even installing a fence around the perimeter of your home for privacy. If possible, we also recommend pressure washing these areas to remove any built-up dirt, grease and stains.
And there you have it — 7 simple steps that are sure to boost your curb appeal and spruce up your home exterior with minimal effort. The best part is all you have to do is start small and work your way to a stunning exterior one update at a time. We guarantee you won't regret it!