Envision your dream home. What comes to your mind? Tons of natural light? Open and connected spaces with outstanding views? If this is the vision then maybe you should start thinking of options to choose from. What about cable railing into your exterior and interior spaces? There are so many things you need to know about cable railing, and yes, no worries we got you.
Let's start with the fact that cable rail systems consist of a series of metal wires that are running horizontally between rail posts. This system creates an industrial aesthetic that perfectly complements a contemporary style house.
Before we proceed further let us remind you of the benefits that the cable railing systems bring:
The cable rail preserves your view and is perfect for terraces because their design allows you an obstructed view.

With a cable rail, the durability is high and the maintenance is low. Railings are able to withstand even the harsh weather and to be corrosion resistant.

They can stand up to hundreds of pounds of force and not break or bend.

Cable rails add value and safety.
This is one of the best additions to your home but where would you use it? Let's see!
Cable Deck Rail Ideas
You can choose between the vertical and horizontal type of railing. The vertical ones enhance the openness of your deck and will make it look and feel bigger, while the horizontal cable railing is when the rails run alongside the deck, and most businesses and homeowners have a preference for this type of railing.
The difference about these types of cable deck railing is in the cost, the ease of installation, the versatility and the enhanced feeling of security without having to compromise the view.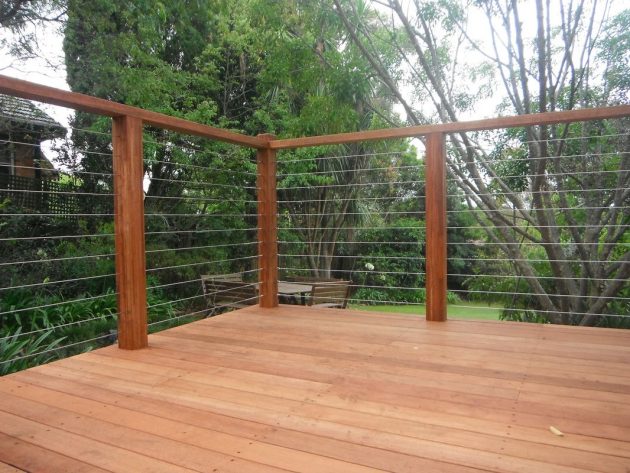 Metal Railing
Metal railings come in various designs and colors and are usually powder-coated so they can last for years and you don't need to maintain them. The two primary types are steel and aluminum but which one would you choose?
With the following strengths and weaknesses we can help you make the decision:
When it comes to

durability

, the

stainless steel cable railings

are known for their toughness in the probably most harsh weather conditions, and aluminum is not as tough when compared to stainless steel, but they are resistant to rust.

Maintenance

– Aluminium rails are almost maintenance-free, but steel requires regular care so it doesn't rust.

Cost – Aluminum is cheaper than steel.

Installation – Compared to the steel, the aluminum cable rails are light-weighted and so much easier to transport, cut and install. While steel is more difficult to install because of its heaviness. But, no worries we have the perfect solutions for you.
No matter if it is stainless steel cable railing or any other type (wooden or metal) you have the option to choose the proper kit. Cable deck railing kits are available to you and you should have no additional worries.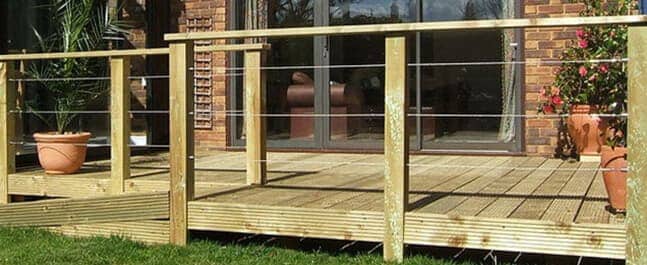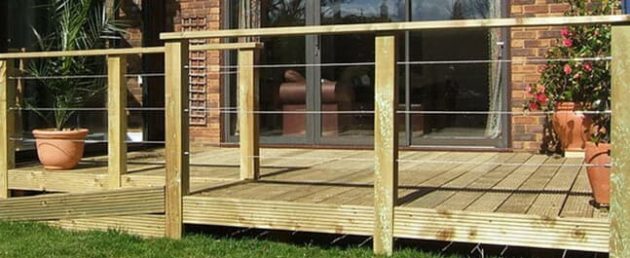 Cable Deck Railing Cost & Installation
The average price over materials and installation will be determined by the type of material and the measurements. But for a basic cable rail system is about $3,000 for 50 linear feet of railing for a 350 square foot deck.
How to Choose the Right Cable Railing Hardware
If you have no idea about types or sizes of cables to use for your cable rails or stainless steel cable railing there are numerous options.
Residential projects – 1/8″ cable (safety codes while being economical)

3/16″ cable

T304 stainless ( middle grade of stainless steel that is a good step up from galvanized)

T316 (top grade stainless steel cable railing)
Also, you need to consider the strand of cable used in the cable rail, and for any other kits & cables check U.S. Rigging Supply for the best supply.
Cable Rail Code Compliance
For you to meet the cable rail code requirements you have to get into knowing the designs of the cables themselves and some safety issues like:
Graspability

The 4″ Sphere Rule – your railing's cables must be so tense that a 4-inch ball cannot pass through

Choosing a system with top rails

Choosing Marine Grade Stainless Steel
One of the best-known cable railing companies is Feeney, and their Feeney cable rail kit is ready to install your decks with their products that is so easy to install. Feeney's cable railing systems are excellent for harsh climates and coastal areas. Feeney's cable rails are beautiful in addition to being unobtrusive. The wide selection of cable rails they have and accompanying hardware means that you will find the right design to fit your exterior railing needs, or maybe interior.
Feeney cable rail kit ensures lasting beauty, minimal maintenance, structural integrity while keeping the product affordable. Undoubtedly, this is the premier brand in cable railing systems and they offer a 10-year limited warranty for its products if bought from an authorized dealer. Here we have some good quality cable deck railing kits that can help you for decks, fences, stairs, etc. Go on and order the finest quality of cable deck railing kit or specifically for stainless steel cable railing at Feeney!