When decorating or designing your dream home, every detail matters, from the color of the walls to the decor on the shelves. Custom canvas prints are an excellent way to add a personal touch to your home decor and elevate your overall design.
Whether you're looking to create a gallery wall or add a statement piece to a room, custom canvas prints are a must-have for every homeowner. This blog post will explore the various benefits of customized canvas prints and how they can transform your home into a space that genuinely feels like yours.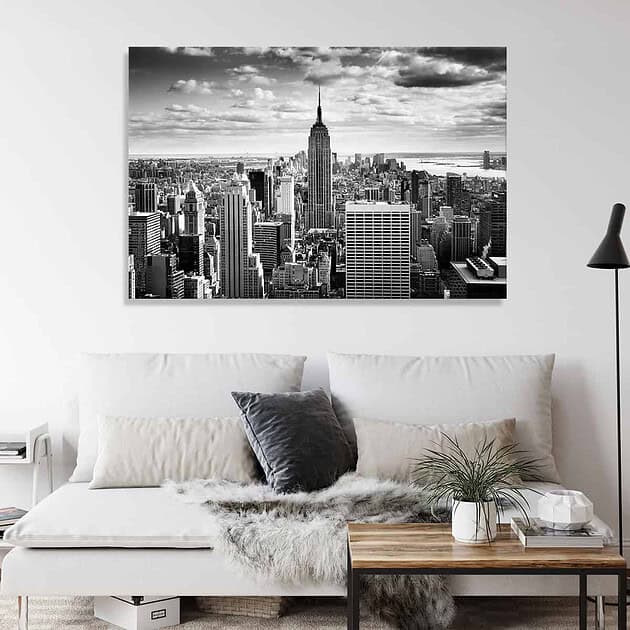 So let's dive in and discover how you can use canvas prints to create a beautiful and personalized home design.
Benefits of Custom Canvas Prints to Decor Your Home
Custom canvases are a unique and personalized way to add a touch of elegance and sophistication to any room in your home. These prints offer numerous benefits, from their customizable designs to their durability and versatility. Here are just a few of the many benefits of using these prints to transform your home:
Customizable designs
One of the most significant advantages of using custom canvas prints is the ability to create a unique and personalized design to your style and preference. Whether you want to display a favorite family photo or a beautiful landscape, you can create a canvas print tailored to your taste.
Durable and long-lasting
Canvas prints are made from a durable material that can withstand wear and tear over time. Unlike traditional paper prints, canvas prints are less likely to fade or yellow with age, making them a long-lasting addition to your home decor.
Versatile placement options
Canvas prints are incredibly versatile when it comes to placement and use. You can hang them on a wall to create a statement piece, prop them up on a mantle, or display them on a bookshelf. Additionally, canvas prints come in various sizes, making them suitable for large and small spaces.
Easy to clean
They are easy to clean and maintain, requiring only a gentle dusting or wipe down with a soft cloth. Canvas prints are unlike framed prints. They can collect dust and debris under the glass. Canvas prints are more resistant to dirt and grime.
Enhance your home decor
It can add a touch of elegance and sophistication to any room in your home. They can be a focal point, tying together the space's overall aesthetic. With a range of designs and sizes available, you can create a cohesive look that complements your existing decor.
Unique gift idea
You can also use them as a unique and thoughtful gift idea. Whether you want to give a family member a cherished memory or a friend a beautiful piece of artwork, a custom canvas print is a gift they will treasure for years.
Tips for Choosing the Right Custom Canvas Print
With so many options available, choosing the suitable custom canvas print for your space can be overwhelming.
Consider the room: Before you choose a custom canvas print, think about the room where you plan to display it. The print's size, color, and style should complement the space's aesthetic. For example, a large landscape print might work well in a living room, while a smaller family photo print might be more suitable for a bedroom.
Choose the right size: The canvas print size is essential for impacting the room. Consider the available wall space and choose a size that will create a focal point without overwhelming the room. Additionally, check the size of the furniture in the room, such as a sofa or bed, to ensure that the print is proportionate.
Think about the colors: The colors of the canvas print should complement the room's colors. You can pick the dominant colors in the space and choose a print that incorporates those colors. Alternatively, choose a print with contrasting colors to create a pop of color in the room.
Consider the frame: The canvas print frame is an essential factor when choosing the right print. You can choose a traditional wooden frame or a modern frameless design. Additionally, the frame's color and style should complement the room's overall aesthetic.
Quality matters: Choose a company that uses high-quality materials and printing techniques to ensure that your print will last for years. Explore the finish of the print, such as matte or glossy, to achieve the desired effect.
Takeaways
Custom canvases are a must-have for every homeowner. Custom canvas prints in your home decor are an excellent way to elevate your overall design. You can have customizable designs, durable materials, and versatile placement options. Using these tips and ideas, you can create a beautiful, personalized space that is more than a home.