Often, the first attempts to change dorm decor take place when people start their adult life in college. This is the time when they have a chance to try to decorate their own room without parents' permission that, definitely, adds enthusiasm to the process. However, future design of your room depends on furniture and decorations you already have there. Here we present several simple, but very useful dorm decor ideas for your inspiration.
Dorm Decor Idea #1: Color and Style of Bed Cloth Should Match Overall Coloring of Dorm Room
A life expectancy of bed cloth is around 4-5 years. When choosing bed cloth, you should make a wise choice. Neutral colors of bed clothing allow you to change decoration of your room quite often so you never get bored. Besides, this idea will help update the look of your dorm room at minimum cost. When having a bed cloth of neutral color, you can make accents in the décor by using accessories of bright colors.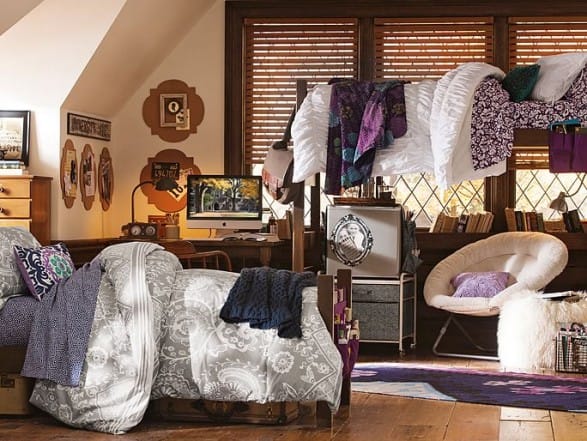 Dorm Decor Idea #2: Modernize Old Furniture
One of the best dorm room ideas is to modernize old furniture. For example, creating a headboard is a good idea to update tired wood of old bed. A pegboard painted in white can serve as a gallery for your photos or a small storage. So you can think of happy days before sleeping or store the things you need in bed, such as a book or an alarm clock. The shape of headboard can be made of chalkboard contact paper, fabric or contact paper with patterns. A laundry starch can be used to create a removable adhesive.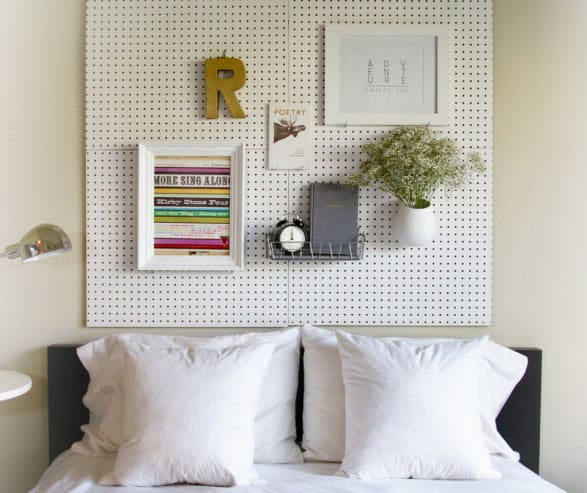 Dorm Decor Idea #3: Create Additional Storage Space
Ideas of modernizing your room are not limited to only creating a cozy ambiance. Usually, storage of things is a big issue in rooms. You can create additional storage space by elevating your bed from the floor. If you do not have enough time for decorating your room, you can always rely on some special homework help provider like EduBirdie writing service and get extra free time with ease. Some items can be stored on the wall shelves. The following picture shows how some additional space in a dorm room can be created.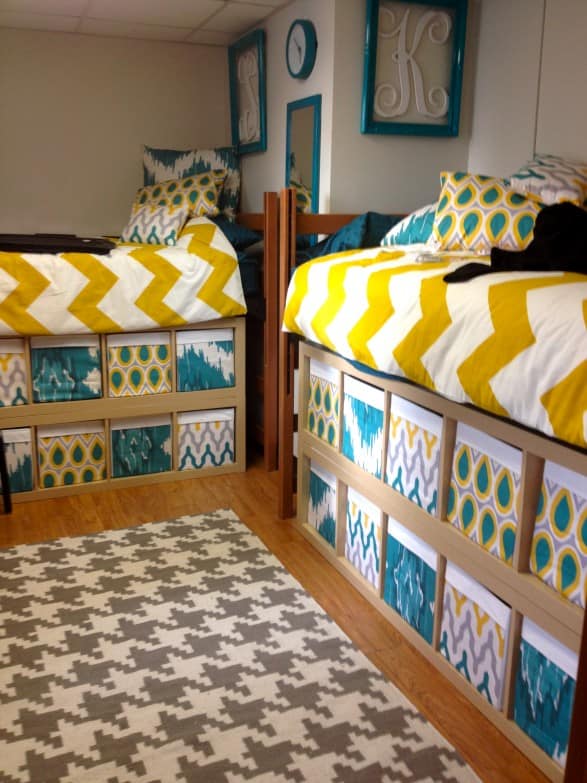 Dorm Decor Idea #4: Style Your Wall
Decorating the walls in your dorm room belongs to dorm room essentials. There is a lot of space to embody your fantasies on the walls. You can plaster Polaroid pictures or Instagram images or create a smashing gallery there. You can find reasonably priced frames matching your décor in IKEA or at thrift shops.
Once you decided to make a gallery on the wall, you should know that they look best if you combine pictures with 3D letters, wooden arrows, or silhouettes. Placing motivational slogans, calendars, and dry erase boards is also a wonderful solution for your walls. These items will not only decorate your dorm room, but will also motivate and inspire you to achieve more.
You will need foam core board, engineer staples, and Velcro strips. You can use clippings, posters, photos, and even gift wrap to decorate your wall and then use tape to frame your pictures. Look how amazing this wall is!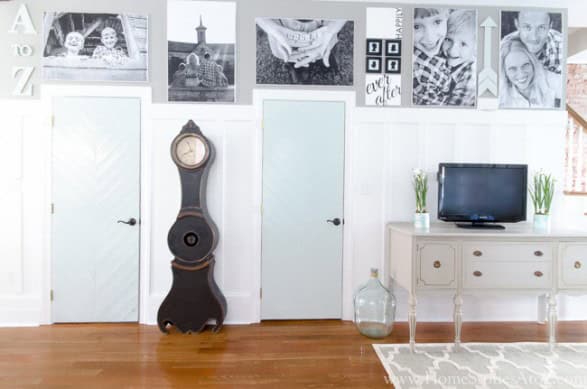 Dorm Decor Idea #5: Light It Up!
There is no need to emphasize the importance of lightning: dorm rooms are usually small and lightning creates an illusion of a larger space. Florescent lights are good for studying, but they don't create a nice ambiance. You can buy several inexpensive lamps or even candles to make an outstanding decor of a dorm room. One big lamp found in a thrift store and placed near a sofa or an arm-chair can be used to decorate your dorm. Small hanging lights are an excellent solution for a small dorm room with plain walls. Their soft light will calm you down after a stressful day. You can use them to study as well. These lights can be even made of cardboard patterned glasses.
Dorm Decor Idea #6: Use Room Dividers
Having some personal space in the dorm room is important. Therefore, using room dividers is a good idea as long as you have to share a room with your neighbor. Room dividers are available in different styles and colors. By choosing a funky room divider you can hit three goals at a time: decorate your boring room, hide mess if you have unexpected guests and stay alone when you need it. You can also use shelves to divide your room and stack your personal belongings separately.
Hopefully, this post gave you some creative dorm ideas so you can refresh your decoration and relax in your room after the daily routine. These ideas can help you make it more comfortable at low cost.