While designing the perfect backyard, you will have to meet halfway between aesthetics, and functionality. The moment one of these two things gets more priority, the balance will be lost. What you will be left with then is a backyard that either looks bad or lacks practicality.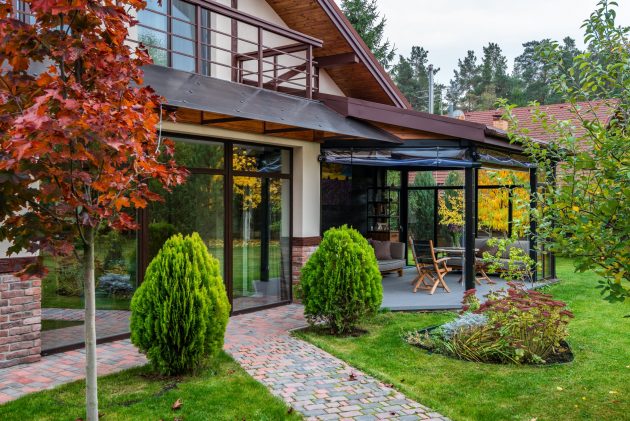 A backyard needs to be practical because you will then get to use it in many different ways. At the same time, it needs to look somewhat aesthetic as well, as it is part of your house and landscape. So let us try to incorporate those two ideas as we go through the ways you can design a perfectly peaceful backyard.
Know Your Backyard
Before you start planning the rest of the backyard, you must first get to know it yourself. Firstly, note down the area of your backyard. This will help you understand how much stuff you can fit in it. Secondly, chalk out a blueprint where you will have to put your imagination to the test. Think about the patio, the yard boundary, features, plants, and decors, and how you want to arrange them in your garden. The key here is to make full use of the space available, while not making it too congested. Finally, you can work out an estimated budget. Doing so will make sure that you do not go overboard with anything.
Think of a Theme
You don't need to have a themed backyard, but it does make the rest of the planning procedure a little less difficult. When thinking of themes, you will be better off if you can find some sort of inspiration. Ideally, you will find Pinterest to be an interesting platform where you can get lots of ideas on how to conduct the landscaping and designing of your yard.
One of the problems with a themed approach is that it can get expensive, especially when you want something exquisite or totally unique. A huge portion of the expenses also goes to the architect, whose help you will need to plan the whole thing. Avoid going for a themed garden, or an expensive one if you do not have the budget.
Set Up a Pond or a Water Feature
The peace and tranquility you want from your backyard can be easily achieved with a pond. Unlike a themed garden, backyard ponds are not that expensive. You can choose a pond design from thousands of backyard pond ideas and implement it accordingly. Common ideas include a typical koi pond with lots of koi fish, a pond with just aquatic plants, or a pond with tiled flooring and walls.
Koi ponds are expensive to maintain. So that will be an expensive idea if you do opt for it. For the peaceful appeal you are looking for, a small-sized pond will suffice. You can work out the area of the pond as you like depending on the size of your yard.
Adding a water feature to the pond is also a decor option. However, the water feature would have been a more appropriate look had it been installed in your front yard and not the back one.
Think about the Fence
Take some time while you decide on a fence. The style will ultimately come down to the setup of your garden, and how concerned you are about your privacy.
Solid or semi-solid fence panels are perfect for those worried about their privacy. For a greener approach, a plant-based fence, like hedges, is more suitable. Pallet and lattice fences are perfect for an aesthetic look. And the picket fence would be ideal if you are taking on a vintage look for the yard.
Have a Cozy Seating Area
Your peaceful backyard is ready, but you need a place to enjoy it from.
Thus comes the need for a cozy seating area. Ideally, it will be enough to place a few garden chairs and a mid-sized table in the yard. You can also add a shade over the seating area to keep the rain and sun rays away when necessary. This could be your place of zen. Any time you need a bit of peace or solitude, you can sit down by the yard, enjoy a warm cup of tea or coffee, and go through the pages of your favorite book.
Once you have sorted all these things out, you can then move on to the less important areas. This includes the lighting, decor, and so on. These things will not require much thought, and you can even change them in the future if necessary. However, the points we have discussed earlier are very important for your backyard garden. Hence, prioritize them, and take your time while coming to a decision for each point.