If you want to do something special and unique for your firearm enthusiast husband, you can surprise him by decorating his cabinet using armour style to make him feel loved. Every gun enthusiast will love to see his favorite rifle with a long-range scope for hunting & shooting displayed in the bright light. You already know your husband will be in awe of this décor idea by seeing his love for a variety of shotguns and rifles in the home and his never-ending plans for heading to a new hunting adventure. Decorating them in the cabinet will not only give his items a personal and secure space but also a sleek look, so he can boast off his belongings to his friends and family.
The décor ideas listed below will help you get a chic, finished look to your husband's cabinet using armour style. Keep reading on!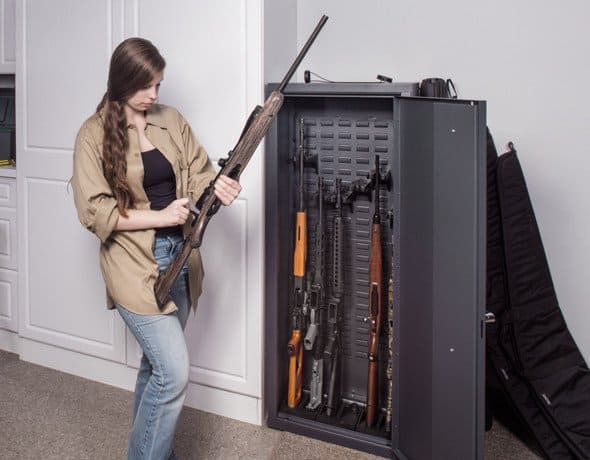 1.Use Light, Neutral Tones
As you may already know, all sorts of guns and most of the medieval armours are mostly dark-colored such as dark brown and black. You don't want to give it a suffocated and crowded look by placing such dark-colored items in a dark cabinet.
You can paint the cabinet in neutral, lighter tones, but the best idea would be to use light natural wood to give a neat and clean look to your husband's belongings while making them stand out.
2.Add a Splash of Greens
A cabinet with lots of armour-inspired belongings only is going to look dull and boring. To avoid such a look, you should place tiny flower pots or green plants to add a hint of liveliness to your husband's soon-to-be most favorite place.
Humidity can also cause metallic or steel items to rust and wear with time. It's ideal if you add such plants that absorb humidity from the atmosphere. This way, they can act as a great décor piece along with practicality. For instance, plants like orchids, English ivy, and peace lily help diminish dampness in the air.
3.Place Wall Art Prints
To show off your husband's passion for his hunting accessories, you can take it up a notch by placing small wall art prints with guns, bullets, or armour on them with a few quotes. You can even try placing artificial animal skin or horns against the surface.
The kind of wall art you want to place is totally up to you, you just have to make sure to mix and match them well. Don't buy such wall art prints that are too big for a small cabinet and the ones that are too small for a big cabinet. Try to keep an adequate balance between the size and look.
4.Wrap the Guns with Sleek Patterns
Are all of the weapons in the cabinet looking almost the same and tedious? You can spice things up here! There are several kinds of designs available on online marketplaces such as Amazon, where you can find beautiful patterns like timber, USA flag, snowdrift, sand storm, and more for your husband's guns. Not only are they easy to wrap but they can also be easily removed without deteriorating the guns.
5.Shine Some Lights
If you want to display your husband's best collection of all time to the guests, you've got to shine some light on them. You can install white-colored LED bulbs right on top or bottom of the cabinet to make the armour more visible and aesthetically pleasing to look at. If you like a fancy look, you can install multi-colored LED strip lights around the corners to help brighten up space.