There was a time when orangeries only came attached to houses of grandiose proportions, but that has all changed in recent years.
If you want to add extra space and style to your existing home, take the time to get some advice and information from this useful post at Finesse Windows. Then you can build an orangery or a conservatory depending on your preferences.
Steeped in history
Conservatories were first inspired by orangeries, which were seen in the grounds of fashionable houses throughout the 17th to 19th centuries. Their name reflects the fact that their original purpose was to house citrus trees and protect them from the frost.
The grand orangeries seen in these lavish residences were upmarket greenhouses with admirable architecture, which allowed the owners to show off their wealth. While an orangery attached to your property today might not house a large collection of citrus trees, it can certainly be an attractive addition to your existing residence.
Spot the difference
When trying to decide between a conservatory or an orangery, it helps to understand the fundamental differences between the two.
The two structures are quite different from each other both in their design and their construction. One of the fundamental differences between the two is the contrasting ways that orangeries and conservatories compliment your property.
A conservatory offers a greater level of versatility from a design perspective. It can often be designed to adapt to almost any property, even when it has particularly low eaves. An orangery, however, creates a more private space within your home and the emphasis is on brickwork rather than glass.
In addition, an orangery is often designed to blend in with the existing property. A conservatory, on the other hand, is more likely to stand out as a separate feature.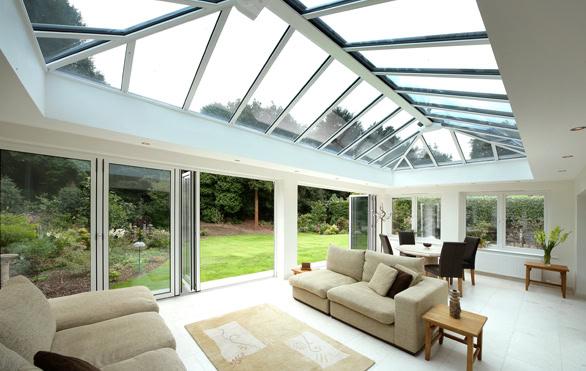 Reasons to choose an orangery
Many homeowners choose an orangery as a way of creating an extension that will be used for a variety of different purposes. For example, it could be used as a lounge, dining room, bedroom or even home cinema.
An orangery would be more suited to these particular requirements because the construction focuses on the use of bricks and masonry rather than glass. This allows it to match the property, and it is more substantial than a conservatory.
Floor-to-ceiling windows are a regular feature of modern orangeries, and these provide plenty of natural daylight. While you will want to attract natural daylight into your home, an orangery provides better protection from the sun than a conservatory, especially if you have a south-facing property.
Modern glazing technology will keep the room warm throughout the cold winter months and cool in the summer. The insulated walls of an orangery will also allow you to use it all through the year, which is important if you are using it as a bedroom.
Reasons to choose a conservatory
A conservatory is designed to prioritise the outside element more prominently than an orangery. The extensive use of glass panels are used to bring the outside into your home.
A conservatory design is often more versatile than an orangery. With the high-tech properties of the modern glass used in their construction, there is no reason why you couldn't use this extra space to create a family room, lounge or even a kitchen with attractive views of your garden.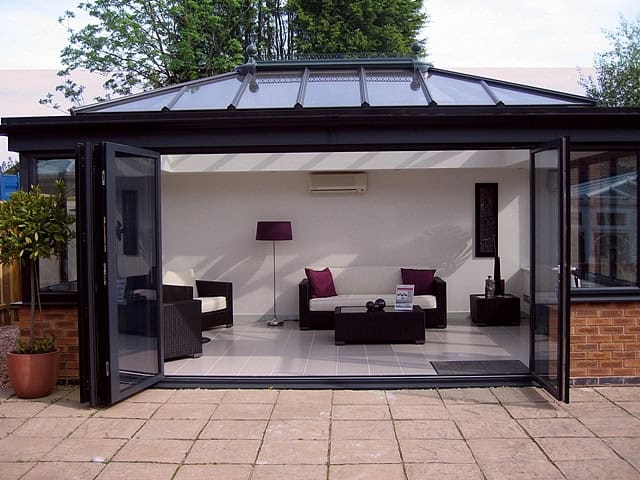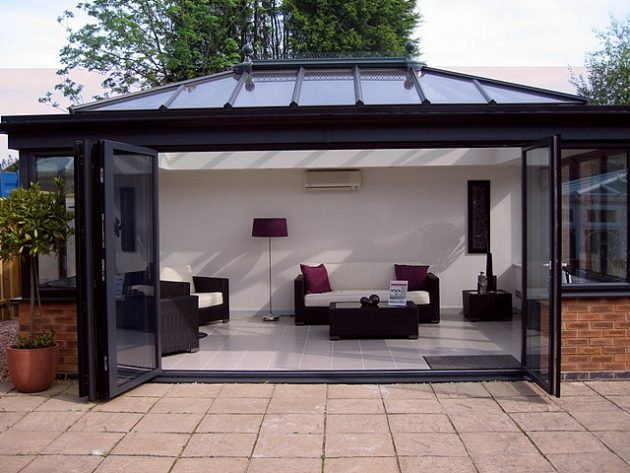 Consider the direction of your property
When deciding between a conservatory and an orangery, you should also consider the direction your property faces. A south-facing conservatory will offer you plenty of sunshine. However, you will have to combat the heat in the summer months, and you may also need to consider ventilation and blinds. As a result, an orangery might be a better option for a south-facing property.
If your property faces north, a conservatory could get quite cold during the winter months. An orangery may also be a better option in this situation because the extensive use of brickwork makes it better insulated.
Could an orangery be the better option?
Always think over your options carefully if you want to erect a conservatory or a sunroom because it may turn out that an orangery is a better solution. Remember, you don't have to live in a huge property to have your own orangery.
Corey Ford is always interested in improving his home and life. When he finds something interesting or helpful, he likes to let others know about it. You can read his interesting articles on many home, lifestyle and leisure blogs and websites.