Patio furniture is a dazzling accessory for your outdoor home. The intriguing mix of colours, structure, and creativity congregate to make a beautiful outdoor space altogether. However, the fact that these are an investment renders people in two minds about buying them. As a result, people find themselves muddled between purchasing brand-new vs. second-hand patio furniture here.
If you cannot decide upon the same, this article will come to your rescue!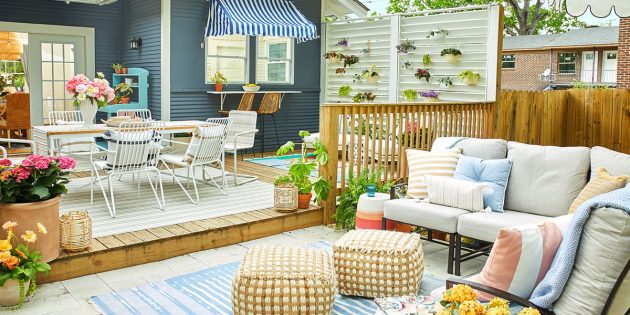 Brand-new VS Second-hand Patio Furniture- Which Is better?
Now, whether you want to buy brand-new patio furniture or a second-hand one depends entirely on you and your preference. These factors to consider will help you make a perfect choice.
Ready to make an investment Or buy furniture on a budget?
Your budget is a significant consideration to make when you step out to buy patio furniture. How much are you willing to spend? Do you think you need brand-new patio furniture or a second-hand will do? These are some questions you should ask yourself to decide on the proper budget. If your preference is a standout, luxe-looking patio furniture, you could consider buying a brand-new one. However, if you do not want to spend a fortune on it, you might as well consider a second-hand.
The top-notch quality or a mediocre option?
Brand-new products naturally feature imported quality. However, second-hand patio furniture may fail to provide the top-notch quality you want due to its excess usage previously. If your product's quality is more significant to you than its budget, then a brand-new one is a good preference. However, if you can do with a mediocre quality patio, second-hand furniture is not a bad idea.
Ready for the maintenance or an effortless patio experience?
Every patio furniture requires a different type of maintenance and care. Since this outdoor furniture is exposed to constant dirt, you may have to put in a lot more effort into their cleaning than the one indoors. However, if you find yourself up for the hard work, you can consider a brand-new one. With the effort comes excellent quality, deluxe comfort, and an utterly beautiful piece. So, why not? However, if you are looking for a more relaxing and effortless patio experience, you could do away with a second-hand option. That is why analyzing your decision carefully before making a suitable investment for your patio furniture.
Are you planning it long-term, or it's just a temporary makeover?
Most people who want to buy patio furniture have a knack for experimenting with different exterior looks for their home. If you are also looking for a temporary makeover, it is always wise to buy a second-hand patio. They also make an intelligent choice because you do not have to spend a fortune on buying them. You can pick them up at affordable rates that will not pinch your pennies at all. However, if you want to purchase patio furniture to set up your patio for the long-term, a brand-new one could be a potential one-time investment.
The Overall Analysis Of Brand-new VS Second-hand Patio Furniture
Brand-new patio furniture
Although brand-new patio furniture may cost you a bit more sometimes, it can be a good one-time investment. This furniture will provide you with a standout, fresh quality, and a modern appearance. The patio furniture may also require minimal energy as the patio furniture needs no alterations. However, in many cases, brand-new patio furniture may fail to provide top-notch quality and sustainability.
Second-hand patio furniture
Second-hand furniture may become both time and energy consuming as they require lots of refinishing, detailed inspection. In most cases, they may come with bed bugs and poor upholstery as they do not always promise good-quality. However, they can be an eco-friendly choice, a highly affordable option, and best for temporary makeover purposes.
Things To Keep In Mind When Buying A Brand-new Patio Furniture
Invest in quality furniture
Patio furniture can cost you a fortune. So, if you invest in such high-end items, considering the quality is always a wise decision. Make sure that the patio furniture you choose offers exceptional quality and style.
Match the colours with your outdoor décor
Now that you are buying a piece of brand-new patio furniture try and buy one that matches the overall colour combination of your outdoor décor. Such a thing will help make a more refined choice and décor your patio space beautifully.
Don't forget outdoor rugs
If you are looking to complement your patio space, you could also opt for beautiful outdoor rugs to amplify the look. Many patio furniture stores provide complimentary outdoor rugs to go with your patio furniture. So, could you make the most of it while you can?
Try them before you buy
Make sure you inspect them properly before you head out to buy the patio furniture. If you have seen the table online, make sure you go offline to check its quality, durability, and reliability.
Things To Keep In Mind When Buying A Second-hand Patio Furniture
Watch out for bed bugs
Bed bugs infest most second-hand patio furniture. So, before you head out to buy them, run a thorough inspection to avoid any bed bugs. It will help ensure the safety of your furniture and health altogether.
Don't go for smelly products
If you find furniture that smells, let go of it immediately. Such smelly products are a symbol of deteriorating furniture that may cost you a fortune later. So, it is best to avoid buying them in the first place.
Scrutinize the furniture
Bed bugs are not the only thing to watch out for when you buy second-hand patio furniture. You have to make sure that the table provides quality and it is as shown in the picture. Also, make it a point to open the drawers and check for any problem right away.
Check for the support system of the couches
With time, the support system of the couches wears & tears. So, when you buy your second-hand patio furniture, you do not want to be fooled. Keep an eye on the bedding of the couch. Please make sure they are equal from all sides and comfortable.
The Bottom Line
Whether brand-new patio furniture is better for you or a second-hand one depends on your preference and budget, as discussed above. So, make sure you consider these factors thoroughly before buying one.