From code camps to startup incubators, young professionals are looking outside of traditional education institutions to gain industry experience. Hence, education institutions are challenged more than ever before to bridge the skills gap between the world of industry and the world of academia.
According to Northeastern University's third Innovation Imperative Poll, 89 percent of colleges and universities agree that they should increase opportunities for programs that focus on entrepreneurship, and 97 percent agree that they should increase opportunities for programs that focus on experiential learning.
One way educational institutions can address these needs is to invest in interior designs that facilitate collaboration (a top industry skill). Designing institutions that ignite creativity will also be important to build future leaders.
Below are some examples of real-life campus designs that inspire collaboration, innovation, and also allow students to step into places with the tools and technology to learn.
1. Amusing Indoor Food Truck at the University of Utah (Salt Lake City, Utah, USA)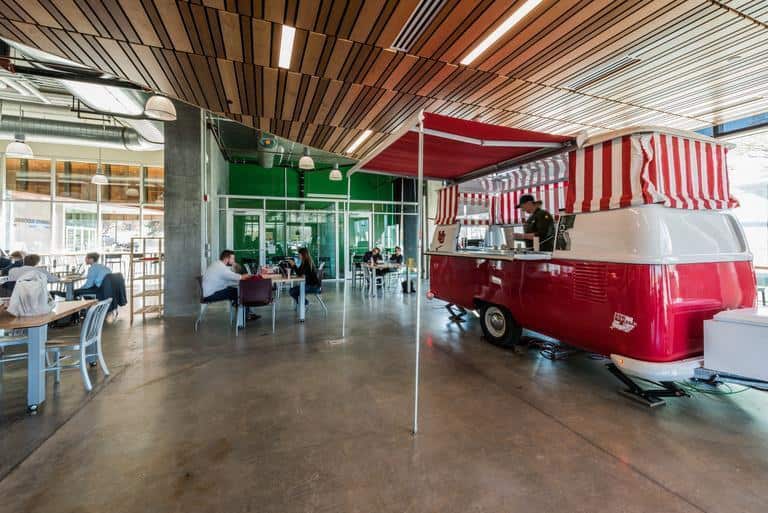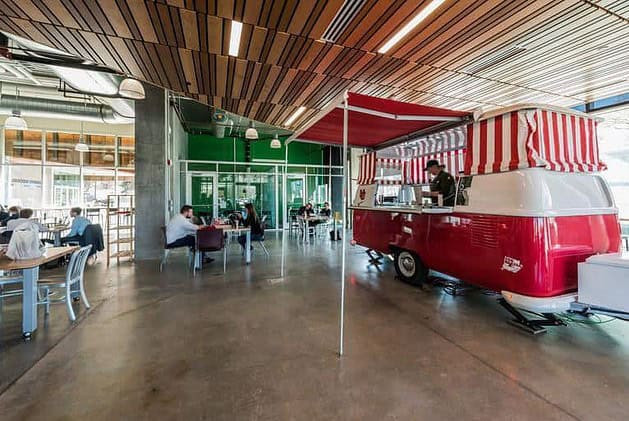 Open-spaces and fun installations are not only trends reserved for startups and modern tech companies. Lassonde Studios is a dynamic space that accommodates both student housing and maker spaces for student innovators at the University of Utah. Inspired by an outdoor street food festival and garage, student entrepreneurs can munch on food in this school's common area while brainstorming a new product under the same roof. The food truck pictured above is classic Americana with whimsy; taking a typical meeting space for students and giving it a carnival spin.
These whimsical and creative designs are also reminiscent of major tech company campuses. For instance, Google's East Coast headquarters also has an indoor food truck, reflecting the company's overarching philosophy to "create the happiest, most productive workplace in the world."
Designer: EDA Architects
2. Modern Break Out Area at Cingel College (Breda, Netherlands)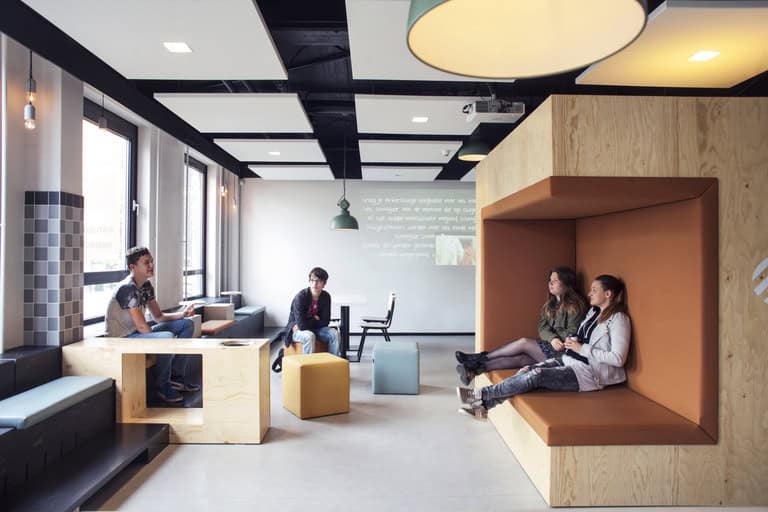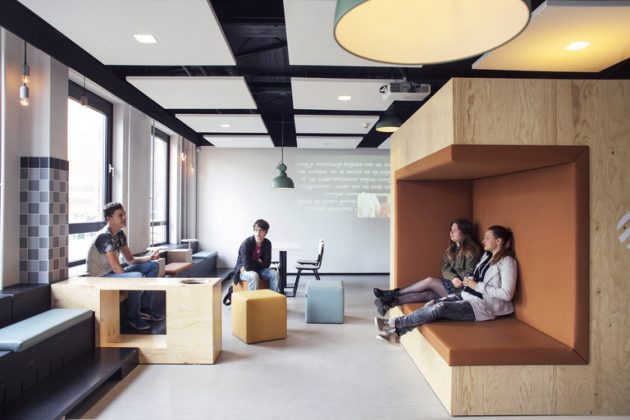 Located in the Netherlands, Cingel College is a cooking school featuring a modern break out area where students can relax, get some studying done and chat with peers.
Studio Mfd designed this space with the goal of "transform[ing] the schools' break out into a worthy area that just as easily could have been the lobby of youngster Berlin budget Hotel or London Hostel. The place has a look and feel [that] easily matches what one would expect to encounter in a modern urban environment," says Studio Mfd.
The two large seating boxes also serve as storage for foldable chairs to be used, such as for events like assemblies or graduations; where the coffee tables provide a laid back atmosphere similar to a present-day coffee crawl.
By designing a campus space that resists stuffiness and leans towards cool and calm, students may feel less pressured when they get back into the classroom. Taking moments to relax in a space that doesn't quite feel like an extension of school means students can avoid feeling burnout, scattered or fried.
Designer: studiomfd
3. Cushy Indoor Step Seats at the University of North Dakota School (Grand Forks, North Dakota, USA)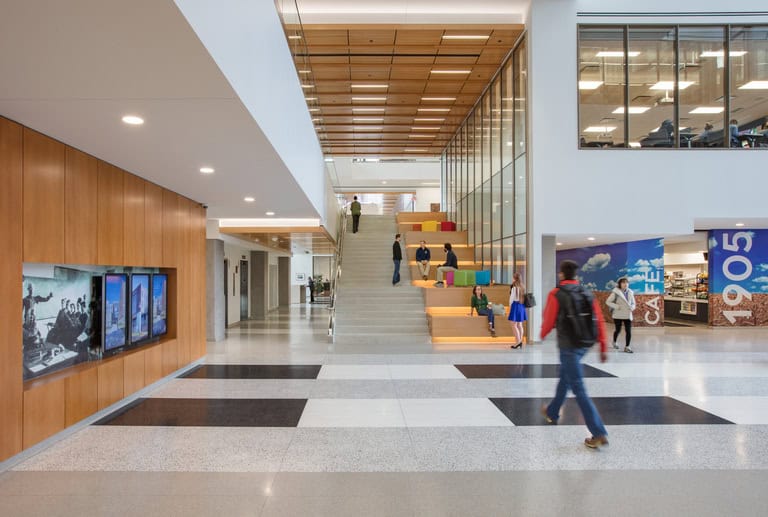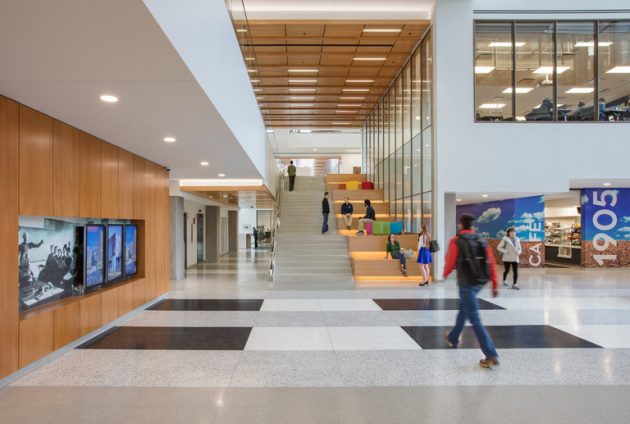 The Medicine + Health Sciences building, located at the University of North Dakota, is designed to soften the transition for freshmen and new students.
According to JLG Architects, one of the designers for this project, "the building is color-coded into different zones… to aid in visual wayfinding. Because education is the focus, all of the academic functions are off the core Main Street to make it as easy as possible for students."
This level of color-coding is a great way to avoid new students from getting lost; on their first day and beyond. Also, instead of several disparate entries, the new building has one main entrance with touchscreen panels to allow visitors to direct themselves around the building.
Designers: Perkins+Will, JLG Architects, and Steinberg Architects
4. Interlocking Lounge Seating at McMaster University (Hamilton, Ontario, Canada)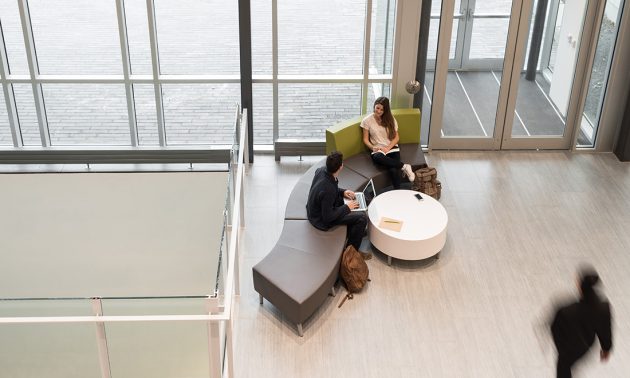 Educational furniture pieces with clean lines and simple forms, such as the River seating (pictured above), pervade the campuses at McMaster University in Ontario, Canada. This university's mobile, modular furniture can configure and reconfigure at the demands of the space, allowing students and staff to connect, collaborate and retreat at their convenience.
Taylor Roth, the designer of this project explains: "Having less adds complexity to a technology-driven learning environment."
The university supports a tech-savvy and mobile demographic with furniture seating that comes with built in power outlets and numerous plug-in capabilities; as well as modular classroom furniture. This also further encourages students to collaborate and work in a fluid campus environment.
Designer: Taylor Roth from Wilson Hall CS&P Architects
5. Unique Atriums at the Sydney Business School (Sydney, Australia)
Breaking away from traditional higher education models, Sydney Business School from Sydney, Australia fosters a 21st century learning environment that encourages productive interactions with the business community while responding to the needs of students.
The architecture firm, Woods Bagot, who designed the campus explains that it "creates social glue for interactive learning." The business school's functional floor plates provide a spectrum of learning environments positioned around a centrally-located social spine. The buildings are interconnected with canopies and atrium spaces, providing interesting walkways that makes it easy for students to move between buildings and to socialize with peers.
Designers: Woods Bagot, KANNFINCH, and Carr Design Group
6. High-Tech Trading Laboratory at the RMIT International University (Hi Chi Minh City, Vietnam)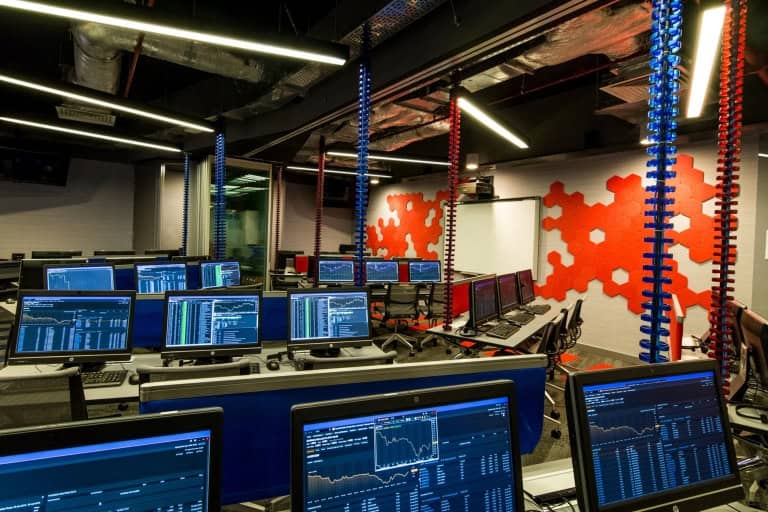 This state-of-the-art financial market trading laboratory, based at the RMIT International University, is the first of its kind in Vietnam. The facility is highly specialized, involving new technologies and teaching methods, to maximise real-world exposure to students and visitors.
Designer: OUT-2 Design
Bridging the experience gap
We've come a long way with classroom seating and campus spaces. While a will to learn was once all we needed for scholastic success, it's becoming more important for campuses to change and adapt to new students and new generations entering the world of college. Now, keeping up with technology and creating spaces where we can foster learning and ideas is at the forefront more than ever.
By modernizing higher institution spaces, and by creating collaborative spaces that edge closer to avant garde rather than traditional, students can be encouraged to connect with one another better than ever. Whether it's pure whimsy, or state-of-the-art technology, the classroom design of today is changing into something more; changing with students to reinforce collaboration and future innovation. Only tomorrow will confirm how this design and tech will influence the world.