The addition of a sunroom or enclosed porch can bring value, more livable space, and a respite from being stuck indoors while enjoying the benefits of temperature and pest control.
A sunroom can be an escape for relaxation or a room to gather with friends and family. Given its name, one might consider the windows the star of the sunroom. While the sunlight or view might be an important factor, the ground under your feet plays a vital part in your ability to enjoy the space.
When it comes to the best flooring for a sunroom, the options abound.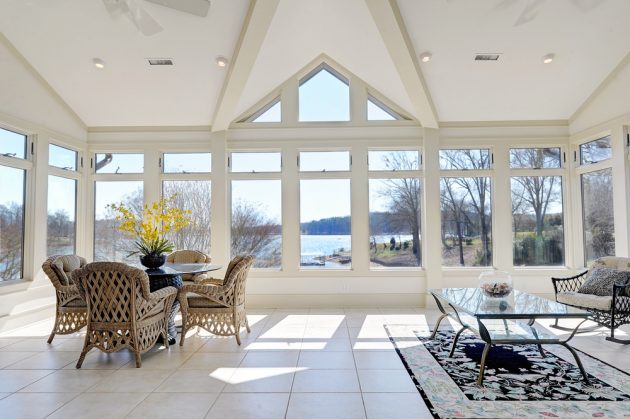 What is the Difference Between a Sunroom and an Enclosed Porch?
You may hear the terms sunroom and enclosed porch used interchangeably. A sunroom is an attached room in your home that typically features large windows or glass walls that allow lots of sunlight. Sunrooms are typically temperature controlled but not all include heating and air.
The enclosed porch is often called a screened-in porch. The main purpose of an enclosed porch is to get the enjoyment of sitting outside without the negative aspects like pests or poor weather. While the screened-in porch has fewer environmental controls, there are options for high-quality, durable flooring available.
The Options for Flooring for a Sunroom
There are several things to consider when choosing the type of flooring for your sunroom or enclosed porch: appearance, durability, and environmental needs (weather-proof, less prone to sun damage, etc.)
Carpeted Floors
Once upon a time, carpeting was banned from sunrooms and enclosed porches alike. The danger of water damage or sun fading was just too great.
Times have changed and carpet is finding its way back to these living areas. Modern technology makes weather resistance, waterproofing, and fade resistance possible.
Look for thin pile carpeting that is manufactured with natural or synthetic materials. The goal is not to install plush, thick carpeting but one that is attractive and durable. The best options are:
Polypropylene: A synthetic carpeting that is stain resistant and attractive. It can be installed economically and is attractive while resisting costly mold and mildew development. Polypropylene is easy to clean by washing it down with a hose or in some cases a power washer. This is ideal in indoor/outdoor rooms like a sunroom or enclosed porch.
Sisal: This natural product comes from the agave plant (better known for its use in Tequilas). The plant features very strong fibers that are used in other woven products like ropes used on boats and docks. Sisal is incredibly durable and can stand up to very wet environments. It is not as comfortable as a thick, plush carpet but is ideal for areas that might experience some wet weather.
Ceramic Flooring
Ceramic styles are endless and feature many colors, patterns, and styles. This flooring is also incredibly durable and resists scratches well. Cleaning is a snap with ceramic floors and they tend to help with temperature control by holding heat in winter or feeling cool underfoot in warmer months. It is a great option for sunrooms and enclosed porches but the price point can be a little higher than other options.
Concrete Floors
If a cold, drab concrete floor comes to mind when you see it is a flooring option – get that image out of your head! Concrete can be colored, stained, or permanently stamped with a beautiful design. Concrete floors are being found all over new homes and make the perfect, easy maintenance option for sunrooms.
Hardwood Floors
Hardwood is a beautiful option for weatherproof sunrooms when treated to avoid damage from sun exposure. It is not recommended in any form of an enclosed room because moisture can bring about premature aging and an early need for replacement.
Laminate
Laminate floors provide the look of wood flooring but offer better prices and less maintenance. A laminate floor is a composite wood topped with a hardwood image, then covered with a synthetic that makes the floor durable and easy to clean.
Scratch-resistance, fade-resistance, and moisture-resistance are all positive attributes found in laminate flooring.
While laminate floors are great for budget-conscious sunroom owners, it is important not to purchase "cheap" laminate floors that might be subject to peeling or warping. Purchase high-quality laminate floors and consider professional installation to ensure a long-lasting product.
Luxury Vinyl Flooring
Like laminate, vinyl flooring once had a negative connotation of sorts. Those days are gone thanks to advances in technology and developments in materials.
Luxury Vinyl Plank and Luxury Vinyl Tile (LVP and LVT) are used throughout homes and both make great options for your sunroom.
LVP and LVT floors offer durability and style with almost unlimited design options. Color, patterns, textures, and more are customizable. LVP and LVT can look like stone, tile, wood, and marble.
Luxury vinyl flooring, despite its name, is an economical choice for sunrooms focused on durability and style.
Plenty of Options
It can be a little more challenging to choose the right flooring for your indoor/outdoor space. Sunrooms and enclosed porches require durable flooring materials that still look and feel great.
Improvements in materials and manufacturing have made many options available to choose from. Consider discussing your needs (weatherproof, fade-resistant, durability) with a flooring expert to make sure your sunroom floors look great and last a long time.