Project: Söğütözü Business Centre
Architects: AURA Design Studio
Location: Ankara, Turkey
Area: 108,177 sf (site), 181,597 sf (construction)
Photographs by: Courtesy of AURA Design Studio
Söğütözü Business Centre by AURA Design Studio
The Sögütözü Business Centre / Central Business Area / Sub-Central Urban Design Project is located at the heart of one of Ankara's largest business and shopping districts. It was commissioned back when Professor Raci Bademli was still the Director of Construction Affairs for the City of Ankara. A pedestrian backbone alongside various commercial venues and a hotel on the surrounding plots of land surrounding are among its many highlights. Not only is it a successful urban design project, it is a key one as well.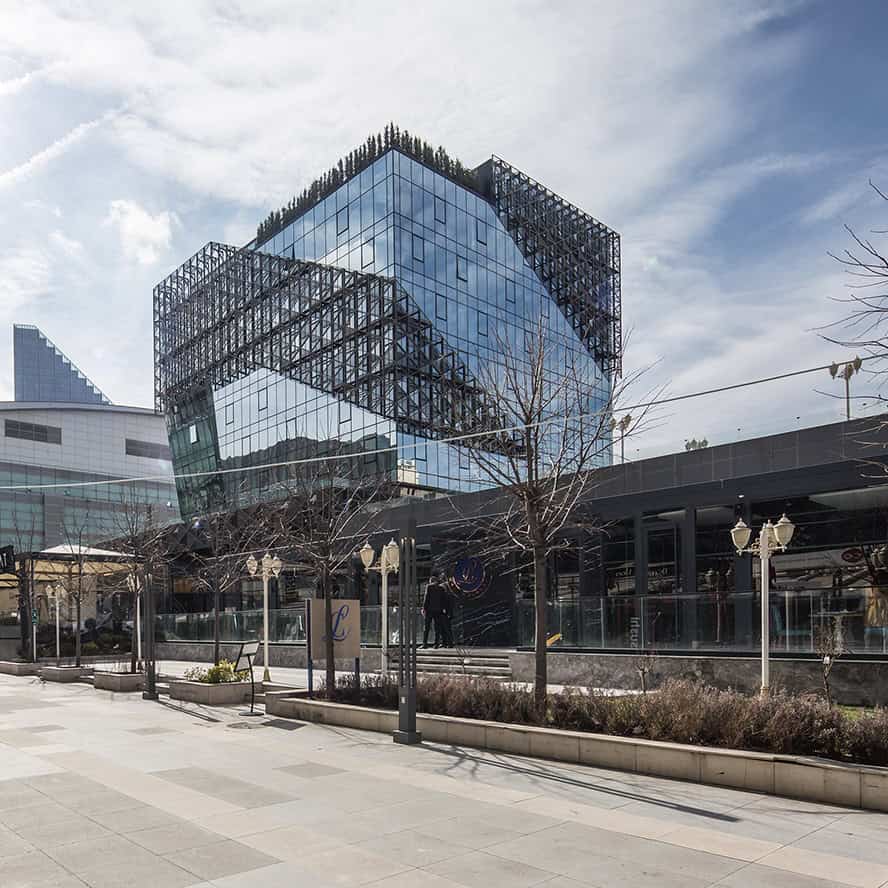 The structure is connected to a pedestrian walkway lined with ground-level commercial units. Immediately behind, a quiet park serves as an entranceway to both the office building and parking lot opposite. An overhang extending above that entrance has been designed with a steel structure to blend in with the character of the façade. The architectural projects have provided the structure its mechanical, electrical, and static coordination alongside a tactfully planned façade and landscaping.
Panel wall elements have been systematically used for the curtain walls. A façade consultant as well as manufacturing firm carefully designed each panel. The fronts of the panel façades were conceptualised as triangular mesh panels that are uniform in size. They integrate into the main façade system through custom-designed horizontal, vertical, 45-degree angle, and empty frame G panels. Catwalks—including CTP cassette panels—were installed on the exterior and interior of each floor to allow the façade to be easily cleaned.
Twenty (20) centimetre aluminium panels resembling wood were installed both between the commercial units on the ground and terrace floors, as well as along the ceiling of the terrace floor above the second floor—namely to accentuate their mass movements
The structure is an important piece of urban design. Its landscaping—and the pedestrian walkway—had not only to be fully integrated, but also blend in with the character of the structure's façade and mass. Travertine thus was chosen as a seamless ground material. Differences in dimension were resolved with patches of landscaping surrounded by triangular sheet metal borders. Escalators oriented towards the junction points establish the dimensions of the walkway. Planters complete the terrace floors and create a green space for employees to step out onto for fresh air.
Retractable wings on the curtain walls blend with the open and administrative offices alike. Raised flooring gives each office floor a flexible layout that can be rearranged in the future. The colour scheme for the woodwork was custom picked via extensive sampling before being collectively decided upon. The building opened its doors to the public as soon as the interiors of the administrative spaces were completed.
-Project description and images provided by AURA Design Studio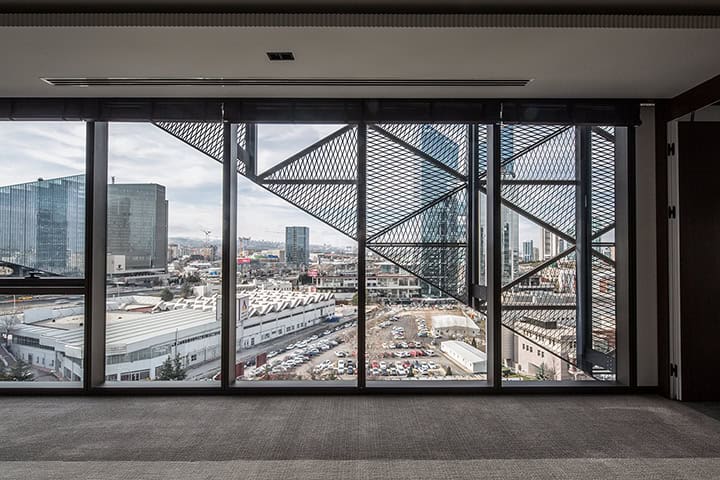 Plans