Whenever the thought of home's curb appeal crosses your mind, each one of you starts gathering all the DIY improvement ideas. From ideas involving mailbox improvements to entirely changing the lighting of your exterior takes up most of your time. But did you know that you don't need any significant remodeling or renovation to upgrade the look of your living room?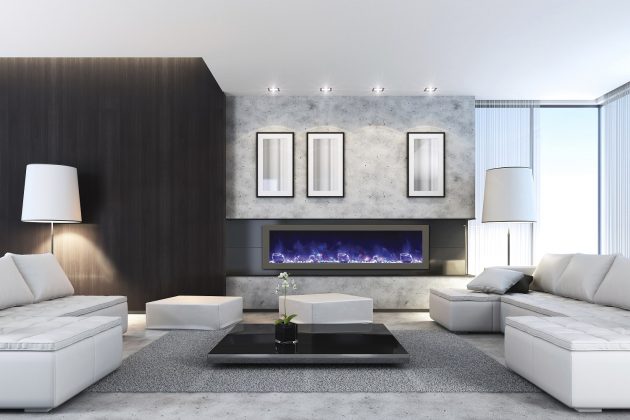 Confused? Well! All you need is an electric fireplace, and you can automatically enhance the aesthetics of your home. It's that simple. Further, with a plethora of designs available, ranging from sleek, modern to a traditional wood look, electric fireplaces are pretty popular decorating items you can find in the market.
Is that all? Not really. Keep reading and find out why.
Electric Fireplace- Create a Look You Desire
You can hang them in your room or get them into a cabinet as your space allows. You can even forego the modern look and install an insert in your existing masonry to create a traditional ambiance. In fact, you can even find a spot to hang those magical stockings for Santa.
Moreover, you can decorate the fireplace mantel further to enhance the look of your living room and home, thereby increasing its curb appeal. Here are some ways that you can use to accentuate your fireplace's features.
You can coordinate the rest of your living room's decor by extending the mantel into a space that serves the purpose of the open shelf. It works so well that you won't even notice the TV above the fireplace.
If you have some impressive collections, why keep them cooped inside rooms. You can show off by placing them over the mantel.
Who doesn't love colorful candlesticks, and if you pair them with a gold mirror will create a modern look. You can either opt for a single metal or opt for metal mixes to further enhance the look one step.
Electric Fireplace- Upgrade The Coziness Factor of Your Home
If you think that this option only had interior design perks, let's make it clear that electric fireplaces have the credibility of achieving the heat output that's desirable for your home. It comes with a remote control that allows you to control your home's thermostat and heat settings.
In other words, it acts as supplemental heat if you wish to save on your electric bill. But if you are still confused about the query, do electric fireplaces put out heat? Here is how it does it. It takes in the cool air inside the room and heats it with the heating element and heating coil to warm the air before releasing it back to the room. In layman's terms, it uses the concept of convection to provide a cozy feeling.
Wrapping up
The last few years have seen a rise in the number of homeowners opting for electric fireplaces than traditional ones. Plus, since they are quite suitable for any home type, such as apartments, condos, or even small studio apartments, their versatility increases their popularity.
Since they are customizable, they are helping homeowners to enhance their curb appeal in many ways. They are the modern way of creating aesthetic appeal without losing the functional parameter. All in all, it helps you save money on utility bills and upgrade the look simultaneously.