The window treatments we choose can make or break the look of a room, so it's important to consider all the options before making any final decisions. No matter what kind of style you prefer in terms of interior design, the perfect set of window treatments is out there waiting for you! Let's take a look at 9 different types of window treatments for your home and learn about the advantages of each one.
1. Bamboo Shades
Bamboo shades offer a great sense of privacy and a natural feeling to the decor of a room. They're also easy to clean since they can simply be dusted off instead of needing to be taken down and washed.
Bamboo shades are made by assembling slats or rods of bamboo into a rectangular cover that does a good job of filtering light and providing partial insulation against the heat of the midday sun. Alongside offering a natural look, another key point in favor of bamboo shades is that the renewable nature of bamboo as a resource makes them a wonderfully eco-friendly choice.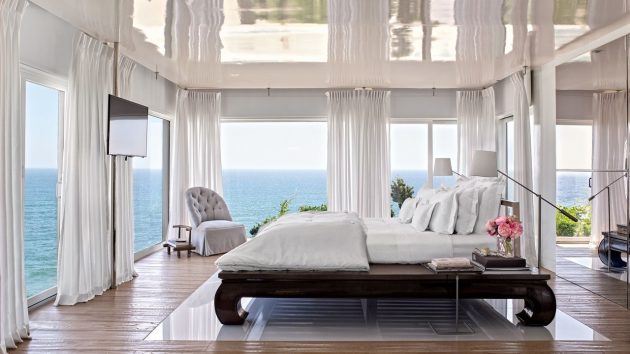 2. Roller Shades
Affordable and durable, roller shades can give a sleek and minimalistic look to a room. They serve all the utilitarian purposes of bulkier window treatments by blocking out light and providing a bit of insulation but with the added benefit of rolling up out of sight behind the headrail when not in use.
The simplistic design of roller shades also makes them low-maintenance. Their panels are relatively smooth and sport fewer nooks and crannies where dust and debris can collect.
3. Cellular Shades
Otherwise known as hexagonal or honeycomb shades, these window treatments come in a variety of pleat sizes that offer different levels of light filtration. Cellular shades also come in single-cell or double-cell forms that offer varying degrees of insulation against hot or cold outdoor temperatures.
The long, open cells of these window treatments allow for plenty of airflow through their structure, which is what makes them such great insulators. For those of us who live in hot, sunny climates, cellular shades are a great choice!
4. Pleated Shades
Pleated shades offer a similar look to that of cellular shades, but feature a few key differences. While honeycomb shades feature two layers of fabric that come together to form a set of hollow cells, pleated shades utilize only one layer of folded fabric.
The single-layer fabric of pleated shades does not offer the same insulating capabilities of cellular shades, but it often comes in more varieties. The simplistic structures of pleated shades allow for a wider range of decorative fabric choices and provide more of an opportunity for self-expression.
5. Roman Shades
These offer even greater opportunities for us to get creative than pleated shades do since fewer folds allow for more elaborate fabric types. Roman shades just might be one of the most timeless and flexible window shades to date, since their classic and versatile structure allows them to be tailored to any number of different window sizes.
Depending on the type of fabric used in our Roman shades, we might see a decrease in the electric bill as well! Sturdier fabric shades offer a good amount of insulation on top of increased privacy.
6. Sheer Shades
For those of us with a penchant for delicacy and elegance, sheer shades are almost certainly a good way to go. They do a great job at filtering sunlight and offering UV protection and privacy, but still allow some soft light to come through.
The delicate look of sheer shades can lend the home a light, airy feel and create a sense of openness. Sheer shades are also fairly versatile and can be paired with other types of window treatments for greater blackout capabilities.
7. Graphic Shades
For creative types, there's probably no better window treatment option than graphic shades! These generally come in the form of single panels that can be printed with unique customized graphics. Each panel can showcase its own individual image, or a set of them can come together to display a larger graphic that stretches across the entire wall for intense visual impact.
In addition to being extremely customizable, graphic shades also provide a great deal of privacy and block light well since the panels are usually solid.
8. Solar Shades
Solar shades are specifically crafted to minimize solar heat gain which means that, while they're more costly than some other shade varieties upfront, they can help lower our air conditioning costs in the long run. Since they reflect the sun's UV rays they also minimize sun damage to a house's flooring, furniture, and inhabitants.
In terms of design, solar shades are delightfully versatile and come in a variety of different sun-resistant fabrics that can enhance the room's visual theme.
9. Woven Wood Shades
Another eco-friendly option similar to bamboo, woven wood shades are recyclable and generally sustainably-sourced. These shades often feature narrower gaps than many varieties of bamboo shades do, meaning that they offer better privacy while still allowing a little bit of light to filter through.
Woven wood shades can immediately lend a more organic and cozy feeling to the home, and they're also extremely varied in terms of texture, weave, and style.
Remember
There are all sorts of beautiful window treatments and shade varieties on the market, making it easier than ever to find the perfect fit. While selecting our ideal window treatments, it's important to consider factors such as visual design, structural versatility, insulation capabilities, and sustainability.
The opportunity for customization is also key for many homeowners, and any potential new window treatments should be compared with the structure of each unique set of windows to ensure that the shades will look their best.