If you're decorating the nursery, you've probably gathered essentials like a crib, rocking chair, dresser, and changing table. Once you've chosen a theme or selected a color palette, you'll want to keep everything unified.
The little details will tie everything together and result in the nursery of your dreams. Here are nine essentials every nursery simply must have.
Indoor Shutters
There are several reasons you'll love having indoor shutters in your nursery. First, they're absolutely gorgeous: They can give your nursery a country chic appearance that will unify any rustic theme.
In addition, shutters are extremely energy-efficient, and will keep the room an even, comfortable temperature for your infant. They reduce outdoor noise as well.
Faux wood plantation shutters are a popular choice because they're more affordable and easier to clean than real wood.
Wall Decals
Few items will capture the eye better than a large wall decal in bright, baby-friendly colors. The nursery is one of the few places in your home where you can get away with such loud, vivid decals. The result can be stunning, particularly if they're placed over a neutral paint color.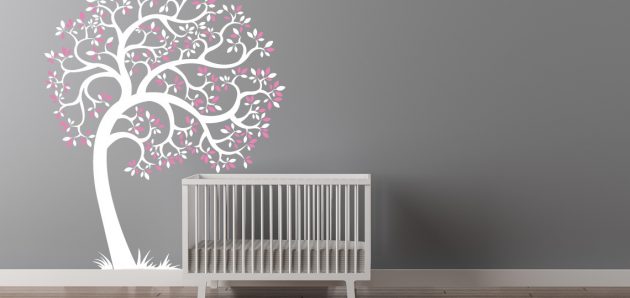 Wallpaper Accent Wall
Wallpaper is making a comeback in the best way. Designing your nursery decor could be as simple as adding a few strips of wallpaper to one wall to provide visual interest.
Some of the most popular wallpaper accents have featured stripes, polka-dots, and nature-themed patterns. You'll want to go with easily washable wallpaper.
Your child will likely be in this room through his or her toddler years, and you'll be astonished by the messes a little person can make in that time frame.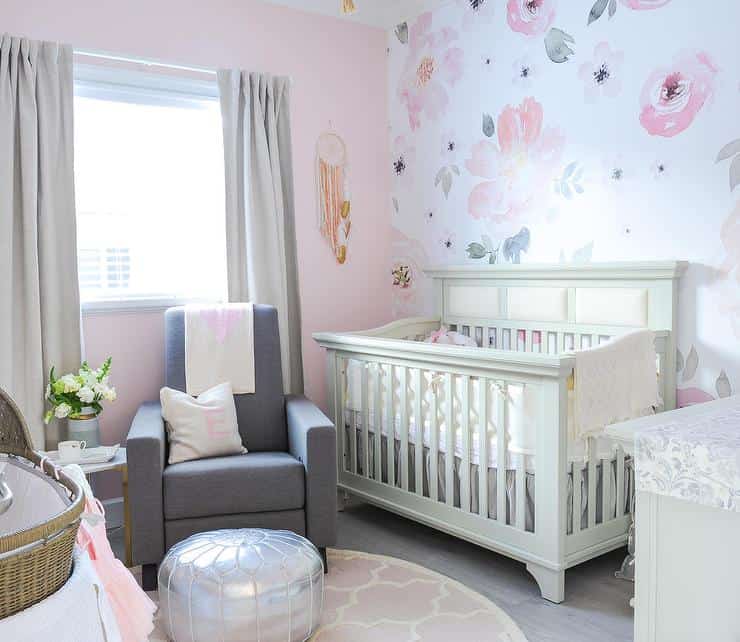 Animal Pillows and Toys
Your newborn will have no interest in stuffed animals for several months … but that doesn't mean you can't enjoy stuffed toys as decoration yourself. They can be placed in the crib (as long as they're removed whenever the baby is asleep), or on a shelf to create the unmistakable sign of a child's domain.
Pillows printed with animal faces or in the shape of animal heads are also an attractive choice for a crib, rocking chair, or changing table. Whether you have a circus- or farm-themed nursery, or a more neutral color scheme, you can't go wrong with decor that focuses on furry critters.
Crib Mobile
A mobile is a piece of decor that's functional as well as cute. Suspended above the little one's crib, a mobile can serve as stimulating eye candy for your newborn who'll be avidly exploring the world of color, shapes, and movement. It's also a super cute way to connect the crib to the theme of the the rest of the room.
Large Name Print
Many parents have emblazoned their newborn's name in a large decorative font, framed it, and placed it on the wall above the crib. The baby's name can also be printed as a vinyl decal that can be stuck to the wall or a slab of wood. You can purchase a customized name in any of these forms on Etsy.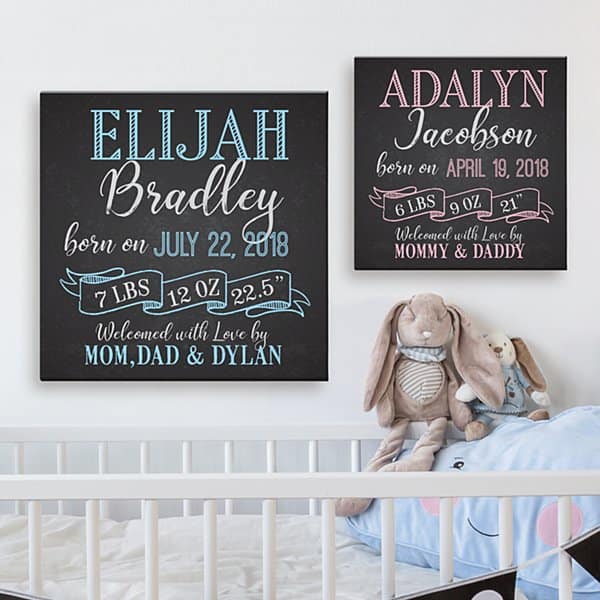 Travel Decor
Many parents today seek to instill in their infants the desire to see the world and be the best they can be. Thus, a fair amount of trending nursery decor centers on travel.
Whether they install a large, framed map or a collection of framed prints of scenes from around the globe, such details create a gorgeous "adventure awaits" theme. You can also find inspiring quotes framed in simple wood to inspire your baby to see the world and leave a mark as she or he grows.
Geometric Floating Shelves
Floating shelves are usually an excellent idea for the nursery, particularly if the room lacks a lot of space. Shelves provide vertical storage for such items as books and stuffed animals, and boost visual interest along the walls.
You can think beyond the average by trying various geometric floating shelf boxes. You'll discover a variety of options, and you may find that enclosed shapes make it easier to store items without the rist of them falling.
Canvas Tipi
In just a few short months, your baby will learn to crawl. At that point, he or she may absolutely love the patterned canvas tipi you set up in the nursery.
It's a fun space for a kid to play peek-a-boo with you as a toddler, and as your little one grows, he or she can use some imagination to come up with creative storylines during play time.
Nurseries are adorable when you put some thought and creativity into them. If you're about to decorate a baby room in the near future, start collecting the items above right away!