If you're looking for a creative project that will spice up your outdoor space, then try out one of our 8 painted Adirondack chairs ideas. From beginner painters to experienced artists, it's a fun activity anyone can do!
You can start with chairs you already have, purchase new ones, or find used ones that are in need of a makeover. One suggestion that you should follow is that you purchase outdoor paint for this project. Otherwise, it's likely all the hard work you put into your chairs will get washed away by the elements.
DIY Painted Adirondack Chair Ideas
Each of these painted Adirondack chairs is a creative DIY project you can do at home. Just grab some paint and get to work!
1.Rainbow Fish

This gorgeous display of creativity is a great way to brighten up your patio. You'll need to cut and attach a wooden fish head and tail to complete the look. Other than that, you just need a variety of bright colored paints and some brushes. To simplify this project, simply paint your Adirondack chair rainbow.
2.Board Game Bliss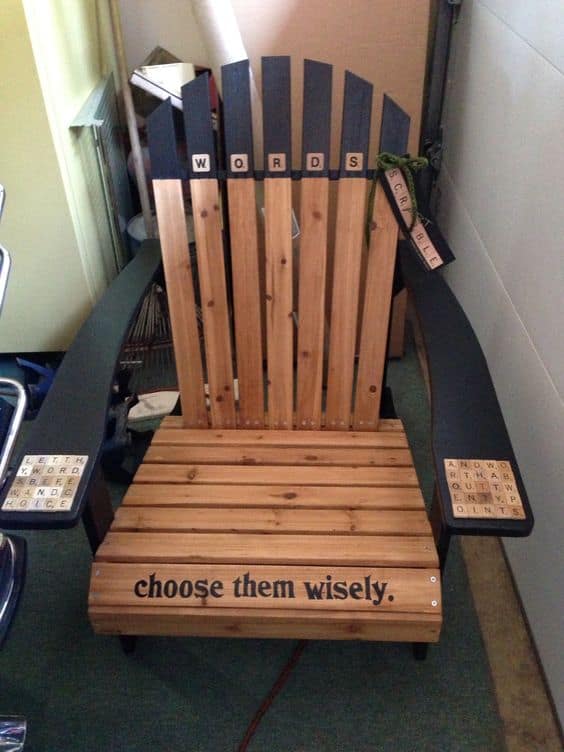 The innovation that went into this painted chair is brilliant! The matte black paint and Scrabble tiles give the chair a sophisticated look while displaying an important message. You could make so many adaptations of this design, such as spelling your family name with the tiles. Substitute the black ribbon pictured with something more colorful for a brighter design.
3.May the Force Be with You
A Star Wars superfan turned their Adirondack chair into a Stormtrooper! You'll need some skills with a saw to trim the back of your chair to the proper shape. Once you've completed that step, add a couple of coats of white paint and black details. Invert the colors to create a Darth Vadar version.
4.Neon Dreams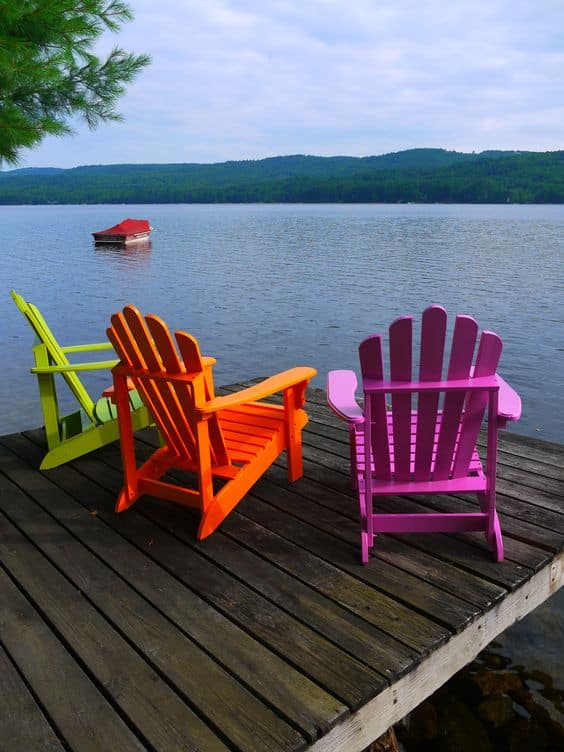 This is the perfect project for a beginner! These bright chairs are great for adding a splash of color to your lake house or pool. Although they're simply painted solid colors, the combination of neon creates a dynamic look. Choose pastel colors and sand portions of the chair for a weathered version.
5.Coastal Vibes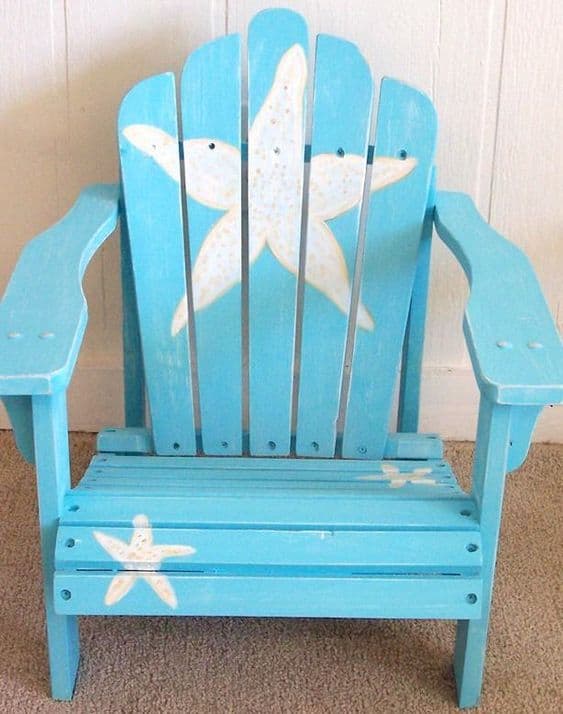 If you're looking to bring a little surf and sand home with you, then this is the painted Adirondack chair idea for you! You can pick up a starfish stencil at pretty much any crafts store or make your own out of cardboard. Use white paint on top of a pale blue background and you're done! You could also sand down parts of the paint to create a sea-weathered look.
6.Team Pride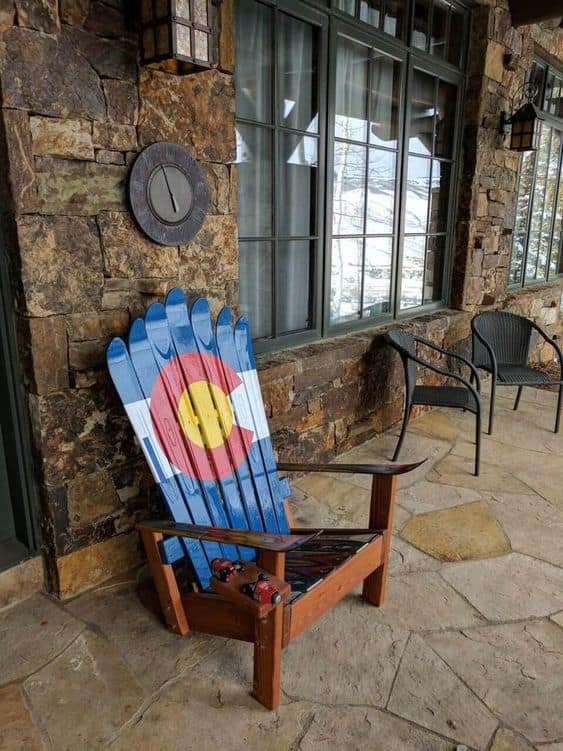 Even if you aren't a Cubs fan, you can adapt this idea to work for any team. For a more complex design, mimic the team's logo as you paint. If you want to simplify things, you can easily paint each panel an alternating color. This design also works great for cheering on your local high school. Customize for the player in your house with a stenciled number on the back. You can find more DIY painting tips online.
7.Bright and Blooming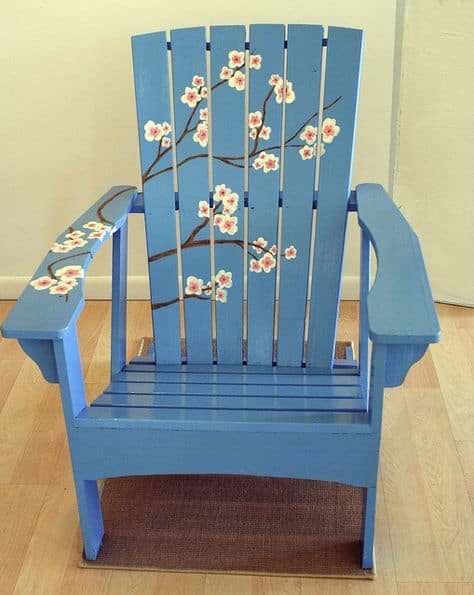 Perfect for spring, this blue painted chair features a beautiful depiction of a cherry blossom tree. Of course, you can always substitute the specifics for another floral design. A green chair with a sunflower on it would be perfect for summer! You could extend the design by adding vines or stems that wrap around the legs and arms.
8.Watermelon Escape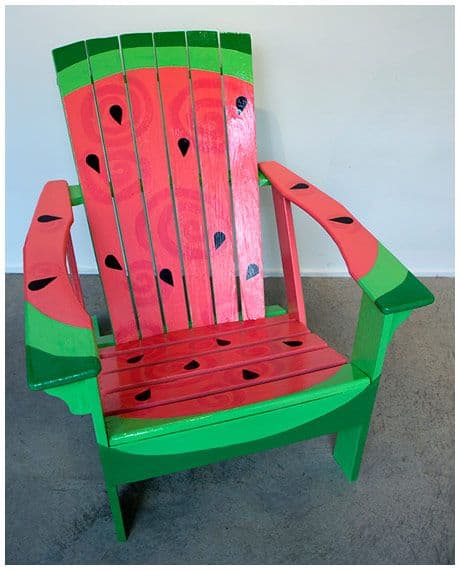 If you want to give your patio a tropical vibe, try creating a watermelon design on your chairs. You can cover the full chair with a cyclical pattern or keep things easy by only painting the pack panels. This idea would also work for a pineapple. You'd just need to make a few modifications. You could trim the top of the chair back to create the illusion of pineapple leaves.
There is no limit to what you can paint your Adirondack chairs! With a little creativity and innovation, you're sure to come up with your own version of our chairs ideas.
We will provide you with one last tip before you go: always paint multiple base coats. This way, your gorgeous masterpiece will look brand new for years to come! Other than that, have fun and explore your artistic side!