If you have visited anywhere in the southwestern United States, you may have seen a few classic or modern examples of Spanish architecture. This style, particularly for home design, is most often known as the colonial revival style. For homes built in states like Arizona, New Mexico, Colorado and California, Spanish colonial revival architecture is both a practical and pleasing design. A high end architecture firm may take advantage of these classic characteristics in the plans for a new home to create a stylistic distinction for a new home.
The Spanish colonialist revival design is primarily used in residential settings, but can also be found in some commercial spaces, such as restaurants or small offices.. But what are the key design signatures that identify this form of architecture?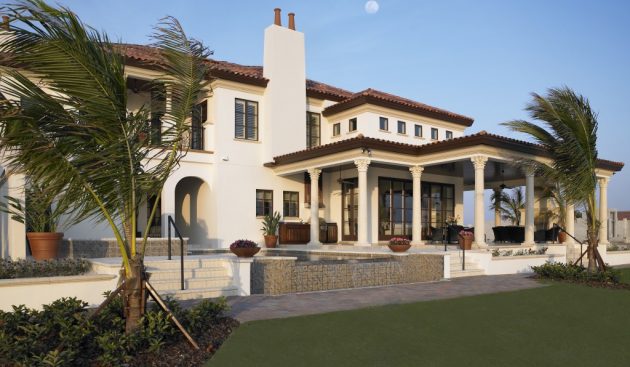 Here are eight defining features that identify Spanish colonialist revival architecture in the southwestern United States.
1.Light-Colored Stucco for Interior and Exterior
The inclusion of white, tan, or yellow colored stucco for both the exterior and interior of the home is nearly universal to all Spanish colonial revival architecture. This feature directly counters the heat, which adds to its popularity in warmer regions.
The lighter colors prevent the walls both inside and outside from absorbing the continuous sunlight and high temperatures during the day while keeping in the heat for evenings when the temperature drops dramatically. The stucco walls directly counter the desert weather found in the southwestern United States and provide a base of the other design features of this form of architecture.
2.Tile Roofing
For many modern homes that include Spanish colonial architecture designs, the roof is set to a low slope with red colored tiles. This provides a direct color contrast with the white stucco on the exterior walls. The tile color also brings in an earthier color that directly matches a desert climate.
For larger homes using a Spanish colonial revival design, the roof is divided amongst the sections of the home, especially when features such as towers or high chimneys are present. A few homes with Spanish architecture will opt for wooden roofs, but this is much less common.
3.Wood Support Beams and Accent Features
For the interior of the home, one of the primary contrasts in color, compared to the stucco, is derived from exposed dark wood support beams crossing the room. Accent features and furniture can also match the color and texture of these beams and provide a somewhat rustic appearance. Most furniture within the Spanish colonial home steers away from metallic surfaces and square edges to better match the basic structure of the building.
4.Arches
Dramatic archways are a staple for homes built in the Spanish colonial style. These archways are used primarily for doorways and windows, and range from a plain and simple design to a dramatic decorative feature. Interior arches can also feature in long hallways and can add a smooth appearance for the ceiling in any room.
In fact, sharp corners or edges in rooms or on furniture are fairly uncommon for this type of home, and building in arches throughout moves the home design away from anything that looks square. As an exterior feature, arches are used for patios and support overhanging areas of the house. In larger buildings, these archways can also feature as elements in architecture for courtyards.
5.Smaller Windows
Many (though certainly not all) windows in the Spanish colonialist style are traditionally smaller. This feature arose as a response to the climate and general environment of the southwestern regions of the United States, as the windows were designed to ward off excessive heat. Larger windows may feature in the main living spaces, but this is more of a modern adaption than a traditional construction.
6.Wrought Iron
This feature is much more decorative than the above listed design components, but can also be central to the overall appearance of both the interior and exterior of the Spanish colonial revival home. The patterns and variety of decorations for wrought iron are extensive, and can be customized to match the level of modern or classical architecture elsewhere in the home's design.
Wrought iron railings for staircases are a frequent fixture, particularly where the staircase is curving and does not turn sharply. Balcony railings and window frames can also incorporate wrought iron, as can garden and courtyard gates.
7.Patterned and Painted Tile
Many Spanish colonial revival homes use floor tiles to great decorative effect. Tile designs are often ornate and provide a boost of color for the interior of your home interior. Floral patterns are fairly common, but the variety of arrangements are seemingly endless. Mosaic tiles are also a popular option for interior decoration and make for a great talking point. These can range from being fairly simplistic to highly elaborate, and are especially popular for bathrooms and kitchens.
8.Courtyard and Patio Arrangements
Spanish colonial architecture is typically constructed to include larger outdoor spaces so that residents can easily take advantage of warm weather and minimal rain. In larger homes or in combined homes, courtyards are common, and can serve as a shared or extended living space.
Patios, particularly in the front of the home, often feature arches that double as support structures. This provides a cooler set up with more shade, but from an architectural standpoint is much more simplistic.
Conclusion– 8 Defining Features of Spanish Architecture
Though the Spanish colonial revival style of architecture is most commonly found in the southwestern United States, a residential projects design company can utilize this style of architecture for any new home regardless of geographic location. Environmental and utility related concerns regarding this type of architecture can easily be mitigated with proper blueprints and construction plans.
The defining characteristics of the Spanish colonial revival style are fairly consistent, and therefore, easy to recognize. The simpler features, such as the plain stucco, can provide a clean and light appearance for the home. The more dramatic elements of this architecture, such as the frequent use of archways for windows and doors, allow the style to stand out in the modern American landscape.