A person's house is their castle, and a bedroom is the very focal point of an entire house. As such, being able to decorate your bedroom and make it feel as if it was a luxury hotel room is one of the best ways to truly feel like you're living like a king.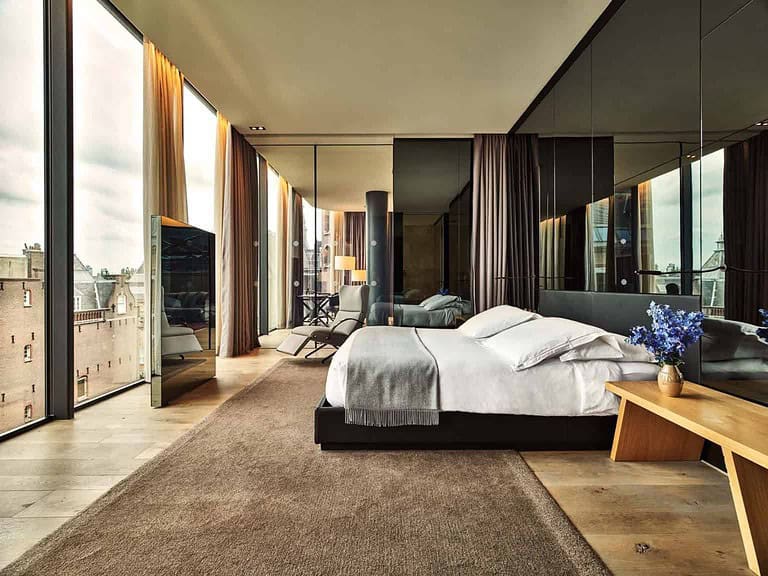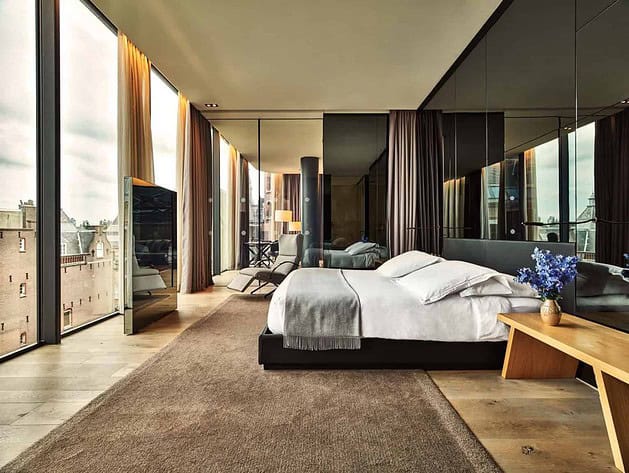 Here are seven easy ways that you can make your bedroom feel like a luxury hotel room.
1. Use Crisp Hotel Sheets
If you've ever spent much time in a luxury hotel room, you will have noticed just how nice, soft and crisp the bedsheets usually are. It almost feels as if the hotel bought a pack of brand-new sheets just for you, doesn't it? The truth is that hotels achieve this by purchasing sheets made of high-quality material and maintaining it very well.
To mimic this effect in your home, invest in hotel quality sheets like these. Most hotel sheets are made of Egyptian or Supima cotton; these are super soft and elevate the look and feel of the bed. You can maintain their appearance by regularly washing them and spraying a bit of tap water on the sheet to put down creases.
2. Declutter
The most high-end luxury hotel rooms will often keep a shockingly small number of items and pieces of furniture in their hotel rooms. A few vital pieces of furniture such as a bed, table, dresser and chair are often the only things you see in a hotel room. Maybe, you'll get a couch or two as well, but in general hotel rooms are very minimalistic.
You want to achieve this same look for your own bedroom because it makes your bedroom look and feel extremely neat and tidy. The absence of unnecessary items conveys a strong sense of prestige and sophistication that a cluttered bedroom simply does not. So, put away all those items in your room that aren't fully necessary.
3. Proper Lighting
Have you ever been inside of a hotel room where the lighting was so bad that you had to strain your eyes just to see your phone's screen? The odds are that you probably haven't. Hotels understand that lighting is one of the most important aspects of making a room feel comfortable and high-end.
To mimic the feel of a hotel room in terms of lighting. Make sure that your bedroom has a variety of lighting options ranging from bedside lamps to ceiling lights and maybe a chandelier as well. Ideally you should have all your lighting sources on dimmers as well, and if you can incorporate candles as well to achieve a more aesthetic appearance.
4. Incorporate Wall Art
Have you ever been inside a fancy French hotel and gazed upon an imposing portrait of Napoleon Bonaparte mounted on a white horse in the lobby of your hotel room, or something similar? This kind of art is not only personally inspiring, but it also adds to the overall prestige and sophistication of the room that it is displayed in.
An imposing piece of artwork hung on the top of your bed or the wall opposite it can have the same effect. You don't have to necessarily invest massive sums on procuring fine pieces of art though, you can just as easily prepare your own art if that interests you, or you can obtain wall art relatively affordably from many art stores.
5. Choosing a Colour Palette for your Bedroom
You may have noticed that all high-end luxury hotel rooms seem to have very similar color palettes that consist of mostly neutral colors such as soft white, beige and maybe some brown. This is not coincidental as hotel owners understand that choosing a neutral color palette for a room is a strategic choice that will make a room feel much fresher and calmer than if more vibrant colours were to be employed.
In order to make your own bedroom feel more luxurious, you can change the colour palette of your room to a neutral tone. This will mimic the appearance of a high end-luxury hotel room, and make it feel like a very fancy room that has been set and designed by someone who understands home décor
6. Fresh Flowers are a Must
If you look up pictures of high-end luxury hotel rooms, you may notice that nearly all of them will include flowers, real or artificial, typically in vases strategically placed in different parts of the room such as the window still or a dressing table. Seeing flowers has an inherently positive effect on the human mind, so it helps to further add to feelings of satisfaction in a room.
So, don't leave your own bedroom devoid of flowers either. Place a couple vases in your bedroom with some lush and beautiful flowers to accentuate the room, and make it appear like a very high-end area. Flowers are a very cost-effective way to beautify your room.
7. Invest in Premium Pillows
Luxury hotel pillows are famous for being extremely soft and comfortable. This is made possible due to the fact that hotels invest in high-end pillows made of goose down and feathers and covered in silk pillow cases. This combination optimizes the comfort level with respect to pillows and helps hotel clients sleep comfortably at night.
Purchasing a set or two of deluxe goose feather pillows with silk cases can, therefore, be a very worthwhile investment, but be warned that they tend to be somewhat expensive. The great benefit of acquiring them though is that you'll immediately experience the sleep benefits of using high-end pillows which will make your nights more comfortable and improve your mood.
Hotel rooms are very finely engineered to offer clients the most possible satisfaction and comfort. You can achieve a similar effect in your own bedroom by making a number of smart decisions with respect to how you organize your room.