In order for the study to become a fascinating activity for a child, it is necessary to take care of the design of his workplace. Properly selected furniture, successful color design, original accessories will help to set your child to productive work. We have collected 7 valuable recommendations for parents who want to turn their child's homework into a real holiday.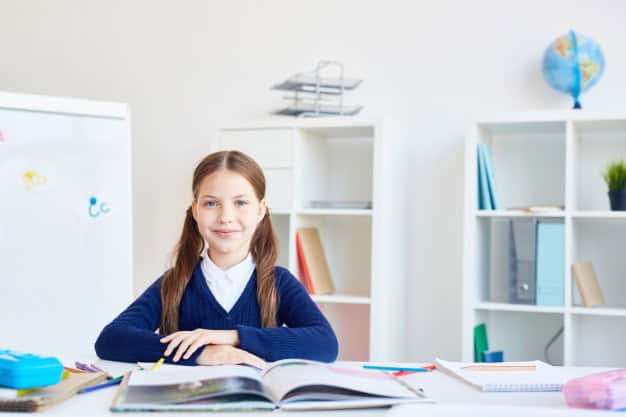 1. Comfortable table
The height of the desktop should be such that the child does not slouch behind it, and his elbows lie freely on it. Specialists recommend to pay attention to transformer tables, the size and height of which can be adjusted depending on the age of the child.
As a material, it is better to choose a tree. It is necessary to see that the table is free of defects, various cracks, untreated parts, glue residues. If the furniture has an unpleasant smell, then such a model should be left in the store.
It is also worth considering gender differences in the selection of the table. Boys need more space than girls. On this basis, you can buy a more compact model of the table for your daughter, and for your son – a model with a spacious tabletop.
2. Comfortable chair
Since a child spends at least a few hours a day during lessons, the seat should be very comfortable and ergonomic. The back of such a chair must be stiff with a slight bend, so that the back is tight. It is desirable to choose models without armrests. The most comfortable option in this case is an orthopedic chair.
3. Natural light
It is recommended to locate the schoolchild's workplace at the window. First of all, this allows the child to work in good natural light. Secondly, the child can distract from the lessons and look at the sky, birds and trees. This has a beneficial effect on the schoolboy's mood and allows him to exercise his eye muscles, which are stressed during the homework.
4. Additional light
Additional light sources must be available in any case, regardless of the location of the table. Often these are the table lamps with adjustable base. For the right side of the table it is placed on the left side, and for the left side on the right. It is especially important if a child is constantly writing. But you may help him with compositions, just visit this website.
5. Storage Systems
Many factors influence productive work, and order on the table is one of them. It is important to intelligently organize the storage system: pencils fold in special glasses, books put on additional shelves, fold notebooks in niches and drawers. It is also good to use magnetic, cork, slate boards, on which it is convenient to leave important notes and attach notes. Children often forget something, so such an object will accustom him to self-organization.
6. Creative Accessories
Instead of the usual scissors or paper clips, you can choose accessories with unusual shapes or shades. A child will be pleased to fold pencils in the form of a funny hedgehog. And with multicolored fasteners it is much more interesting to fasten the sheets of the next essay than with ordinary gray ones. It will accustom your child to order, and also will instill in him love for school.
7. Color design
Psychologists and designers agree that it is necessary to choose neutral color schemes for the workplace of a schoolchild. As a background you can use white or beige, and furniture or accessories to choose more bright and interesting shades. Color elements should not be many, so as not to distract the child from doing their homework. Brown and yellow colors are able to focus attention and stimulate brain activity, so they are recommended for use as accents.
In addition to organizing a workplace, you need to be well prepared for the study itself. For example, sharpen many pencils, check the serviceability of pens, sign a stack of notebooks.