Are you wondering whether you should purchase a fitted wardrobe instead of a freestanding wardrobe?
A built-in wardrobe certainly has many benefits, especially when you are building a new house or remodeling. However, it can indeed be a very expensive bespoke furniture if you don't know what you are looking for. Would the benefits justify the price difference?
To answer that, let us explore seven different benefits of the bespoke wardrobe below.
1.More Efficient Space Usage
It is a well-known fact that a fitted wardrobe maximises space. However, we often misunderstood to what extent this can benefit us.
First, we can obviously custom-fit the wardrobe into any room sizes, including a full-sized walk-in wardrobe if necessary. Yet, we often forget that we can also fit the built-in wardrobe into awkward spaces, like L-Shaped corners, alcoves, or that space below the stairs that are normally not utilised.
This benefit is not only about room space, too, but also the interior space of the wardrobe itself. How often did we get a premade standing wardrobe, only to get annoyed at the fact of how it doesn't give you enough compartments for your accessories? This issue simply won't occur with a bespoke wardrobe.
2. Custom-Tailored To Your Needs
We have mentioned how fitted wardrobes can be custom- tailored above. However, let us discuss this benefit a little further.
With built-in wardrobes, you have the freedom not only with the exterior of the wardrobe, but also with the internal configurations. Do you have more formal than casual clothing in your collection? You can have more hanger space in your wardrobe. Do you have many pieces of jewelry and accessories? You can add more drawers.
If you live with a spouse, you will also know how sharing your wardrobe can easily escalate into a major headache. Again, with a bespoke wardrobe, you can design the portions according to your individual needs. Having a dramatic height difference with your spouse? You can also customize the height of each drawer, hanger section, and internal shelf.
In short, a custom wardrobe can give you the versatility, no matter what your need is.
3. The Right Finish To Complement Your Interior
Another major benefit of the fitted wardrobe if the fact that you can contribute to the design process. This is huge, especially when you are building a new house or remodeling.
Fitting a premade standing wardrobe to your interior can be a daunting task. First, you will need to consider what material will be the proper fit. Next, there are all the different designs and sizes to choose from. Last but not least, you will need the perfect finish that will fit the rest of your interior.
With a fitted wardrobe, you can control all three aspects to get everything perfect.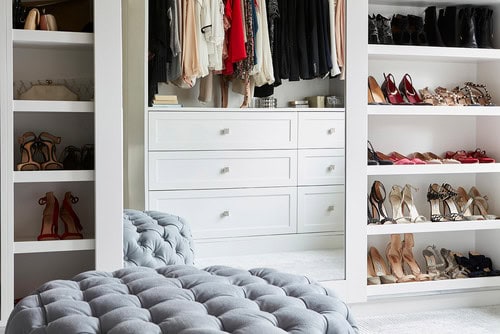 4. Custom lighting
This is a benefit often overlooked for, but the fact that you can fit custom, integrated lighting to your fitted wardrobe is significant.
Most standing wardrobes only offer limited illumination options, some even don't offer any. With a bespoke wardrobe, you can get all the lighting options for your needs – and your budget- require.
Do you want to have a showcase section in your wardrobe to display some of your antique collections? You can fit an LED strip to illuminate them.
Having custom lighting is not solely beneficial for aesthetic purposes, but also for energy saving purposes. For example, if you have a proper lighting for your interior shelves, you won't need to light up the whole room on a cloudy morning.
5. More efficient maintenance
With a fitted wardrobe, you can have an easier cleaning process. Since the built-in wardrobe is designed to fit your ceiling, you won't ever need to dust the top. Remember those cobwebs are usually seen between the wall and a standing wardrobe? That also won't be an issue.
Since with a bespoke wardrobe, we eliminate many unused spaces, we simply only need to clean the things that matter.
6. Flexible Price
Finding the right freestanding wardrobe that you actually like, cater to your needs and preferences, yet won't break your bank can be really, really hard. Thankfully, this issue can easily be solved by getting a fitted wardrobe.
With a built-in wardrobe, you can control the right balance of design, material, customizations, and the cost. You can make the right compromises, and on the other hand, enhance what you actually need.
Even when you have a very limited budget, getting a bespoke wardrobe will generally bring more value than getting a freestanding wardrobe at the same price.
7. A Great Long-term Investment
Last but not least, a fitted wardrobe is a tangible long-term investment, especially when you invested in a good, durable material. If you decide to put the house for sale later, having a proper built-in wardrobe can help with the price.
Besides, the wardrobe brings so much value to your day-to-day usage. You will definitely get more from a bult in wardrobe compared to a standing wardrobe with a similar price tag, as long as you know what you're doing (which is pretty simple).
The tips we will share below will help you get the most out of your custom wardrobe.
Tips For Purchasing A Fitted Wardrobe
Figure out your needs first, especially how much space you actually need. Even when you are able to buy a whole acre of bespoke or walk-in wardrobes, doesn't mean you actually need it.

Look for unused spaces, if any, and how you can maximize that space with a built-in wardrobe.

Figure out the right material and finish to fit your interior. If necessary, get help from a professional interior designer.

Know your budget and stick to it. You can basically add unlimited customization to your wardrobe, and the price tag can escalate quickly.

Contact trustworthy fitted furniture and wardrobes maker like

London Bespoke Interiors

to get your made to measure furniture. Not only this will help you save money, but will also ensure the quality. You can easily do this by checking online reviews. For example, has a 5 star rating on

Houzz

. Admit it, we rarely left reviews for furniture makers, except if their service is exceptional. So, online reviews are highly relevant to find the right vendor.
Conclusion
A fitted wardrobe can offer so many benefits over a freestanding one, and the seven benefits we have shared above are just the tip of the iceberg.
If you are currently remodelling or building a new house, you might want to consider those benefits, and invest in your custom-tailored fitted wardrobe.