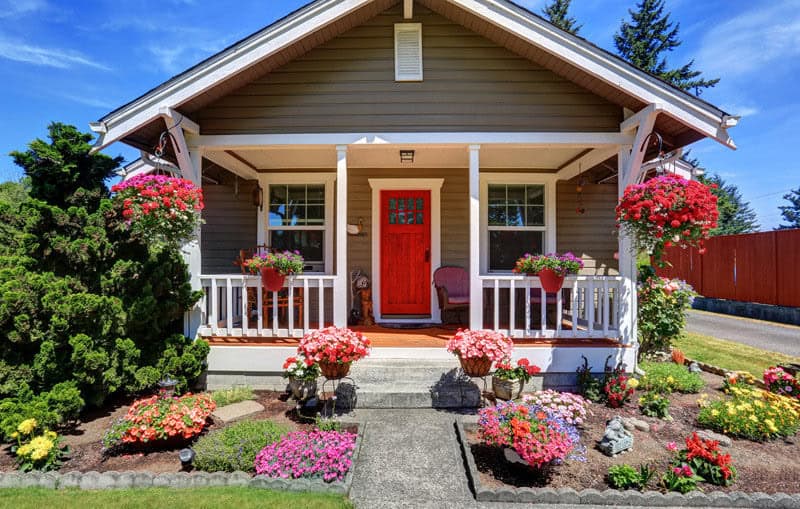 Do you need to improve your home's curb appeal on a budget? The good news is you don't need to spend a fortune to make improvements to your property's aesthetics. Here are some ideas to boost curb appeal on a budget:
1.Install vinyl fencing
Have you ever gotten a quote for chain link fencing? Your quote was probably anywhere between $10,000 and $30,000 for a good-sized area. Chain link fencing is certainly sturdy and will last for decades, but it's not the only option.
You can buy durable vinyl fencing in a variety of styles for far less than what you'd pay for chain link. Vinyl fencing is affordable, easy to install, and looks great. For instance, you can get a traditional white picket fence for your front yard, or you can get solid privacy panels for your backyard.
Vinyl is also great for side yards and separating garden areas within a main yard. For example, you can install short fencing to separate your rose garden from the area where your kids play on the grass.
2.Call a junk hauler
Nothing tanks your home's aesthetics like piles of junk in your yard. In most cities, it's illegal to have a yard full of junk that's visible from the street. However, it doesn't matter if it's legal – junk is ugly and it will make your neighbors mad.
If you have junk in your yard, like old tires, junk cars, or any kind of old equipment and trash, call a junk hauler to take it all away. Your property's aesthetics will improve immediately; from there, you can work on making your property look even better with flowers and other additions.
3.Wash your windows and siding
When was the last time you washed your windows or your home's exterior? If you've never done that, or if it's been a while, head outside the first chance you get.
Before washing your windows with glass cleaner, use soap, water, and a scrubber. Get as much dirt and grime off first. If you want to go all out, get some clay towels or a clay bar and give your windows a good clay rub. You'll get more dirt than you will with soap and water, but it is a tedious process.
You can get telescoping tools that make it easy to wash your siding if you don't want to get on a ladder. You can also use a pressure washer. However, don't use a pressure washer on your roof because you'll damage the coating on your shingles.
If you don't want to do the work yourself, hire it out. There's always someone willing to do messy jobs.
4.Repaint your trim
Paint deteriorates over time, sometimes peeling or cracking. A little bit of fresh paint on your trim and fascia can go a long way in making your home look more appealing.
If you notice more than a few bad spots, repaint everything. It won't hurt to add a fresh coat of paint, and the whole trim will look more uniform.
5.Paint utility meter poles
Utility meters stick out like a sore thumb, but they don't have to if you can paint them. Since the meters and accompanying hardware technically isn't your property, call your utility company to find out if you can paint the pole or post.
Utility companies are extremely picky about what you can do to your meter. For instance, some people have been nailed for meter tampering for simply putting a small magnet on their meter.
If you can't paint the meter's pole, try camouflaging it by painting your exterior a darker color that helps it blend in rather than stick out.
6.Trim overgrown bushes
Look at your bushes and trim all the shoots sticking up from the main bush. You don't have to do a perfect job, but if you at least trim the uneven areas, your whole house will look like it's well-maintained on a regular basis.
Your yard projects a large portion of your home's aesthetics. When your yard looks good, your home looks good. Trimming doesn't cost any money, unless you need to buy shears. Even then, you can get some for under $20.
Now you know how to increase curb appeal on a budget
These are just some of the easiest ways to boost your home's curb appeal on a budget. If you're short on cash, start with these ideas first.