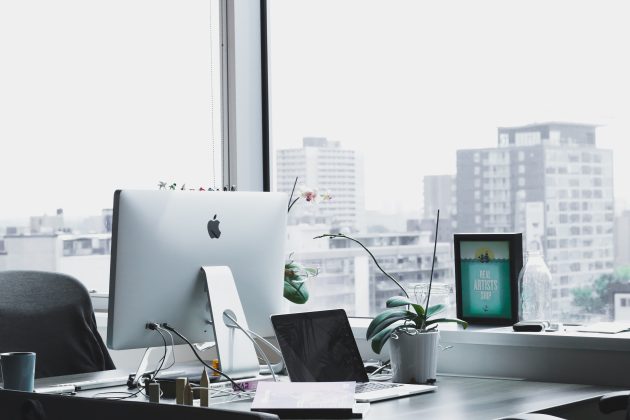 Designing a functional office space isn't always easy, and it can be especially challenging if you're doing it on a budget. But don't worry, because there are plenty of ways to maximize your workspace no matter the size or design. Whether you're trying to create an inspiring atmosphere for remote workers or just want to spruce up your cubicle, these 6 tips for designing a functional office space will help get you started on the path towards success!
From selecting efficient furniture pieces and wall decor that promote productivity to choosing calming color options that allow employees to remain focused throughout their day, this blog post is sure to provide helpful advice about how best to arrange your workspace and ensure optimal functionality. Read on as we discuss all of these things in greater detail.
1. Choose the Right Desk
As we spend most of our working hours sitting at a desk, choosing the right one can make all the difference in our productivity and well-being. The first step is to consider your workspace needs, are you working from home or at an office, do you require ample storage space or a minimalist design?
Once you have determined your priorities, you can begin the search for the perfect desk that fits your requirements. Whether you prefer a classic wooden design or a modern industrial look, the right desk will not only enhance the aesthetic of your office but also provide comfort and support for your daily tasks.
2. Incorporate Storage Solutions
An organized office space can make all the difference in your productivity and overall work satisfaction. One key aspect of maintaining an organized workspace is incorporating storage solutions.
Whether it be through the use of shelving, cabinets, or other creative solutions, having a designated space for your office supplies and materials can help reduce clutter and increase efficiency. With a well-organized storage system, you can easily find what you need when you need it, freeing up mental and physical space for more important tasks.
3. Invest in Good Lighting
A well-lit office can do wonders for your productivity and overall well-being. While natural light is a great source of lighting for any workspace, it's not always available or reliable.
That's why installing additional lighting can make a huge difference in the ambiance of your office. Investing in good office lighting not only ensures that you can work comfortably at any time of day but also reduces the strain on your eyes and boosts your mood. Therefore, take the time to plan out your office lighting and choose fixtures that provide the right amount of brightness without being harsh or uncomfortable. The result will be a warm and welcoming workspace that helps you thrive.
4. Include Comfort Amenities
Creating a comfortable office environment is crucial to staying productive and focused during those long working hours. One amenity that is often overlooked but can make a significant difference is a comfortable chair. Investing in a high-quality chair that provides proper lumbar support and cushioning can prevent soreness and fatigue.
Additionally, consider adding a footrest to improve blood flow and aid in relaxation. With the right balance of comfort amenities, your office can become a space that promotes productivity and wellbeing.
5. Add Personal Touches
Your workplace should be a haven for creativity and productivity, and one way to achieve this is by adding personal touches. Transform your office into a space you love by incorporating items that bring you joy, whether it's a potted plant, a beautiful painting, or a cozy rug. These simple additions can make all the difference in creating an environment that motivates and inspires you.
Injecting personality into your workspace can also have a positive effect on your mood and mental wellbeing, boosting your creativity and encouraging you to do your best work. Adding a few personal touches to your office is an easy way to transform it into a space you're excited to spend time in.
6. Keep Electronics Organized
In today's digital age, it's common to have multiple electronic devices scattered around the office. We've all experienced the frustration of a phone dying mid-email or a laptop running out of juice during an important presentation.
That's where designated charging stations or cubbyholes come in handy. By creating a dedicated space for your electronics, you'll be able to keep your devices organized, charged, and easily accessible. Plus, having a clutter-free workspace can put your mind at ease and improve productivity. So, take action now and set up your own charging station or cubbyhole to ensure your electronics stay organized and ready to go when you need them most.
In the end, designing your ideal home office space is a process that takes both time and ingenuity. However, with the right pieces of furniture, lighting, comfortable amenities, and personal touches you can be sure to have a work environment conducive to productivity and focus.
Don't forget the details either, take the time to invest in storage solutions and electronics organization to make sure everything has a place. With these fundamental steps completed, all that's left is for you to enjoy being in an organized workspace in comfort – no excuses! So, what are you waiting for? Start planning out your perfect home office today!