Designing a home out of shipping or cargo containers is a great way to lower your carbon footprint and decrease construction time. Shipping containers are solid steel, which is structurally sound and already built into walls, so it just becomes a matter of adding doors, windows, and insulation. Here are five ways to incorporate cargo containers into home construction.
Home Additions
The first way to take advantage of shipping containers is to use them for home add-ons. If you're planning on adding a new room or area of your home, a shipping container can provide a way to avoid the inconveniences that long-term construction can cause, like noise and dust. You can choose to show off the shipping container aspect, which is sure to get you plenty of attention from your neighbors, or you can cover the shipping container in siding, so no one has to know. Using a shipping container to add to your home can provide a quick solution, and can be easily flaunted or concealed.
Storage
A second simple way to use a shipping container is for storage. After all, storage was the original purpose of the container. A common way to use cargo containers in this way is to put them alongside your garage to store bicycles, tools, or anything else that may get in the way of your car. Just like for a home addition, the cargo container can be covered with siding to match the rest of your home easily, and in this case, the doors can also be replaced.
Or, for those who truly want to go green, skip the garage altogether and place a roof between two cargo containers for a make-shift garage or pavilion. Using a shipping container for storage can give you a safe, sturdy place to keep your possessions.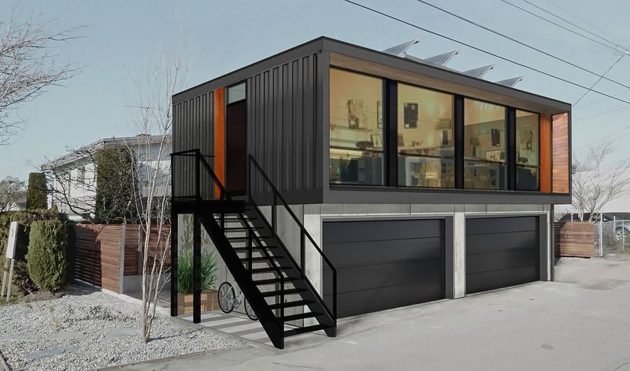 Office
Storage containers can make the perfect office. The great thing about the use is that it requires almost no modifications: the container can be set down and left as is. A cargo container office is great if you want an office away from the house, or need a temporary one due to construction. In fact, many construction sites and expanding schools use shipping containers as offices too.
Swimming Pool
This fourth use for shipping containers may seem a little out of left field, but shipping containers are already between 8 and 9 feet deep and up to 40 feet long. These dimensions work ideal for a family pool or lap pool. However, be careful about placing these in the ground because being surrounded by dirt can hurt the container's structural integrity. Cargo containers work much better as above ground pools.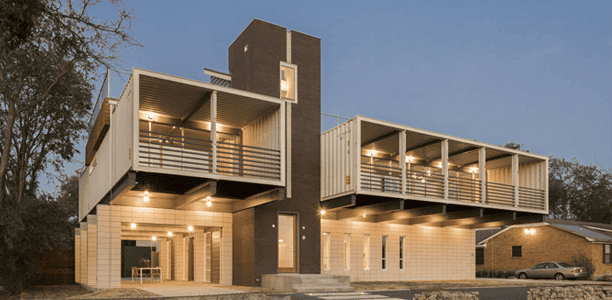 Get Creative!
Shipping containers are well-suited for almost any outdoor structure separate from the house, including stables, pool cabanas, and guest houses. Cargo containers come in many variations, including 10, 20, and 40 feet long, so there is sure to be one suited to your needs. The functions for shipping containers in your home or on your property end with your imagination.