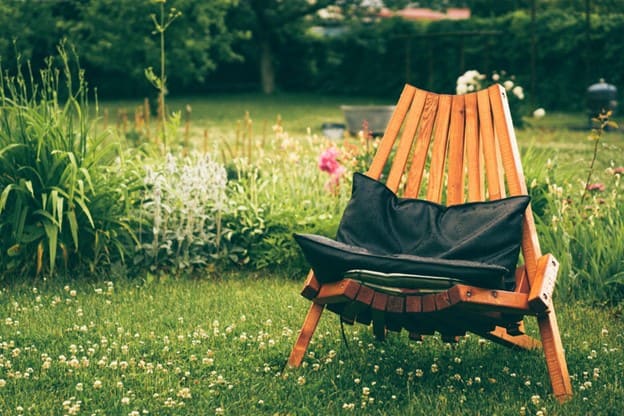 Taking your yard from neglected to a gorgeous oasis sounds like a laborious task, but it will become your most special project with the right ideas. So, if you stare at stunning yards all day long and wish that yours was as sophisticated, it's time to grab your tools and get to work.
Just imagine sitting on the cutest hammock, drinking iced coffee, and reading your favorite book. Thankfully, you're just a few ideas away from turning your backyard into a spring haven, so it's time to check them out below:
1. Pay Attention To Details And Accessories
Every single detail counts when creating your backyard spring haven. Since spring is such a joyful and colorful season, try adding some unique, vibrant touches to set your yard apart.
For example, find chic accessories such as large decorative pots, vases, mirrors, and statues to make the backyard appealing and unique. Taking items from the inside to the outside is one of the most unexpected ideas everyone will love.
Next, create accessories from reclaimed wood (planters, signs, bench, seating area, pot holder) to finish off on a strong note. Finally, you can set up a birdhouse that will bring guests into the yard and make it even more beautiful.
2. Plant The Right Plants
According to research from Princeton, home gardening promotes increased emotional well-being. Therefore, spending more time actively working on your backyard will boost not just its appearance but also benefit your health at the same time.
When looking for the right plants, think of the species that will fit the style and serve a purpose. For example, lemongrass is gorgeous and will repel mosquitoes. Lavender is perfect for spring and will add a pop of color to the backyard. Shrubs are cute and offer the privacy you need.
Spring is the perfect time to plant your favorite plants, herbs, vegetables, and fruits since there's enough time for your plants and crops to bloom and grow. This might be one of the simplest spring gardening ideas you've heard, but it will transform your yard into a place you'll want to share with everyone. In addition, you can enrich the backyard with perennials like tulips and primroses for a pop of color.
3. Opt For Creative Storage Solutions
Nothing comes close to creative storage solutions when it comes to backyards since they help you stay organized and look amazing. So start your project with the old shed, and make it look brand new and fresh with a coat of paint. You can even opt for a fun color palette like mint or lavender.
Another fun idea we love is a bench with storage space underneath. It will save you space and keep your tools away from everyone's sight. You can also place it around a tree, and it will look fabulous and unique.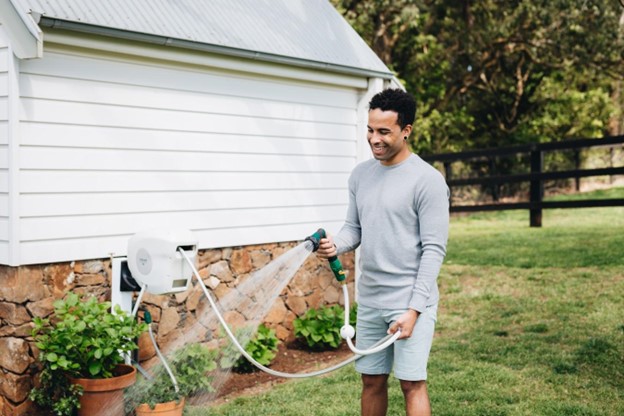 Source: Hoselink
Since the hose is one of the biggest problems for most people, finding a creative storage solution is a must. You can place it in a chic galvanized tub you can paint in soft pastel colors, pick a Hoselink reel with a colorful cover to keep the hose neat, choose a decorative holder, or install wooden textile spools.
4. Create A Greenhouse
A DIY greenhouse can be the centerpiece of your spring garden. Growing your own vegetables in the backyard will give you access to fresh produce and make great use of the free space.
Many fantastic greenhouse ideas will boost the backyard's appearance, such as a picture frame terrarium, a greenhouse made of rustic windows, or a cute mini geodome greenhouse.
5. Amp Up The Seating Area
The seating area is where you'll spend a lot of time, so you should carefully plan and execute it. Choose stylish furniture for the patio, but ensure it's made of water-resistant materials. You can also enjoy additional shade if you install a gorgeous tent or parasol over the seating area.
Create an intimate and relaxing area with a hammock in statement colors or prints, for lounging or reading your favorite books. In addition, you can throw around huge, comfy pillows with a cool coffee table your family and guests can use to enjoy their cold drinks.
Once all of this is done, you can add a few other unique details. Area rugs and lamps are the pieces that will give your backyard personality and make it even more welcoming.
6. Don't Forget About Lighting
Adding lights can create the most magical atmosphere in your spring garden. Although lighting is often an underrated factor for outdoor spaces, it's a great way to elevate things to a whole new level.
One of the best ideas is to light up the pathways to create an atmosphere. Once you get to the seating area, you can install lanterns in different sizes.
One thing to keep in mind is that there are more than 200 species of mosquitoes in the U.S. They use light as guidance, so if you want to avoid itchy bites, you should opt for yellow lights because they're less visible to them.
Conclusion
Adding a unique touch to your backyards, such as accessories, statement wood decorations, fun pots, and a relaxed seating area, will transform it into a spring oasis.
If you liked these ideas, it's time to grab the tools and get to work. Decorating the outdoor space will be even more fun if you add a water feature in the middle of the yard or create a pathway using colorful garden rocks.
As you can see, there are countless ways to take the backyard from mess to glam – all you have to do is craft a plan of which features you can include and choose their placement. Happy gardening!
________________________________________________________________
Annie Morton is an avid nature lover from rural Australia. After some international adventures, she settled in New York City where she currently works for Hoselink USA.