Even the most spectacular example of architectural genius can disappear when the sun goes down. Soft curving elements, dramatic angular features and undulating lines all fade into non-existence as day turns to night. But with creative lighting, a building can be transformed.
Hongkong and Shanghai Bank (HSBC) Headquarters
When one thinks of powerful, industrial architecture, Norman Foster's HSBC Headquarters in Hong Kong cannot be ignored. Completed in 1986, its exposed steel structure and undecorated nature embody the building's functional character. It thrives in the daylight, with a spacious glass-walled atrium and mirrored ceiling reflecting light onto the spaces below. And its lighting was kept simple, with its distinct lack of decorative or expressive lighting portraying a clear message: functional pragmatism.
But 30 years on, Hong Kong has evolved. Colourful, bright and dynamic, the city is thriving. But with its restrained take on lighting and distinctly non-distinctive façade lighting, the HSBC skyscraper was being outshone as the sun set.
In 2003, the building's nocturnal reinvention began. The skyscraper became part of Laservision's lighting project 'A Symphony of Lights', a 14-minute nightly light show.

And 12 years later, in 2015, illumination Physics was commissioned to completely update the building's façade lighting, as well as reinvigorate the lighting in 'The Cathedral' – the building's grand, abbey-like atrium.
Previously subtle and understated, the atrium is now filled with bold, saturated coloured lighting. Clean lines emphasise the atrium's industrial structure, and LED and lighting control means the hue and saturation of the lighting can be easily changed.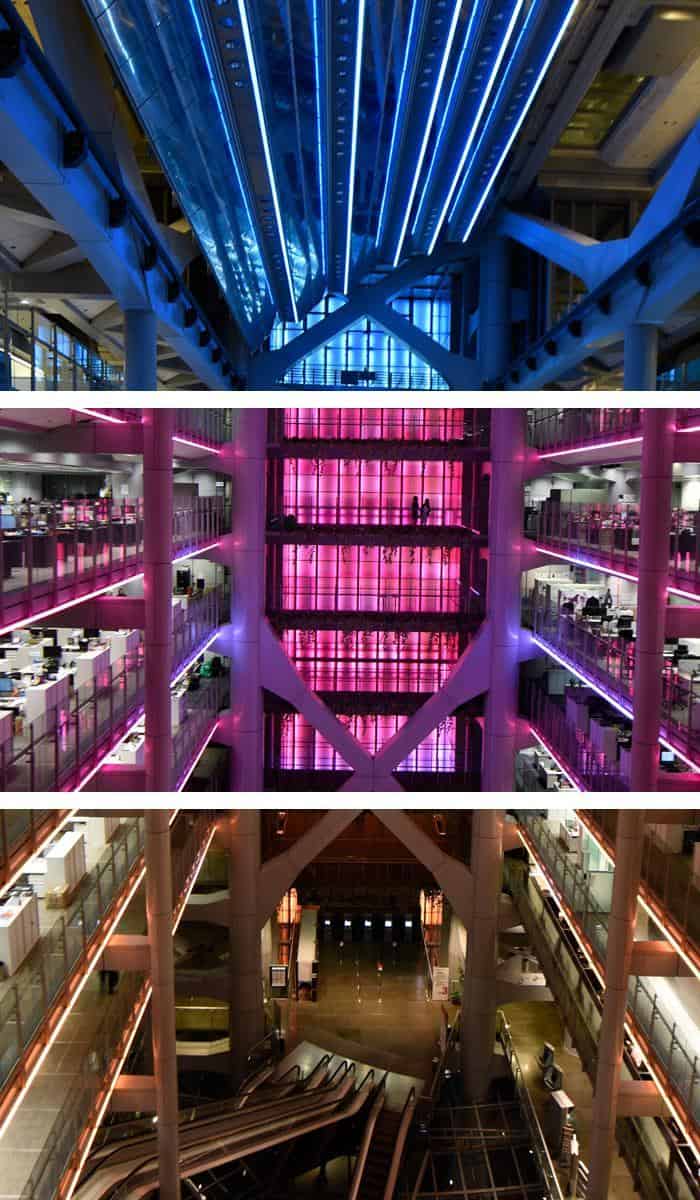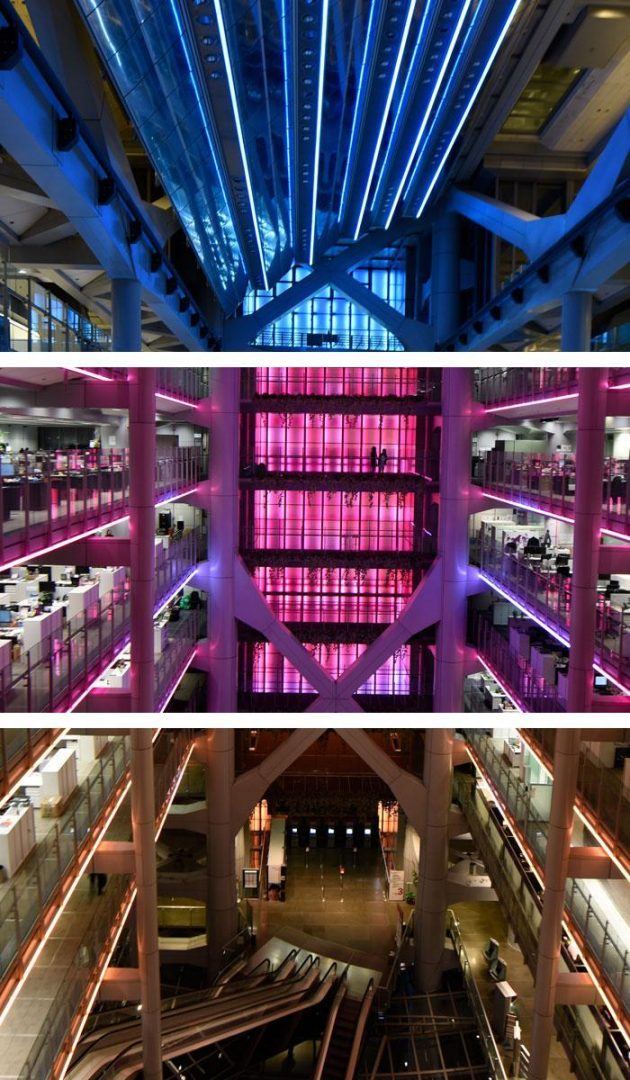 What's more a new highly sophisticated media screen has been installed on the building's façade. Small LED strips, which are all but invisible in the daylight from the outside, combine to allow a wealth of complex kaleidoscopic messages to be displayed through light.
Zurich at night
By contrast with Hong Kong's bold and dynamic nocturnal illumination, Zurich's approach to night lighting is much more modest. Rather than oversaturating the night with ever-brighter and more contrasting displays, the city's urban designers are instead enforcing a more harmonised 'dialogue' between its structures and buildings.

After sun down at Lake Zurich, a balanced, calm and respectful skyline takes shape. A far cry from the typical glare of urban centres at night, a lighting palette of soothing white light seems to softly caressed the city's architecture after dark.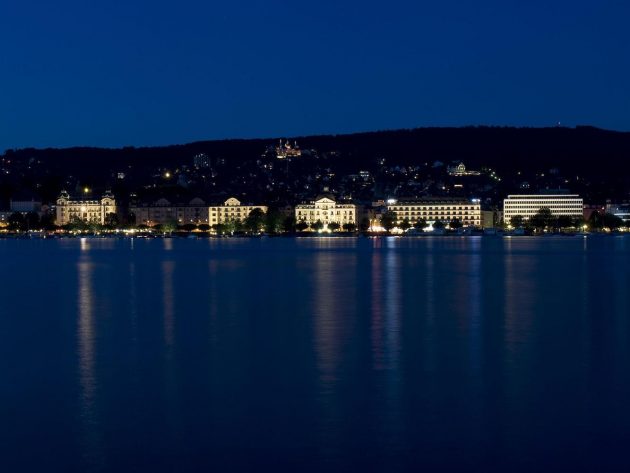 The Ancient Theatre of Taormina
Built in the third century BC, this ancient Greek theatre in Taormina, southern Italy, is now regularly frequented by visitors and hosts a variety of operatic and theatrical performances, as well as concerts.
And through a recent transformation in the site's lighting system by iGuzzini, its splendid classical architecture and heritage have been brought to life.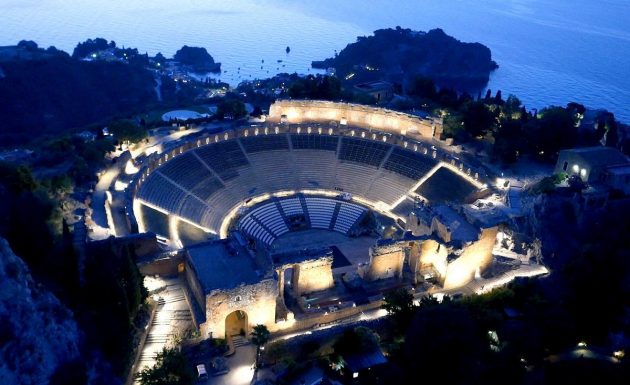 Subtle, compact and non-invasive lighting solutions illuminate and highlight the dramatic features of the sight, while retaining the theatre's character and leaving the magnificent structure undisturbed as far as possible. And by using warm colour temperatures, the delicate hues of dusk are recreated and the natural minerals of the site are emphasised and enriched.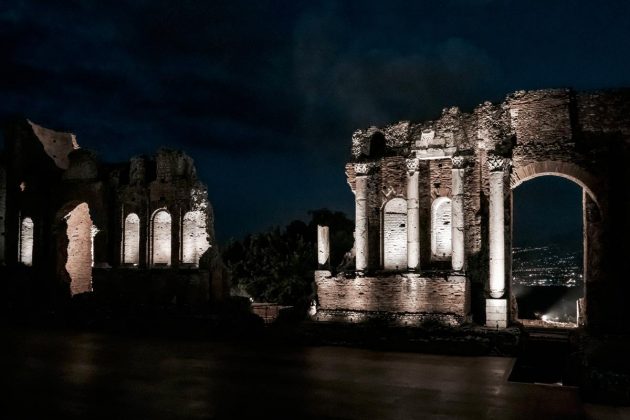 Waste to Energy Plant, Denmark
Contrasting with the ancient structure and heritage of the theatre, the new Waste to Energy Plant in Roskilde, Denmark, designed by Erick van Egeraat, juts unapologetically into the city's skyline. Instead of hiding the industrial and functional nature of this building, it is celebrated.
The plant's façade combines two layers – the first providing the required climatic barrier, allowing more freedom in the design of the second. Punctured by irregular holes, the weathered aluminium plates of this layer produce a rusted finish, evoking the feel of industrial sculpture rather than waste management.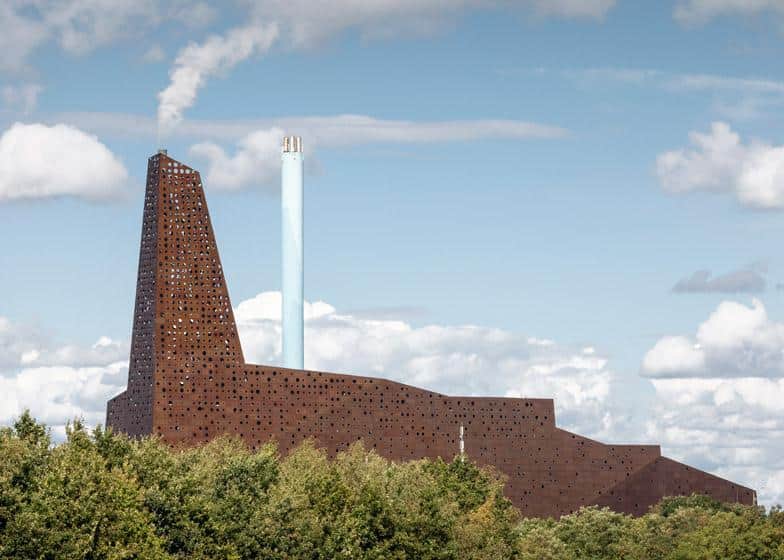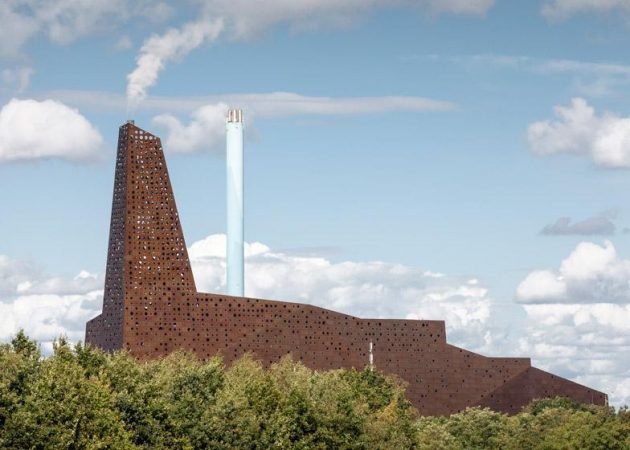 By night, however, the structure is transformed. From industrial sculpture to an imposing, yet somehow poetic, light installation, the building takes on a whole new dimension as dusk descends. By reflecting light off the inner surface, the building glows through its perforated skin, underlining its industrial character while adding value to an otherwise purely functional construction.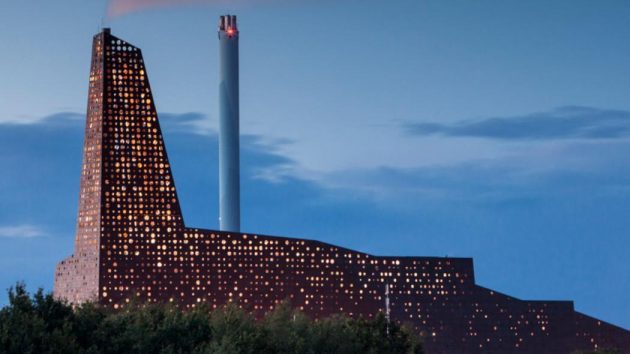 Blooming Bamboo Home, Vietnam
And finally from imposing and iconic industrial landmarks to a compact bamboo home. Blooming Bamboo Home in Hà Nội, Vietnam, was designed by H&P Architects in answer to the wide-ranging and severe natural phenomena experienced by Vietnam – storms, floods, landslides, drought – and the considerable damage caused by these events every year.
The compact bamboo module involves simple assembly (the user can build it in just 25 days) and is strong enough to survive, for example, a 1.5m-high flood. And it is beautiful. By day the intricate detailing and rich natural textures are both tactile and a delight for the eyes. But by night it transforms into a delicate lantern, hovering above the ground, light diffusing and seeping through its permeable screen façades.