If your bathroom is a place you can't wait to escape from instead of one that you look forward to escaping to, then it is time to refresh your space. With a little strategy, this can be done on even a tight budget. Here are a few small changes that you can make that will make a big impact:
Get New Linens
The least expensive way to give your bathroom a mini makeover is by replacing all of the bathroom linens. Get new bath towels, hand towels, washcloths, rugs and even a new shower curtain. Select items that coordinate in a nice neutral color for a simple and timeless look.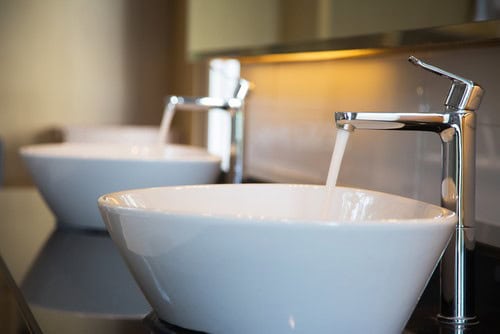 Refresh the Lighting
Light fixtures play a massive role in creating ambiance in a space. Swap out those old, outdated fixtures for new light fixtures that on-trend and use more energy-efficient bulbs. Vanity lighting is front and center in a bathroom, so if you need to prioritize your spending, this is one place worth putting your pennies. Add some LED strip lighting under the vanity for late-night trips to the bathroom. Focus on making changes that improve functionality in addition to making it look better.
Make It Work
Whether it's your master bathroom, your kids' bathroom or a bathroom solely for guests, make updates to this room with functionality in mind. Add a few hooks on the back of the door or near the shower for towels, robes or for drying swimsuits. Or if you live in a cold climate, a European-style wall-mounted heated towel rack can add a little luxury to any day.
If storage is limited, add shelving around the vanity or over the toilet. Use it to display your favorite products or to stack extra toilet paper. Even if you have plenty of storage, you can refine the functionality of it by adding drawer organizers and storage bins to keep all of your stuff neat and tidy.
Add New Hardware
Swapping out the hardware in your bathroom can make a huge impact, especially if you choose something that is dramatically different from what you currently have. Start with the shower or bath and get a new shower head, tub filler and control handles. Replace the sink fixtures to match to completely refresh the look of your space. Take it even further by getting new door handles and cabinet pulls for your vanity as well.
Do a Mini Remodel
If the above tips aren't able to solve your biggest problems with your bathroom, take things a step further by painting the cabinetry. In most cases, this is a job that you should leave to the professionals, as cabinetry painting requires a ton of prep work and can be really unforgiving when it isn't done with the proper tools. By painting a dated cherry wood vanity a bright white or gray, you can create a more up-to-date look and make your space a little more light and bright. Once you get the cabinetry dialed in to your preference, swap out the countertop as well to a luxurious natural stone or a more budget-friendly composite material like quartz. While this option may not fit every budget, it is much less expensive than a full remodel of the flooring, bath, shower and replacement of the vanity, toilet and other bath fixtures.
Plan It in Phases & Save Accordingly
From getting to bathroom linens and adding some new organizational features to replacing the light fixtures and hardware or even doing a mini remodel by updating the vanity with paint and a new countertop, there is plenty that you can do in phases to revamp your bathroom without breaking the bank.