There's something undeniable about modern design. It doesn't ebb and flow with changing trends; it's solid. It's proven itself time and time again to be a refined way to style any living space. With clean lines, a toned-down color palette and solid shapes, modern design elements leave an impression on anyone in their wake.
Are you hoping to modernize your traditional—or even outdated—living space? Not every trend ages well, so it's wise to take your design cues from the timelessness of modernism.
So, without any drastic overhauls, here are 5 easy-as-pie decorating ideas to modernize your living space.
Play with Shape
Ever heard the phrase "don't be a square?" Well, the opposite is true when it comes to modern design. The name of the game is clean lines, and the shapes of honor are rectangles and squares.
Crisp corners and flat planes will fill your living space with the structure it needs. Consider adding cubed storage to any room for a modern twist (plus a handy way to declutter). If your couch is poufy and misshapen after years of use, it may be time to upgrade to a sleeker style with structured arms. The key is incorporating continuous lines wherever possible.
The Right Light
To enjoy your new living room, you'll have to be able to see it. Nothing places a home firmly in the past like outdated light fixtures. Those tacky brass ceiling mounts straight out of a 1980s showroom? They've got to go.
Modern lighting marries form and function. Not only is it pleasing to the naked eye, but it also casts the right kind of light on everything around it, tying the entire room together. Why not contrast your new crisp, structured décor with some bulbous pendant lights or a funky bubble lamp? Even a curved floor lamp will make your reading nook a fashion statement with little effort.
Material Matters
The materials you use are the backbone of your living space. You don't want another carpeted bathroom fiasco, do you? For modern chicness, try steel, concrete glass and plastic. When you do use organic materials like wood and plants, they'll contrast beautifully with more industrial elements.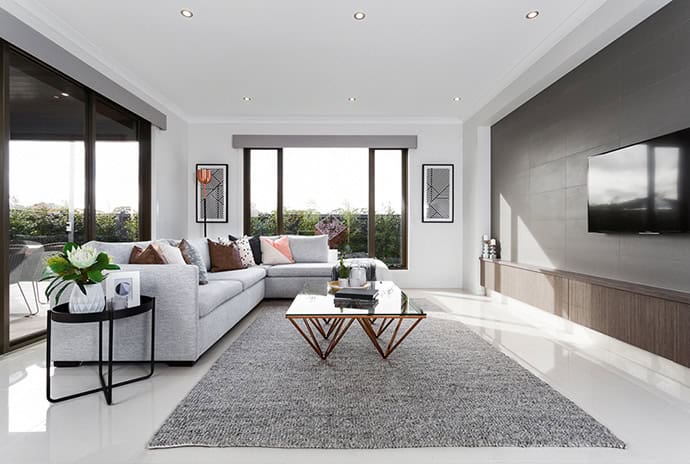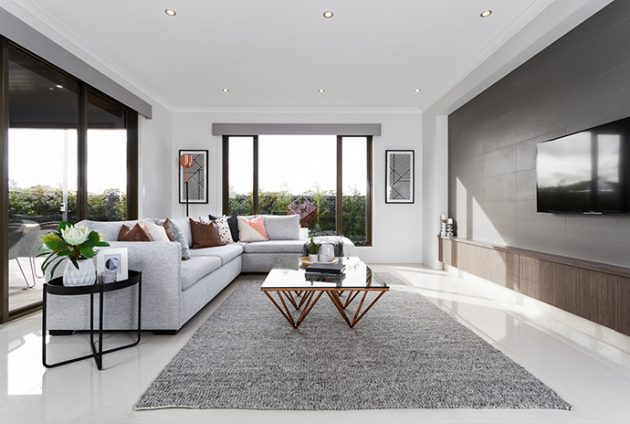 A Hint of Color
Sometimes modernizing simply means making your living space less busy. If you have rainbow-hued throw pillows, a huge yellow tapestry, a white couch and a geometric-print rug, your eyes will dart around the room, desperate for some relief. Modern style means choosing tasteful neutral tones that never go out of style, like khaki, avocado green, black and white.
Every pop of color will then be a welcome surprise to the generally laidback space. HGTV illustrates this principle of purposeful design well: a simple black shelf, a black-and-white print, and one surprising piece of shocking pink coral to shake things up. After all, your home can always use a little more contrast.
Stick to the Classics
There's a reason that modern design has stood the test of time. Since the mid-twentieth century, it's been a fallback for professional designers and homebodies around the world. If you're stuck on what to do next to modernize your home, turn to the tried-and-true staples that have served generations.
For instance, you just can't go wrong with an iconic Hans J. Wegner piece like the Wishbone Chair. It's curved in all the right places but maintains an overall uncluttered look, and it's more than just a decoration—it's meant to be a supportive throne for any room.
You want your home to be a space where you can breathe easily. Modern home design is one way to achieve that homestead bliss. Simplify where you can, then add a few key elements (like new lights, storage solutions and color palettes) to elevate your living space into the modern paradise of your dreams.