Welding is a practical skill that applies well in a wide variety of industries, with job opportunities in almost every corner of the United States. If you're looking to take your welding hobby to the next level in a career, you'll need the appropriate training and qualifications for the industry in which you hope to work. However, it can sometimes be tricky to identify the best opportunities for working in a job that requires hands-on welding or welding experience. Before you select new welding gear for your next job, you'll want a solid understanding of all the potential careers that are waiting for you.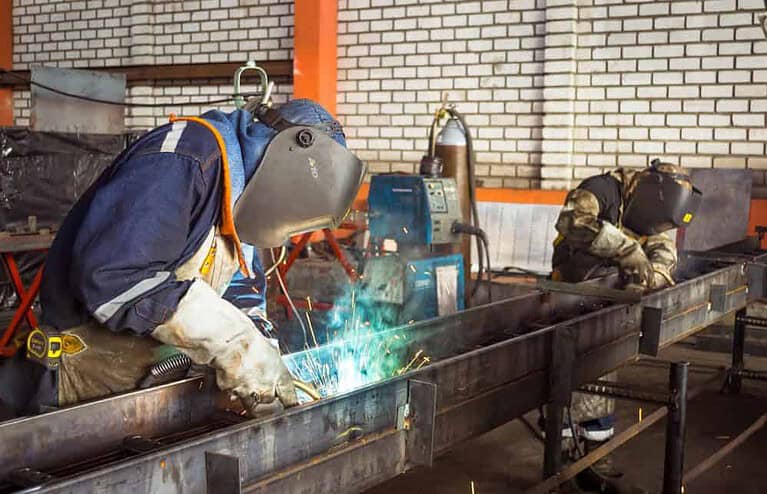 Whether you're looking at welding engineering work or want to become an underwater welder, you'll need introductory training and experience and a solid understanding of how welding works. So before you apply to work at SpaceX or Boeing, you'll need qualifications for Oxy-Acetylene Welding. If you want to work in a manufacturing facility, you'll need similar, specific training or an apprenticeship. In this article, we'll take a closer look at the types of industries that hire welders and identify what type of training might be required for the positions they offer.
Energy Companies
Energy providers and mining companies hire all manner of welding technicians throughout the United States and Canada. However, many jobs are concentrated in and around Texas, California, and Florida. Welding fabricators, ironworkers, and pipefitters are all in demand, depending on the nature of the company's work.
You might find yourself with a job that's close to your home, or you might find a higher-paying position at a more isolated location, such as an oil rig. Many energy companies also hire underwater welders, which require specialized training and a commercial diving license. Welding inspection is a particularly important job within this industry, as it helps to ensure that the pipeline and or equipment associated with the company's projects are safe.
Aircraft and Aerospace Production
Companies like Boeing and Airbus are always looking for more welding professionals with the right certifications and qualifications. The industry utilizes a specific type of welding, known as orbital welding, where the arc is rotated a full 360 degrees around the workpiece. This type of welding is particularly important for attaching wings and jet engines so that the physical structure of the aircraft or aerospace craft can withstand the air pressure that comes with flying at a higher elevation.
Construction Firms
Chances are, you won't need to move far away to find a job that utilizes your welding skills and experience. Many construction companies hire technicians to join metal as a part of all their infrastructure development projects. High-quality welds for this industry are a key component of building and bridge structures, giving welding professionals the opportunity to make a tangible, physical contribution to their local community. You might regularly use gas metal arc welding, gas tungsten welding, and flux-cored welding if you're working in this industry.
Automotive Production
There are a variety of factory production companies that need experienced welders at their side. One of the more interesting opportunities is within the automotive industry, where you'll assemble the exterior of the vehicle or act as a quality assurance inspector. The automotive industry offers welders the chance to work with luxury products, handcrafting individual elements of the vehicle's body so that they look and feel durable and visually appealing. Many other types of manufacturing facilities hire welders, so if working with cars doesn't sound appealing, there are still plenty of similar options and opportunities.
Pipelining
Pipeline welders repair and assemble the rounded metallic construction components that support the transportation of energy sources such as oil. Pipeline welding professionals will need to be able to follow exact schematic designs to assemble line pieces that can fit together with ease following transportation to the installation site.
Pipeline welders are an essential component of many commercial and government operations and, as such, are frequently in demand. You'll need to be comfortable with working in outdoor environments and spending considerable time traveling to various installation sites. Pipelining jobs are at their highest level of availability in Texas, though they're available to some extent in all 50 states.
How to Get a Welding Certification
No matter what company or industry you're interested in working with, you'll need some form of welding education and certification. The American Welding Society (AWS) website is a good place to start your search for a program in your local area. Welding certification classes typically run for one to two years, depending on the specialization you're looking for in your career.
Underwater welders and orbital welding professionals, for example, require specialized training courses for their specific industry to ensure the workplace and finished products are safe. After getting your welding certification, you want to consider pursuing an industry-specific apprenticeship, where you'll get a closer look at what your day-to-day responsibilities and workload will look like before beginning your formal career.
How Much Do Welding Jobs Pay?
The short answer to this question is: it depends. Welding research scientists and welding inspectors can make a considerable sum, depending on their experience. Pipeliners and underwater welders can also make a decent amount of money each year. Pipefitters and Ironworkers are on the lower end of the pay scale but still make a considerable amount compared with other construction professionals. To learn more about what your potential salary might look like, visit the AWS careers in welding page.
Conclusion- 5 Industries That Are Looking to Hire Individuals With Welding Experience
Welding is a valuable technical skill that applies to a wide range of industries. That means if you're interested in turning your welding skills and hobbies into a career, there are many options to choose from.