Purchasing a dining table set for your home is not a cheap investment, so you might as well choose one that is indeed worth it. While there are many dining table ideas in the market today, always select one that is stylish and functional.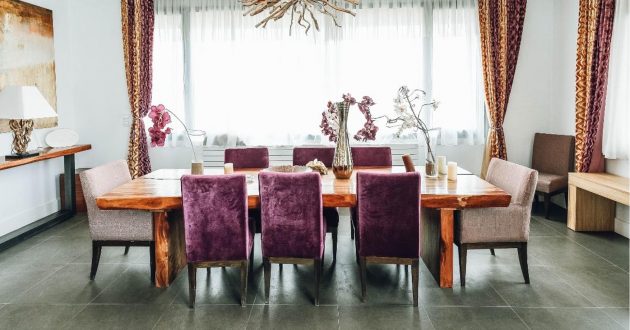 What are different dining table set styles?
Dining room sets vary according to the size, shape, and material of the table. They also differ according to the material and type of chairs they come with.
Dining table sizes and shapes
Dining tables can be square, rectangle, round, or oval in shape. Depending on the table dimensions, these sets can accommodate between 2 to 12 people. Other more oversized tables can seat at most 15 people.
Dining table materials
Tabletop materials can be wood, glass, marble, stainless steel, granite, laminates, and (MDF)medium density fiberboard. Table legs can also be available in wood and metal.
Dining chair
Dining set chairs are commonly made of wood, metal, board, and plastic that match their tables. Some varieties also combine different materials, including upholstery, for better dining comfort.
What to consider when buying a dining table set
When buying a dining room set, you need to think about the following factors that will help you decide in your shopping:
1. Space
Your dining space will help determine how big or small of a table you can set. You need to ensure there is enough space for everyone to be seated and ample space to walk around. You may consider a folding table, an expandable table, or a round table if your area is very limited.
Assessing your area also helps you decide what type of chair is most appropriate. For example, if you have a small dining room, you may want to do away with bulky upholstered chairs. Instead, choose slender chairs that do not take up much space and that you can easily tuck under your table when not in use.
2. Household
Assessing the people in your home is an essential determining factor in choosing dining sets, too. You need to know how many people will be using your dining table. Are there children, too? These details will help you decide on the size of the table, the number of chairs, as well as the material to choose for your dining table set.
Let's say you have little children. You may want to do away with a glass tabletop to minimize hazards. Another good idea will be to use a dining seat bench instead of individual chairs to help save space.
3. Homestyle
There are so many stylish dining sets available today. But, one thing you need to remember is to choose one that fits your home style. Consider other pieces of furniture you have at home and in your dining area. Make sure they all work well together.
One good thing about the dining room sets today is that they match different home styles. A solid wood table and an upholstered set of wooden chairs, for example, do not only suit traditional homes but also farmhouses, contemporary, modern, and Asian home styles. Furthermore, a combination of metal and wood goes well with industrial, colonial, and modern home styles.
4. Other needs
There may also be other needs that you have to consider to pick the best dining table set. Consider the following examples:
Choose an extendable dining table if you are looking forward to welcoming guests from time to time.
You may also want a set of table and chairs that are easy to clean and maintain.
You may need dining chairs that are not very heavy to move around.
You may be looking for a table durable enough to double as a kitchen table.
5. Budget
Finally, think about your budget. Dining room sets vary a lot when it comes to price. Working within your budget can save you a lot of time going over sets that are way over your planned amount. However, you also need to set a reasonable budget that ensures you get excellent quality materials.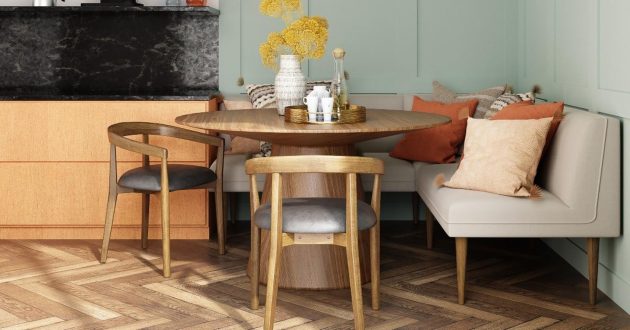 More tips in choosing the perfect dining table set
Avoid impulse-buying. Carefully shop and compare dining sets to make the best decision.
Think about the deals. Some deals are worth it, but others are not. Don't buy a dining table just because it is one sale, but because it is good.