If you're tired of the same drab surroundings in your home year after year, it may be time for a home makeover. The costs can add up quickly if you're not careful, so it's important to do the necessary research before you start to tear your home apart and watch the bills go through the roof. Before you start getting all your ideas ready on a Pinterest board, take a look at these five tips from home interior design experts.
Set Up A Color Scheme for Your Rooms
To give an old space a fresh, new feeling, you need to create a color palette that brings the room together in an entirely different direction. Most interior design experts come up with a color palette for the whole house that varies from room to room. Think about the types of colors you enjoy and the purpose of each room when establishing your color palette. Understanding the natural human reaction to different colors should help you pick a color palette for each room. Blues and grays tend to be relaxing cool colors for bedrooms, while warmer oranges and red hues can be suitable for living spaces and kitchens.
Give Your Room Height
If you have a room that you feel has an unnecessarily low ceiling, you might be able to design the illusion of height with a few simple tricks. Create horizontal stripes across the ceiling using thin boards that can be painted to match the room's palette. Consider keeping all furniture low in height to help create the illusion of more vertical space in the room. Your guests will hardly notice the change in height if all furniture matches it. Finally, consider a large mirror for one wall as mirrors tend to add scale to the room through illusion.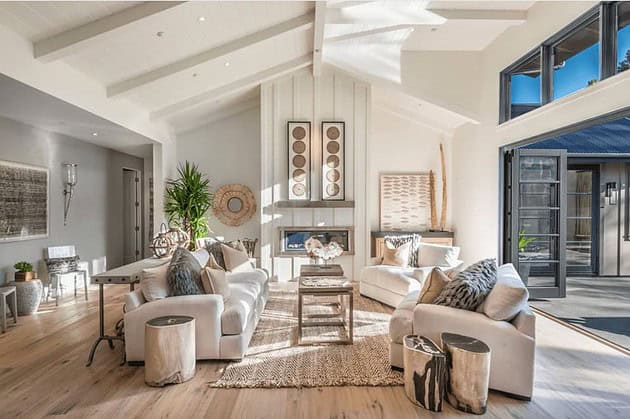 Backsplash Centerpiece
The kitchen backsplash is one of the best ways to add definition to a room in your home that will be used every single day. Eye-catching tile designs can become a conversation piece for guests in your home. A great backsplash should cover as much of the wall as the budget allows.
Add Texture to Rooms
Changing the look of a room involves more than just transforming it via a paint job. Many home interior experts agree that adding texture to a room is vital for the transformation. Using a variety of materials can accomplish the job well. Another tip is to consider combining matte and glossy sheens to achieve a textured-looking effect.
The 50/150 Rule
Once you've got the perfect color palette in mind for your home, you should always design using the 50/150 rule. That's mixing one batch of paint 50% lighter than the base and another batch 150% darker. That gives you a variety of colors to present within the room, with colors that match naturally. If you're a first-time home buyer imagining what you can do with your dream home, the possibilities are endless. Interior design expert blogs can be a great example of where to look for first time home buyers interested in doing an entire makeover of their newly purchased home.