Decorating your kid's rooms may cost you a fortune when you don't have ideas, or you don't plan your budget in time. There is no need to worry, you can find and explore plenty of DIY ideas that won't cause a hole in the budget. This should be an amazing experience for everyone in your family to enjoy. When it comes to your kids' room you want to make sure that their room is the perfect reflection of their personalities. Their hobbies, favourite colours, favourite characters and books should not miss from their bedroom, because that's what makes them feel cosy and lovely. So, make sure you add everything that nourishes their creativity and appetite for exploration and learning.
Don't forget to stress the importance of harmony and organization by adding some easy to handle storage solution. This will make them want to keep their room tidy without too much effort. You should create a room that encourages their creativity and help them build a certain routine, so having a plan to comply with your kid's needs would be a wise choice. Decorating your child's bathroom won't have to be such a big investment, but if you don't have a written plan the costs can easily pile up.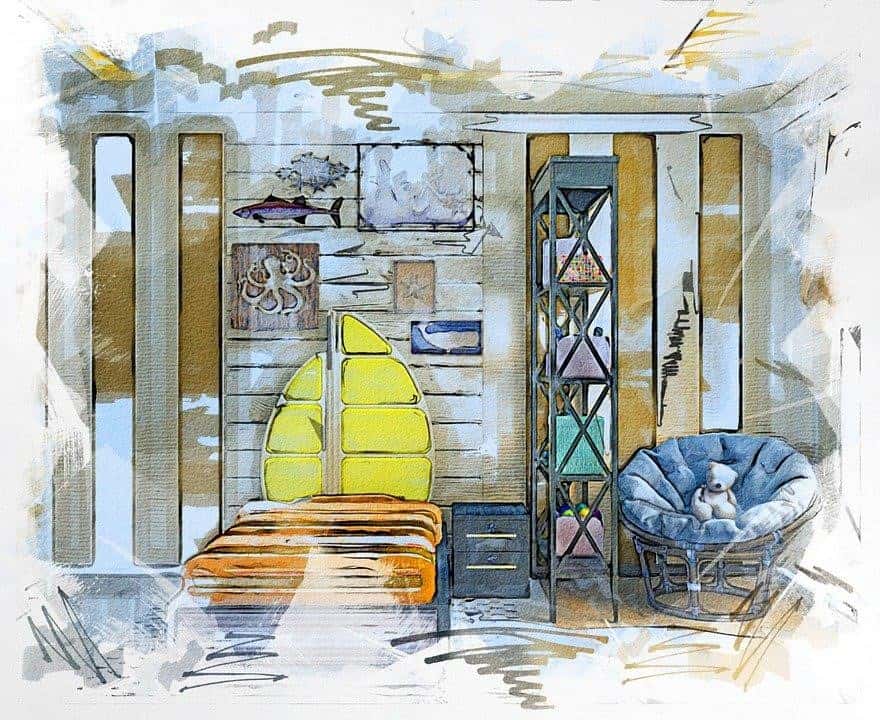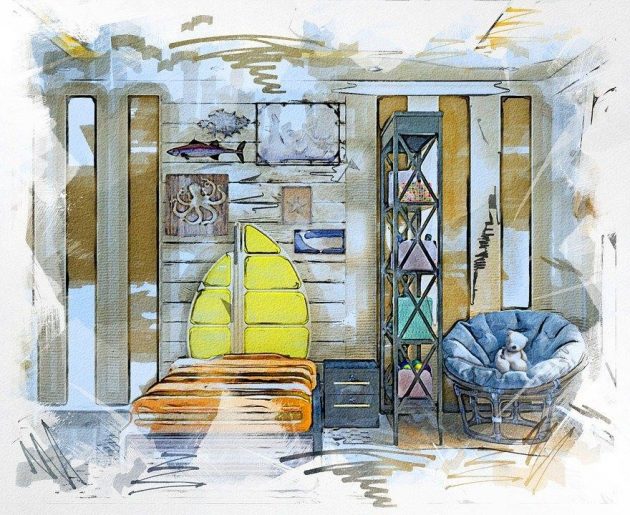 1. Find Smart Storage Solution
You already know that storage solutions don't have to cost that much. When you're looking for unique ways to keep your kid's bedroom tidy and always roomy you need to comply with their needs. That means you need to find the right storage solution for their toys, books and clothes that suits to their room design and that's also easy to handle. The best thing you can do is to choose to assemble multipurpose furniture. It's easy to handle, cosy and convenient enough. This is where you can mix and match your kid's items for a daily routine.
The multipurpose storage furniture is maybe the simplest and fastest DIY project because it doesn't require too much effort and sweat. You only have to select different styles and colours of boxes and mix them on the shelves based on their purpose and your kid's needs. This style allows you to implement your own personal touch, therefore, it will have the cosiest look you've seen.
2. Paint the Old Furniture
We all know that kids are in constant need for something new and fun, but this doesn't mean you have to get rid of your old, still intact furniture. If you wish to satisfy everyone and refresh the bedroom design at the same time, you can choose to update your old furniture with a bit of paint. You can either choose their favourite colours or just something to bring a little more light in the room.
If you don't know where to start, you can always scroll the internet for small DIY projects for your kids' room and furniture. If you've decided to use paint in your kids 'bedroom, be aware of what type of paint you use. Before purchasing any type of paint, consciously inform yourself about what these products are, and how chemicals affect your child's health. Some of these products may contain toxic elements that can stir up an allergic reaction. This information is not too hard to find or to grasp but when it comes to your kids 'health you have to remain diligent in your choices.
3. Play Up Their Passions
If your kids love painting, playing tennis or they just cherish a certain animal, it's your duty as a parent to surround their bedroom with the favourite things. Here is when you can plan together with different decorations such stickers, a wall gallery with their own paintings or why not painting the entire wall to create a playful ambience.
Make sure you choose something that sparks their joy and highlights their passions. Their bedroom is like their sanctuary, is the place where they spend most of the time playing or studying. Don't hesitate to ask their impression before throwing yourself on decorations, paint colours and models.
4. Make Sure It's Multi-functional
Of course, we know that sometimes you just need to tear it down and start over with everything. It's not as simple as you think it is. As they get older, they meet more needs and passions so the room has to comply with their wishes. With a spark of creativity, we know that any small space can be roomy enough for play, sleep and study. Start with some measurements and see where and what you can implement in that small space.
Because nothing can be fulfilled without a well-developed plan and a steady budget you have to prepare yourself for a little sweat when it comes to choosing the right furniture. For those who are frugal enough, a wise decision would be investing in second-hand furniture. This will be easier to find, cheaper and it allows you to experiment with different styles and colours.
5. Choose Plants
The plants are maybe the simplest and best manner to beautify a room. It's cheap enough so you don't have to cause a hole in the budget. When choosing plants make sure your little ones don't have some unexpected allergies so test them before anything. Decorating your kids' room with plants should not be pricey. These plants will encourage your kids to have more appreciation towards nature and teach them responsibility because they must appreciate the importance of plants. The best thing is that these plants act as a natural filter which prevents and reduces the indoor and outdoor pollution, purifying the air.
When it comes to decorating everyone gets super excited, especially kids. Before anything, you should make some important decision, you should know whether is a long-term or a temporary investment. This might take some time and a well-written plan so you can avoid unexpected expenses. If you don't know where to start or you're just feeling overwhelmed with all these tasks you can always ask for some references.