There's nothing more enjoyable than spending time in your backyard with friends and family, whether it's barbecuing, playing games, or just chatting. There are all kinds of things you can do to enhance your backyard experience, though—including adding outdoor furniture sets at VidaXL. With the right furniture, you can turn your backyard into a modern oasis that's full of fun and comfort. In this article, you'll find details on some of the most stylish and comfortable table and chair sets out there today.
1. Bistro Set
Bistro sets are the perfect way to take your outdoor space from drab to fab. They're also great for small spaces because they're not as large as a full dining table set. The best part is that they usually come with chairs, so all you need is a drink!
There are many different styles of bistro sets to choose from, so start by figuring out how many people you want to be able to sit at the table comfortably. If you have a small backyard or porch, this may be two. On the other hand, if you have a larger yard or patio then four may be the perfect fit for your needs.
The next thing to consider is what style of chair will work best for your needs.
2. Picnic Table
The most popular style of outdoor table is the picnic table. This type of table is often used for outdoor dining because of its light weight, easy to clean surface, and its ability to fold up when not in use. These tables are typically made from cedar boards that are stained or painted to protect the wood.
The top can be made from plastic or a thick sheet of durable material like glass which won't break as easily if it's accidentally hit with a dish or utensil. If you want to make your own picnic table, consider using pressure treated 2x6s for the frame and cedar 1x3s for the top.
Since these tables are so lightweight, they're also perfect for storing away during winter months or when they aren't in use.
3. Patio Dining Set
This is a great option for those of us who like to entertain outdoors. This set has a table, 4 chairs, and an umbrella! The perfect setting for your next barbecue.
This outdoor table set has a large wooden table with 6 matching chairs that are covered in plastic to protect them from the elements. It also comes with two floor pillows for extra seating when needed. This is perfect for hosting parties or just sitting down to enjoy the summer breeze.
4. Outdoor Bar Set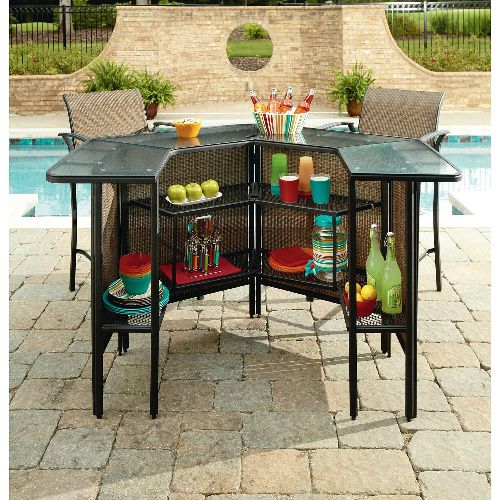 Having a backyard bar set is a must for any summer party. It's easy to create your own with some outdoor table and chair sets. Just find an area of your yard that you want to use as the bar, place your furniture there, and you're all set! Be sure to use an umbrella on hot days or if there is potential for rain. Also, make sure you have plenty of room around the furniture so guests can walk freely without bumping into tables or chairs.
In addition, keep in mind that different types of furniture need different amounts of space. For example, cocktail-style tables should be spaced about 3 feet apart from one another. Finally, remember to clean up after yourself after every party by removing used cups and plates from the bar area.