If you're getting older or have a physical disability that restricts mobility, there are ways you can make your home easier to move through. Finding ways to upgrade your property is the key to getting this done with the least amount of difficulty. The good news is, there are many devices on the market that can help you accomplish this goal. It's important to make the right choices and listed below are items for you to consider.
Install a stair lift
One of the best things you can do that will allow you to maneuver easily around your home may be installing a stair lift. Knowing how to choose a stair lift that will provide you with the most benefits is one thing you should consider.
This device will attach to your staircase and will move up and down while you remain seated. Below is what you should look for when doing a home upgrade with this mobility device:
Size – Choosing the best size to accommodate your living space should be considered. You should take the time to select one that is compact enough for you to maneuver with ease, but also large enough for you to feel comfortable in, as well.
Seat – It's important to have a seat with the right amount of cushion for you to feel comfortable in a while using this item.
Features – Some stair lifts may offer a variety of features and selecting one that accommodates your needs is ideal.

Build a ramp
Getting inside your home shouldn't be a daily challenge. However, if you don't move as well as you once did or deal with a disability, it can be hard to do.
One way to make entry into your property easier is by building a ramp. This can be done in a variety of ways that include using wood or other materials depending on your budget. Networx states the average cost for installing a ramp in your home is between $3,500-$8,000.
Once you have the ramp installed, you will want to have railing on the sides to assist you when walking inside your home. This will give you something to hold on to and could be helpful in preventing injuries.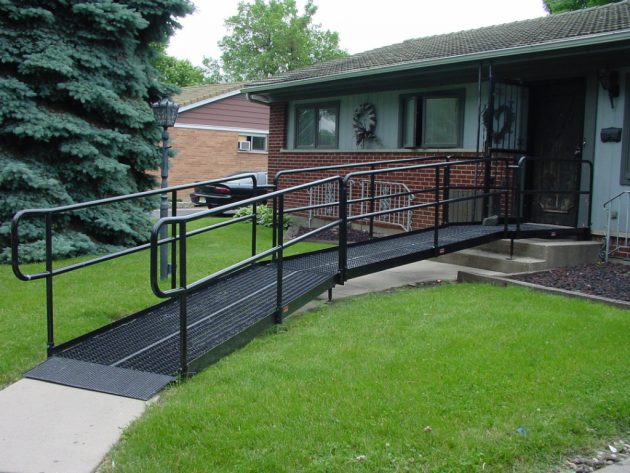 Invest in smart home accessories
Working to make your living space as user-friendly and straightforward as possible may be one thing you want to do. This is sure to help make your life easier and less stressful at any time.
You can accomplish this goal by investing in smart home accessories that work to make to do many things for you. Some of these are listed below:
Voice activated devices – These days you can purchase many items that can tell you most anything you need to know. Are you interested in learning what the weather is but missed the local news? What about the latest sports updates? Investing in the right technological device can enable you to learn all these things with ease.
Smart bulbs – Being able to see well is always one thing you will need to do. Taking time to find bulbs that provide additional light throughout your house is necessary for making your life better.
Security System – The last thing you will want to deal with is the possibility of your home getting broken into during the day or night. Having a security system installed inside and outside your home can be helpful and ease your mind.
Making either minor or major home accessibility upgrades can allow you to have a higher quality of life and enjoy your property more. It's a very good idea to get started on this task today so you can work to enjoy each day more and increase your mobility when living in your home!