Accessorizing your walls is a great way to give your home a touch of individuality, allowing you to add your unique sense of style. View your walls as a blank canvas to express your artistry, or allow them to highlight the minimalist interior design of your room.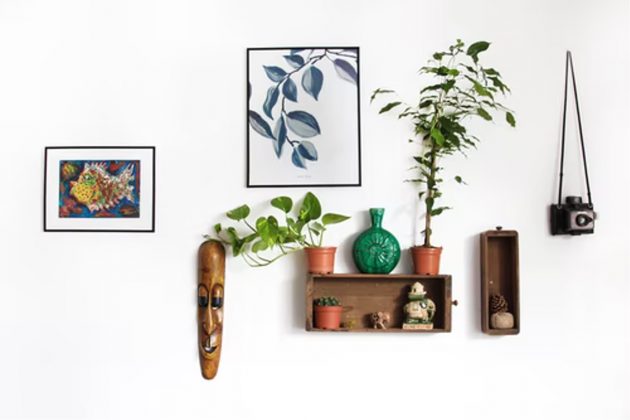 Whatever you feel inspired to surround yourself with, consider adorning your empty walls with colors and objects that reflect your tastes and interests. Display photographs, paintings, or sculptures against your walls using them as an opportunity to silently communicate an aspect of your character which may be hidden in everyday life.
In this article, we will explore some useful design tips that you can incorporate to help accessorize your bare walls.
Oversized Art
A large statement piece that commands attention can add a dramatic focal point to a room. Oversized paintings or framed prints lend themselves well to living rooms with high ceilings and large furniture. Display large-scale wall art above your sofa to bring color, interest, and aesthetic appeal to your room and to deliver an impact. A large work of art can connect the other items in your room, such as the sofa, lamps, and other pieces of art, marrying them into a cohesive space.
Wall art is one of the most important aspects of interior design. To ensure the balance of the room is maintained, it's important to take note of both the available wall space and the size of your artwork before hanging it up.
As a helpful guide, your artwork should take up two-thirds to three-quarters of your available wall space. Measure the height and width of your wall and multiply the measurements by 0.6 and 0.75 respectively to get an idea of the amount of wall space needed to suit your piece of art. Remember to take the frame into account if you are considering an unframed piece.
Accent Wall
Create an impact by adding an extra dimension to your room through the use of accent colors.
As the classic 60/30/10 decorating rule design rule suggests, 60% of your room should be a dominant color, 30% a secondary color, and 10% an accent color. Accentuate the dominant and secondary color scheme in our room through the use of an accent wall that incorporates undertones that are similar in color to your interior design yet vary in tonality and shade to give depth and emphasis to the aesthetics of your room.
Use a bold color of paint to create an accent wall, or introduce stenciling, fabrics, or even textured wallpaper to achieve your goal.
Lighting
Introduce an artistic element to your walls through your lighting and lamp choices. An elegantly curved floor lamp, scones, or sculptural lighting can serve a dual function, transforming bare walls into a stylish focal point whether they are lit or not. Empty walls offer a backdrop to highlight the form and shape of the light fixture by drawing attention to the negative space around it.
Experiment with these three design tips to beautify your home décor and accessorize your empty walls.