Depending on where you live, fall and spring could be an endless extension of either summer or winter. If you're like most people, you enjoy spending time on your deck during the warmer months, but when it gets cold – no matter the season – you stay inside.
Making use of your deck doesn't need to be reserved for warm weather. Here's how you can create a deck that stays cozy year-round:
1. Enclose your hot tub for winter use
Provided you have a hot tub, consider enclosing it with insulated walls for year-round use. You don't need to completely enclose it; even three walls will keep you warmer than zero walls. You can build walls with windows, or even see through walls so you don't lose your view.
When it's cold, taking a hot bath is relaxing, but sometimes the water isn't hot enough, and it gets too cold too fast. A hot tub is the only way to guarantee staying submerged in hot water. Here are some ways to make a your hot tub experience warmer in the colder months:
Use a heated hot tub air blower. Heated blowers are relatively inexpensive, and they take the chill off the air before it gets sent through the jets. If you live in a rainy or snowy climate, this will be a game changer.
Wear a fleece-lined beanie. A fleece-lined beanie will keep your body heat from escaping from the top of your head. You'll be toasty in the winter.
Use a towel warmer. Instead of using a traditional wall-mounted towel warmer, use a hot towel cabinet designed for spas. You'll be able to use an extension cord to plug it in closer to the hot tub so you can grab a hot towel the moment you step out. Hot towel cabinets are available inexpensively at Walmart.

2. Install an infrared sauna
An infrared sauna will be your best friend all year-round if you suffer from chronic pain in any area of your body. It's a gentle, painless, noninvasive therapy that goes straight to the root of your pain. The heat generated by infrared light is absorbed about 1" to 1.5" beneath the skin, and often provides immediate pain relief. Though, sometimes it takes a few sessions to feel relief from more serious pain.
A study performed by NASA experimented with three LED infrared wavelengths: 680 nm, 730 nm, and 880 nm. The results showed the 880 nm wavelength to be the most effective for pain relief. This is the wavelength used in most infrared saunas, but check with the manufacturer before you buy yours.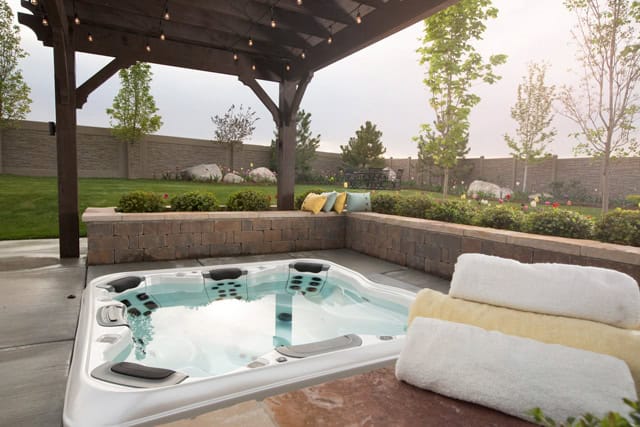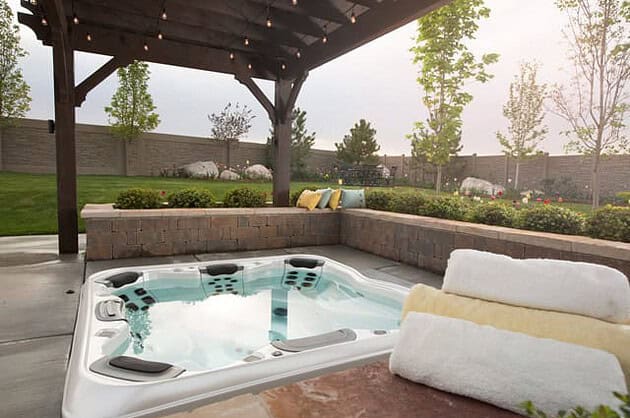 Your deck is the perfect spot for a sauna
Adding an infrared sauna to your deck, rather than inside your home, does more than save space – it allows you to enjoy the fresh air and a view of nature while you relax with warmth inside.
During the colder months, you may find it enjoyable to move from your hot tub to the sauna, or vice versa for extra relaxation.
Some of the benefits of infrared therapy are:
Increased circulation. Infrared heat has anti-inflammatory effects, and this helps increase circulation.
Increased moisture to the skin. This is great if you have psoriasis. A recent study demonstrated resolution of psoriasis using 830 nm and 633 nm LEDs in the infrared spectrum.
Reduced pain. If heating pads don't work for you, it's because the heat is generated inside the heating pad and then transferred to your body. This heat remains on the surface of your skin. Infrared heat is absorbed deeper under the skin, penetrating deeply to relieve the pain.
Detoxification. The healthiest form of detoxification occurs when your body sweats fluids out of its pores. This allows built-up toxins to release from tissues and organs, alleviating chronic health issues for many people.
You can use infrared heat every day without any side effects, as long as safety precautions are followed. Infrared heat is more effective than other sources of heat because it sticks to your clothing and your skin. That's why infrared heaters are popular in cold climates; they're more effective than a regular space heater.