The aesthetics of our apartments mean a lot to us, our kitchens, bedrooms and, bathrooms, there are lots of components that contribute to the overall beauty of our bathrooms, and a bathroom sink is just one of them.
Bathroom sinks are indispensable – we can't go a day without making use of them. A quick face rinse, brushing our teeth and, washing our hands would be difficult without the bathroom sink. Therefore, its design and structure – just like every other bathroom component, shouldn't be ignored.
Most times, homeowners ignore the aesthetics of the bathroom, especially the bathroom sink -which goes a long way in making your bathroom a beauty to behold. The position of your bathroom has no limit to the extent to which you could go in making your bathroom beautiful, and it goes beyond the color of the walls and floor type.
In a quest for a stylish and even better living, a variety of bathroom sink designs are in vogue today. Bathroom sinks come in a variety of shapes and sizes wide enough to match the interior design of your apartment. Below are some of the common types of bathroom sinks;
a. Sink (Basin) Positions
1. Wall-Mounted Sinks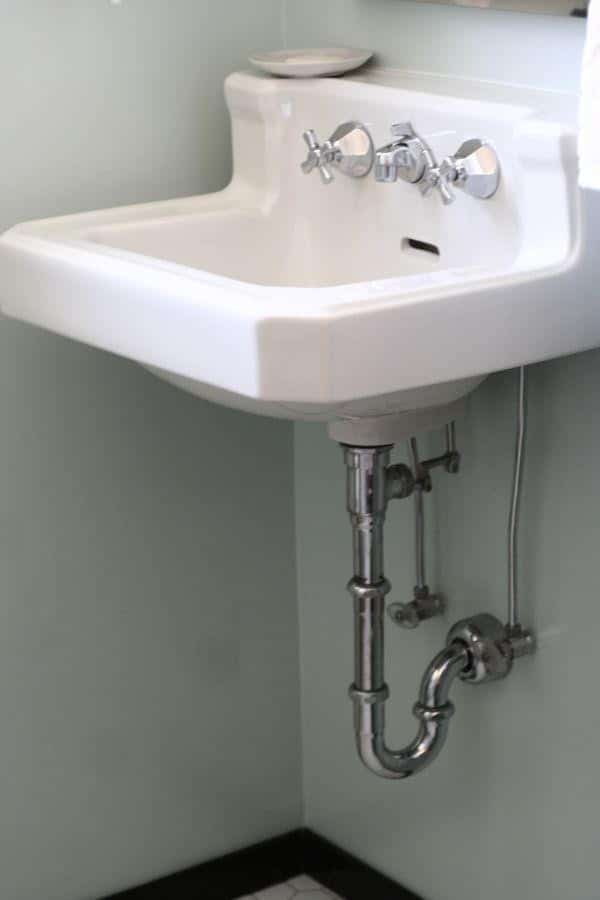 The wall-mounted sink is the most commonly used bathroom sink. Just as its name implies, they are attached to your bathroom walls without any cover for all its plumbing fittings and pipe supplies, leaving them out in the open. They are carefully attached to wall brackets, standing alone with no contact to the floor.
The good thing about this type of sink is – it takes up little bathroom space and is perfect for homeowners with small bathrooms. This bathroom sink is also very easy to install – just in case you feel the need to carry out all installation procedures yourself.
Although this bathroom sink is outdated, literally one of the oldest designs, it is still used in modern bathrooms and still serves as a work of art in your bathroom.
2. Pedestal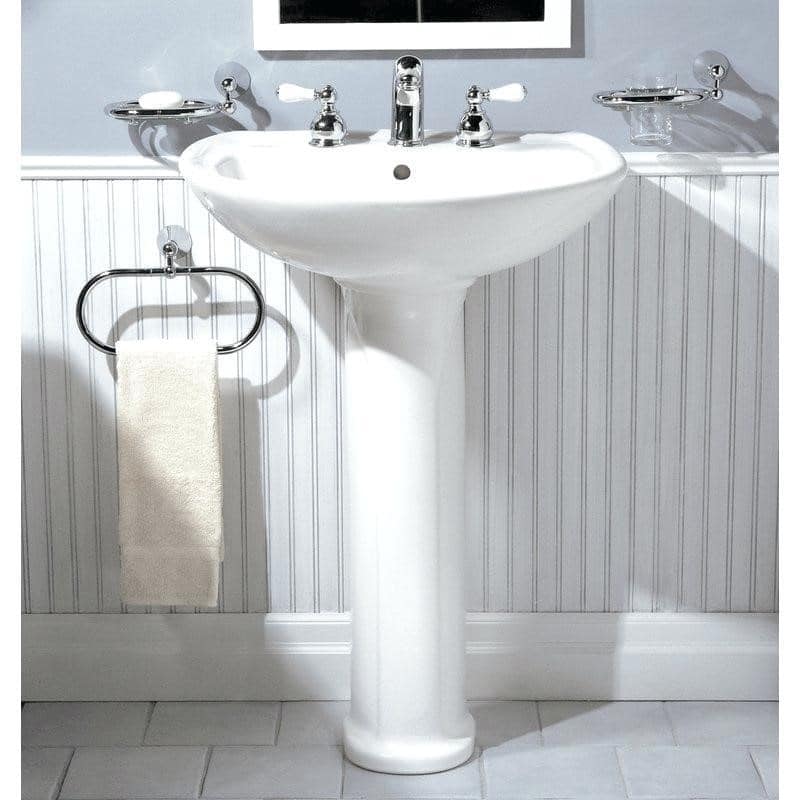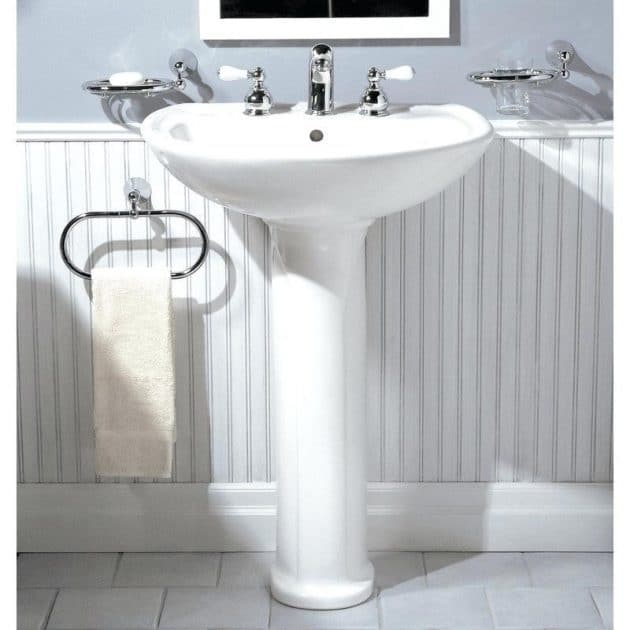 Just as its name also implies, pedestal sinks have its sink mounted on a pedestal, which acts as a stand for lifting it high up. Unlike the wall-mounted bathroom basin, pedestal basin has its; plumbing fittings and connections protected by the pedestal, floor support and, doesn't need to be attached to the wall.
Pedestal bathroom sinks do not particularly leave you with enough storage space in your bathroom. Adding more style to your bathroom and the right fit for large-sized bathrooms – this bathroom sink is of great design.
3. Drop-In Sink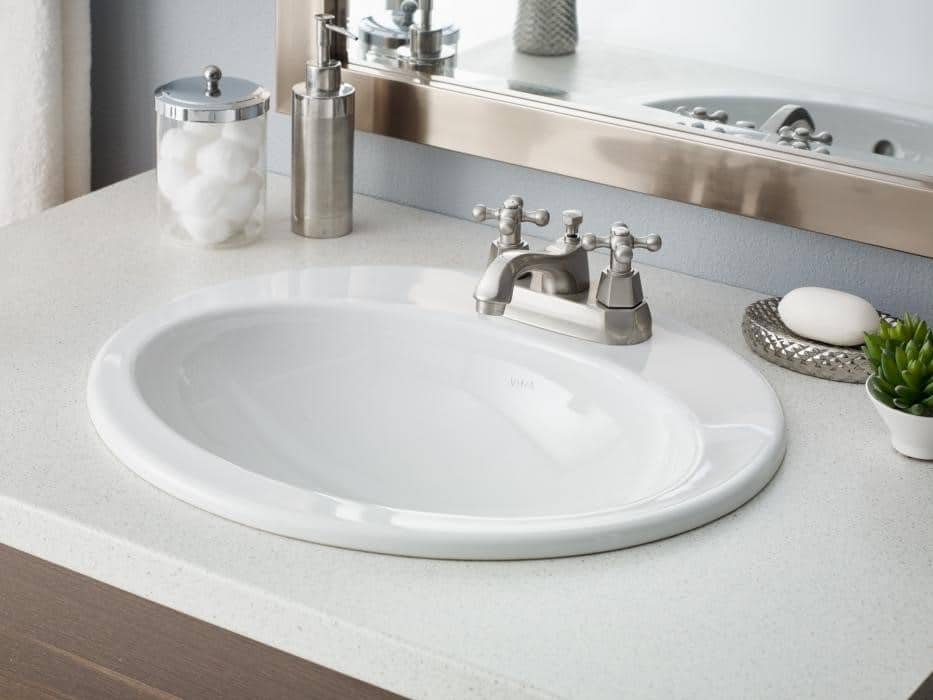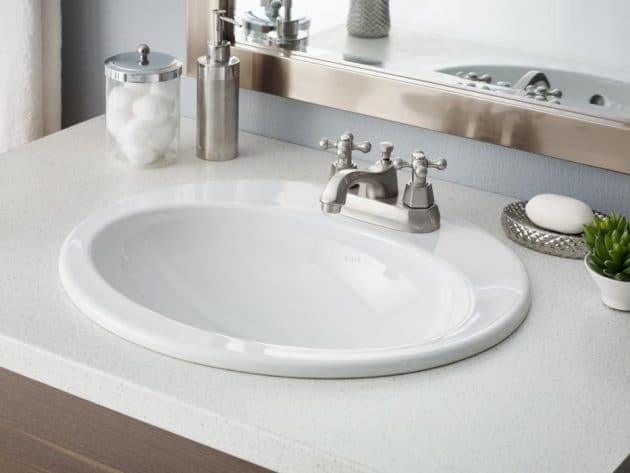 With an extra lip that helps it stay in place above the counter-top, drop-in sinks are referred to as self-rimming sinks. Drop-in sinks are easy to install to existing vanity. You don't have to make any complete alteration to your original design.
Drop-in sinks are used in modern-day bathroom designs because they are very stylish and, this is not a surprise. They also come in a variety of shapes and materials, which makes it even easier to adapt to existing vanity and maintain its style.
4. Vessel Sink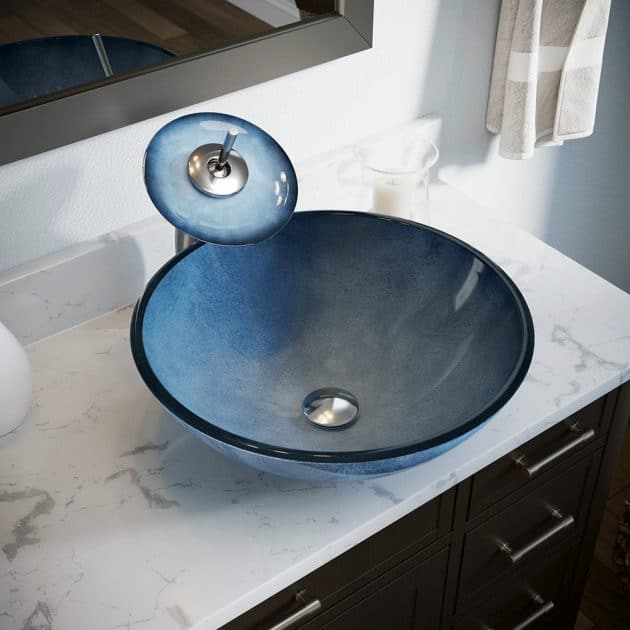 Vessel sinks sit elegantly atop your counter, high enough to prevent you from bending over whenever you need to brush your teeth or rinse your face. Vessel sinks take the shape of a deep bowl mounted on a counter. Being one of the modern bathroom sink types, it requires the use of pop-up drains.
This sink type comes with a faucet that needs to be attached to the wall with its fittings and connections hidden within your vanity countertop or exposed. Hiding or exposing its fittings doesn't matter, they remain stylish – coming in different material types for even better aesthetics.
5. Under-mount Sink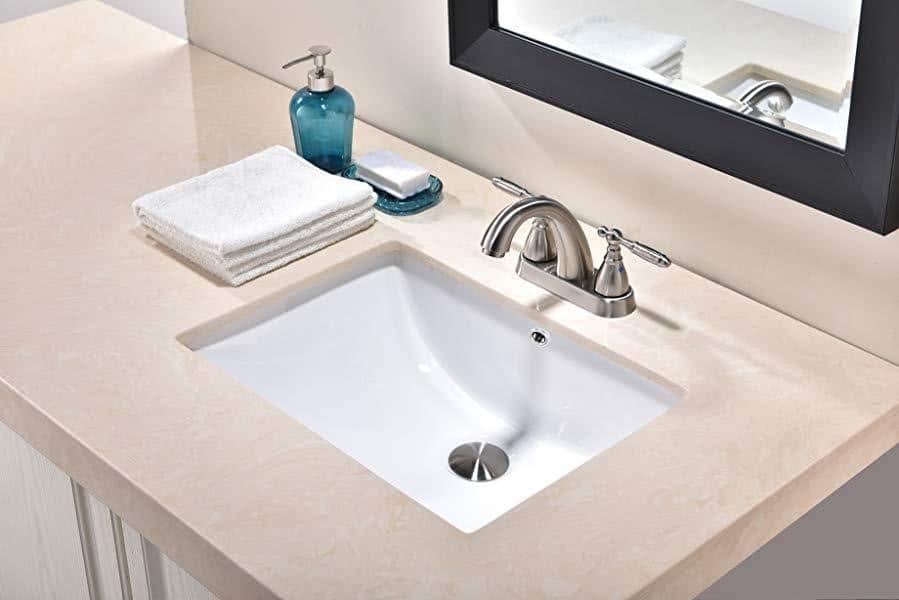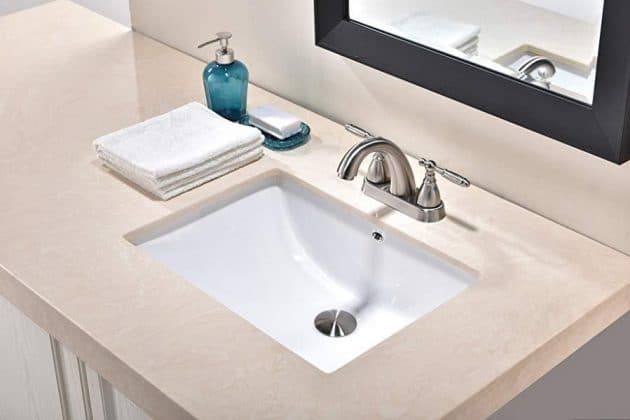 Under-mount sinks are easy to clean bathroom fixtures, mounted from underneath your countertop, held by caulks or special adhesives. This bathroom sink is perfect for saving counter space and is easy to install. The under-mount bathroom sink has all fittings and connections protected and hidden in the counter.
Installing this bathroom sink to a plastic laminated or tile countertops is almost impossible, using other countertop materials like the synthetic composite, quartz or stone top is preferable.
6. Corner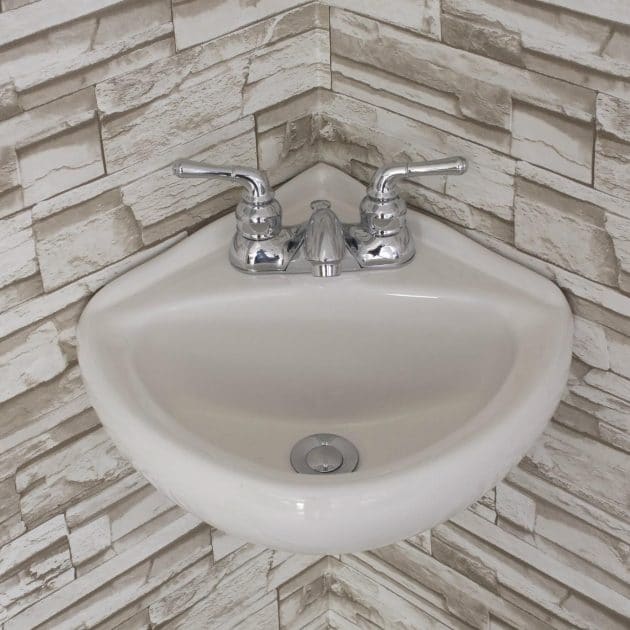 Corner sinks are by far the best bathroom sinks for saving space. They fit perfectly to the corner of your bathroom without the need for countertop space. Most times, they are usually wall-mounted with just a few installed and mounted on a pedestal.
Unlike the standard wall-mounted sinks attached to flat walls, corner sinks only fit into bathroom corners, they most times come in small sizes, which makes them perfect for small bathroom owners that still try to remain stylish.
7. Console Sink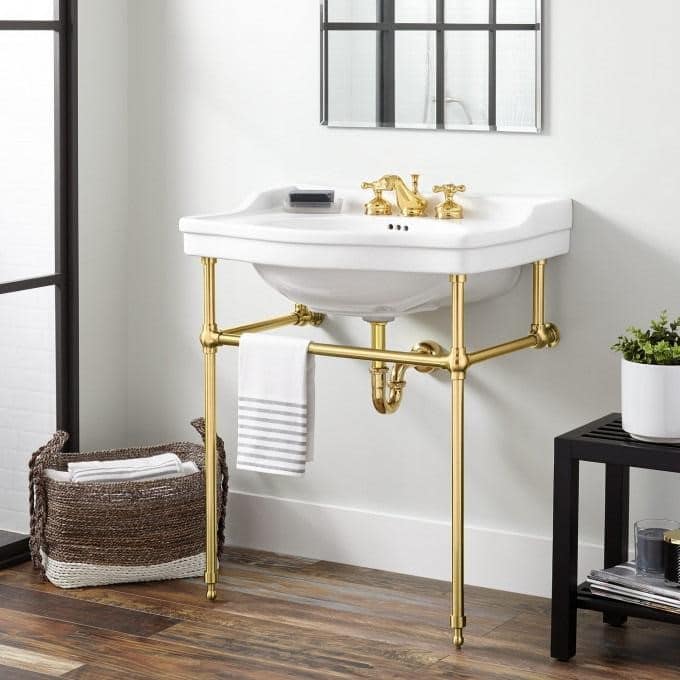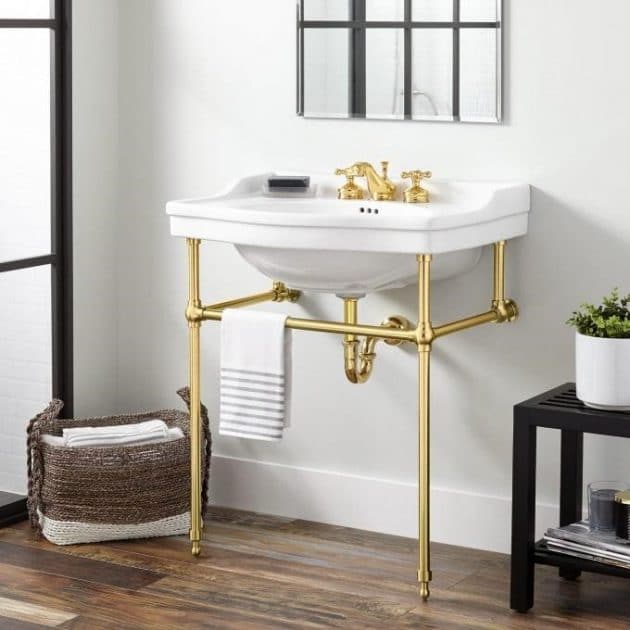 The console sink is a combination of both the wall-mounted and the pedestal bathroom sink. Plumbing fittings and supply lines are exposed, and the sink is held up by two or four legs. Most times, the legs for floor support are made of metal but could come in ceramics or porcelain too.
For better style and class, the faucets should be the same material as the legs. The legs of console sinks sometimes come with a towel rack for convenience.
8. Trough Sinks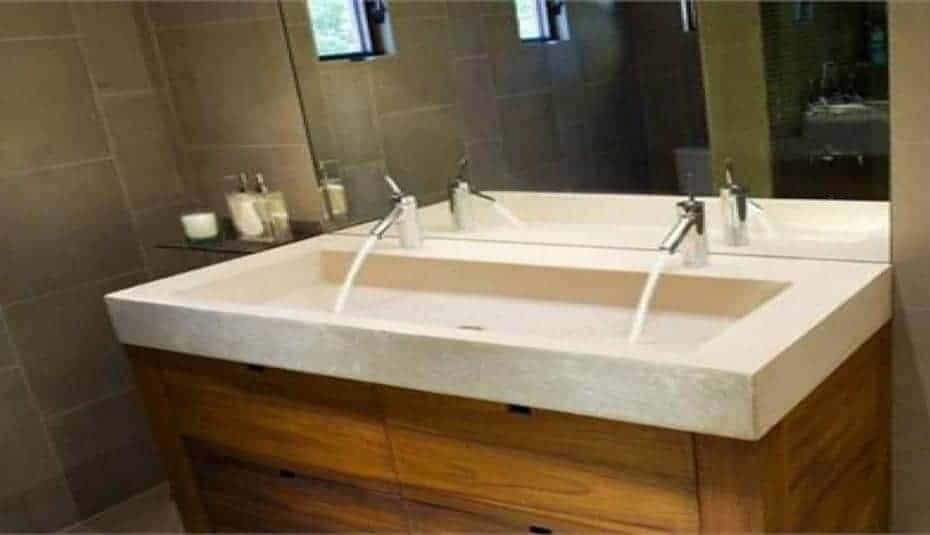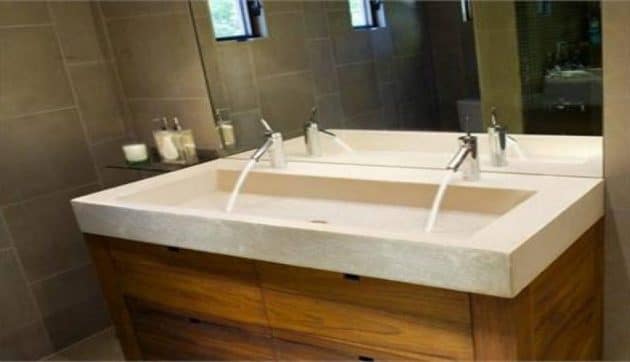 Trough sinks go way back in time – commonly used by farmers to serve animals water. Now they are used in modern public and private bathrooms.
Its width and depth make it easier to install two faucets and function well in bathrooms that accommodate two or more people simultaneously. Trough sinks could come in drop-in or wall-mounted designs – what matters is their width and depth.
Trough sinks were formerly carved out of stone or wood, but they now come in various materials that make them more stylish and easier to maintain.
b. Sink Materials
9. Stainless Steel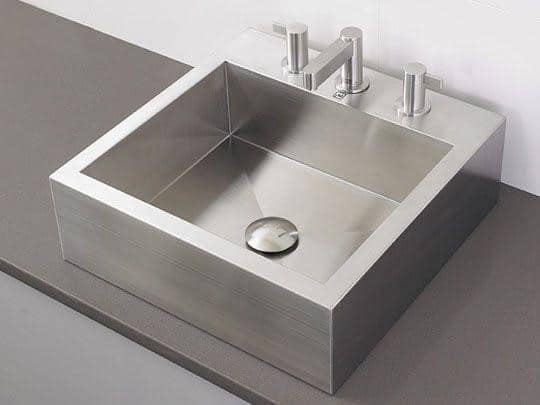 Stainless steel bathroom sinks do not rust and are very durable. Another good thing about the stainless-steel bathroom sink is its ease of cleaning. Due to its recyclability, they are affordable and eco-friendly too. Stainless steel sinks are also very light and have a shiny luster after every wipe.
10. Ceramic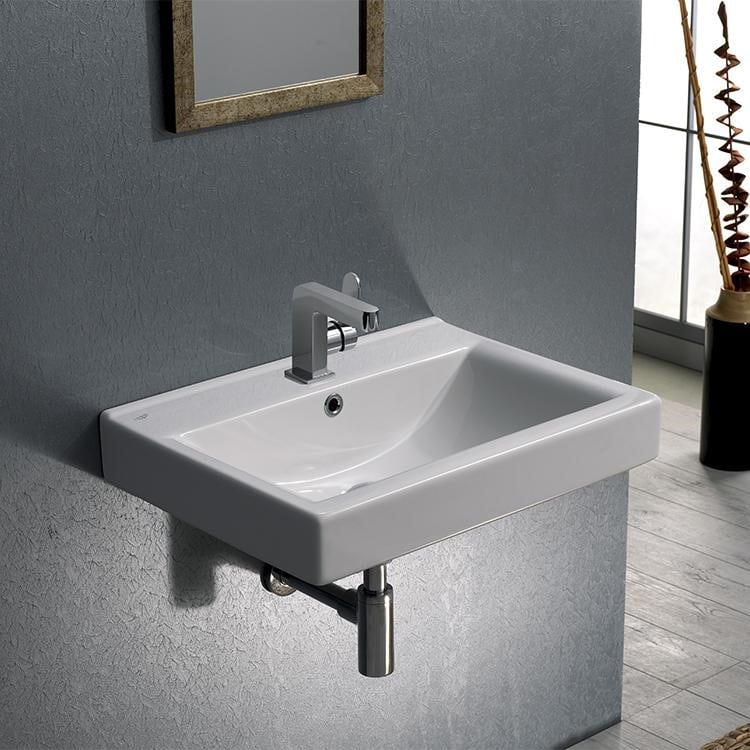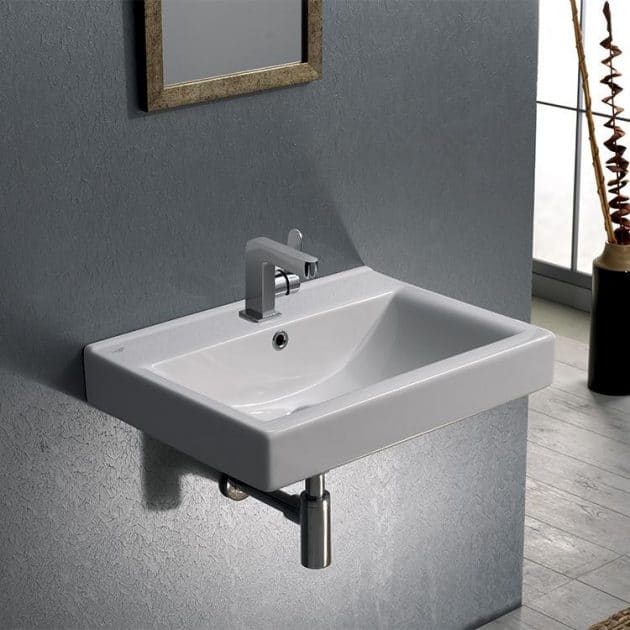 Ceramic sinks are the most commonly used material for bathroom sinks. Easy to clean with a stain-resistant surface that makes it difficult for dirt to penetrate deep enough to become difficult to clean. Ceramic sinks are quite fragile and require extra care, but they are beautiful piece-of-art.
11. Resin washbasin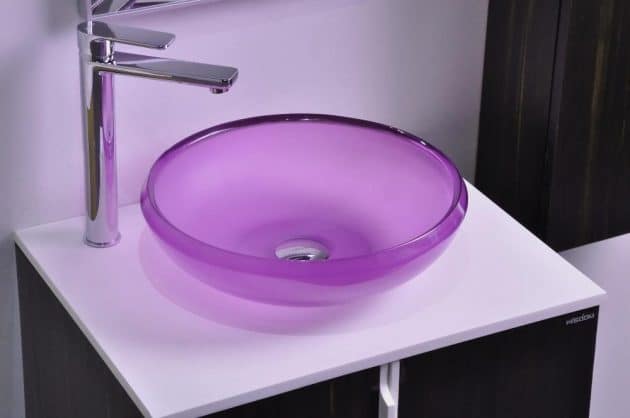 Poly-resin blade is the major component of resin washbasins. It brings out the color and style of your bathroom. Resins are resistant to scratches, stains and maintain its color for a long time. They are quite pricy but worth every penny.
12. Glass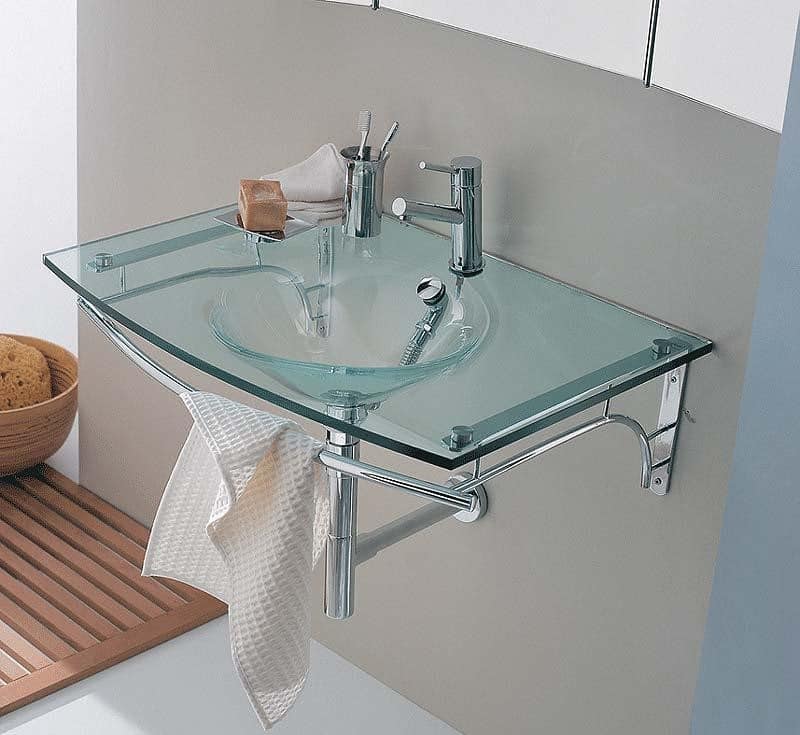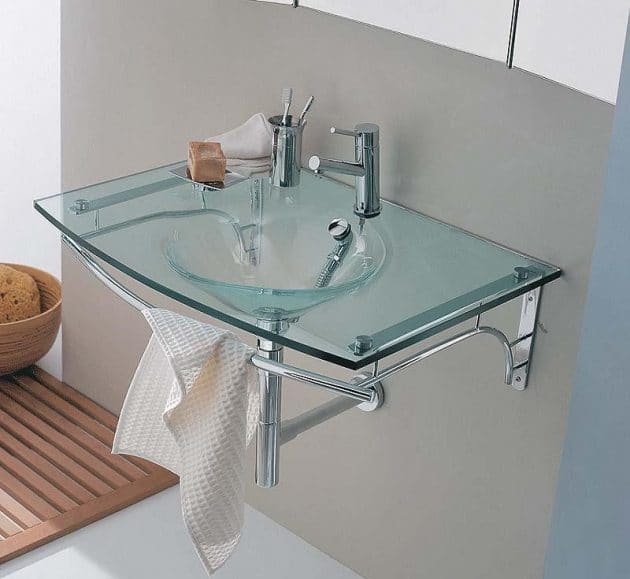 Mostly used for vessel sink types, high-tempered glasses are durable and have high resistance to heat, unlike regular glasses. Tempered glasses have either been; thermally or chemically treated. They come in transparent, translucent and, opaque forms – in different colors too.
Hardwater spots easily stain glass sinks, but they are easy to wipe off. Tempered glasses won't break easily. They are hard and will only crack or break if dropped or handled carelessly.
13. Wood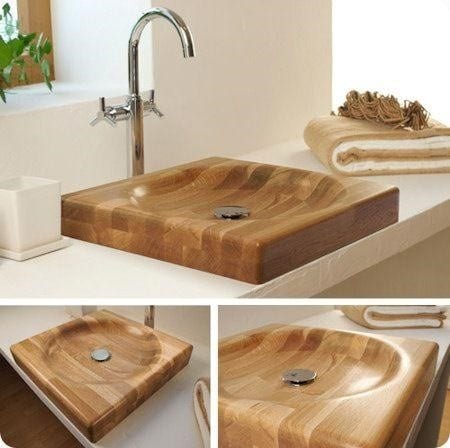 Wooden bathroom sinks are not commonly used in modern bathrooms – they are mainly found in buildings that still appreciate the ancient culture. Wooden bathroom sinks are made of a tropical hardwood tree called teak, with natural oil on its surface that makes it water-resistant.
c. Bathroom Sink Shapes
Bathroom sinks come in three different shapes;
14. Round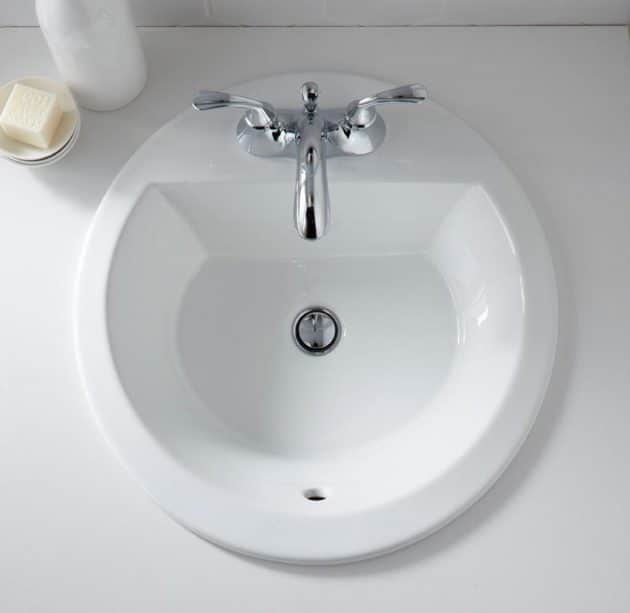 15. Oval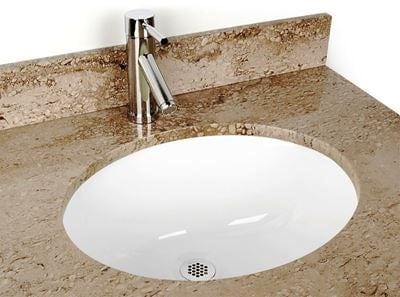 16. Rectangular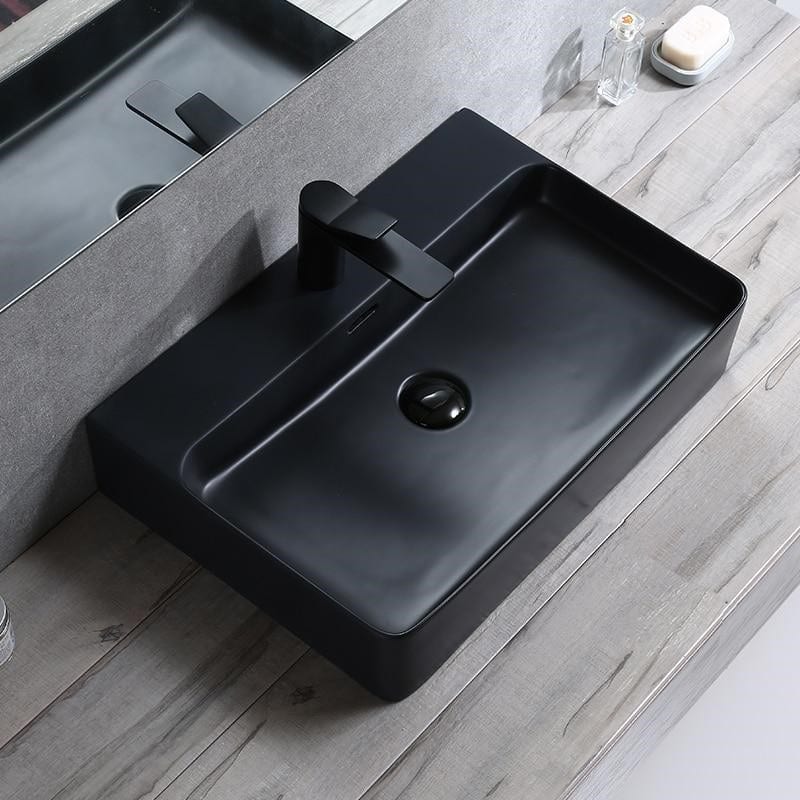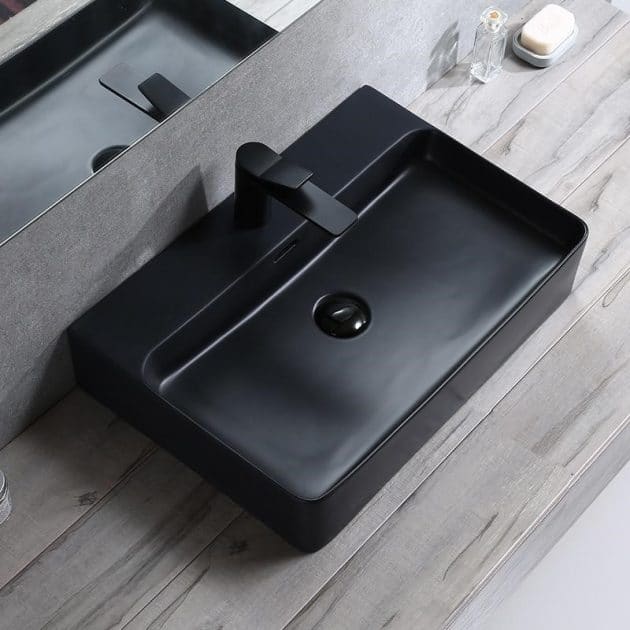 Every other shape is a variant of these three commonly used shapes.
d. Bathroom Sink Sizes
There are no standard bathroom sink sizes as there is a wide range of sizes. After selecting your preferred material and style, choosing the size should depend on the available storage space you have for it. The sink is not the only bathroom component you'd be needing in your bathroom – the size of your sink depends on the size of your bathroom or the expected amount of people that will be using the sink at once.
e. Faucet Type
The type of faucet you choose depends on your installed sink. Sometimes, faucet holes are drilled on your sink and you'd need to fit in faucets that match the hole size. Other times, the type of faucet you use depend on convenience and style preference.
Conclusion
The aesthetics of your bathroom goes a long way in having a fun and relaxing bath time. Selecting a bathroom sink could be a difficult task sometimes, but putting the cost, bathroom space and, design of other bathroom fixtures into consideration would make it a lot easier for you to choose.
Most bathroom sink types are easy to install; you could take it upon yourself to carry out the installation of your bathroom sink. As a DIY enthusiast, if you ever feel unsure after installing your bathroom sink yourself, do not hesitate to contact an expert handyman. With enough skills and experience, they'll ensure all fittings are connections are secure, keeping your bathroom sink in a perfect state to function all year long.
The type of bathroom sink you choose adds, or tears down the overall aesthetics of your bathroom, you should be extra careful when making your final decision. Whatever your choice may be, be sure to select a durable bathroom sink that'll remain in use for years and is easy to maintain.