The home-building process can be stressful, but also fun. You get to design a home from the ground up, including customized features.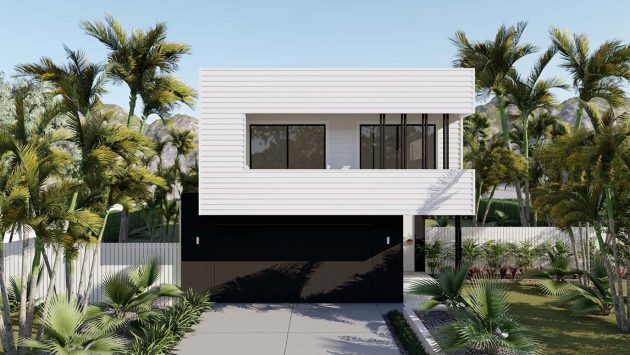 You'll probably spend hours perusing online galleries of custom home designs, pinning features on Pinterest, and watching home improvement specials to get ideas. Your collection of great plans should include these top 15 must-haves.
1. Heated Floors
Say goodbye to freezing toes on cold mornings. As you head for your morning shower or a hot cup of coffee, your soles will be comforted by a warm tile floor.
2. Bedroom-Floor Laundry
If possible, put your laundry room on the same floor as the majority of your bedrooms. Bedrooms tend to be on an upper floor and laundry rooms on a bottom floor. Many homeowners have to do two or three flights of stairs for each load of laundry. You can avoid this time-wasting workout by exercising smart placement in advance.
3. Laundry Chutes
If the structure of your house will not allow bedroom-floor laundry, do the next best thing and install laundry chutes. This allows residents on upper floors to drop their clothing into baskets in your laundry room through a tube. No more climbing stairs multiple times to gather laundry!
4. Smart Lights
Wiring your home for smart lighting is one of the wisest things you can do. Smart technology may soon become a standard feature in new homes, so this will put you a step ahead.
Smart lights give you control from a central source, such as a control panel and/or an app on your phone. You can dim, brighten, or turn lights off and on from anywhere, which will save money on lighting. It's also incredibly convenient.
5. Pull-out Cupboard Inserts
Pull-out sliders for your lower kitchen cabinets will improve cupboard organization immensely. They eliminate the need to get on your knees and reach blindly to the rear of the cupboard. You can maximize space while preserving your back.
6. Under-Cabinet Outlets
Cooks are always in need of more outlets in the kitchen, but it's unsightly to install extras within your pretty backsplash. If you install plugs in a strip under your upper cabinets, you'll have all the outlets you need. This lets your backsplash shine without the interruption of a plastic outlet cover.
7. Outdoor Entertaining Space
Whether you design a large deck or a comfortable concrete patio, include a space to enjoy your backyard. If you live in a hot, humid climate with lots of insects, go for a screened-in area.
8. High-End Countertops
In both your kitchens and bathrooms, install high-end countertops. The price tag will go up, but the return on investment is also greater. Cheap countertops will damage easily and lose their value while granite, quartz, or soapstone countertops will survive throughout the life of the home and maintain their value for years.
9. First-Floor Master
Master bedrooms on top or bottom floors are far less convenient than ones on the ground floor. In family homes, this offers greater control and enhanced safety because you can monitor your kids better from this location. Ground-floor master bedrooms also hold their value better, because many other homeowners don't want to climb stairs to retire each night.
10. On-Demand Water Heater
On-demand or tankless water heaters are the future in water heating. You can say goodbye to a giant tank in your basement that runs out of hot water after 20 minutes. These new water heaters never run cold, so you'll always have hot water when you need it.
11. Sun Tunnels and Sky Lights
Natural light is the best for the home, and sun tunnels or skylights provide it. These furnish excellent natural lighting to rooms and boost the heat in the winter, but they can challenge the efficiency of your air conditioner in the summer.
Have an electric shade installed on these tunnels so you can block the sunshine on especially hot days with the use of digital controls rather than climbing ladders.
12. Mud Room with Storage
Mud rooms keep the mess of the outdoors contained to one space. As long as you have shelves, cubbies, and storage spaces, your family members may remove and store their shoes, coats, hats, gloves, backpacks, lunch boxes, etc., without scattering them — and the accompanying dirt and leaves — around your home.
13. Shelved Storage Room
Storage is a must-have in all homes, for both your comfort and improved property value. Install lots of shelving that's suitable for food items, camping gear, decorations, keepsakes, and so on. This will keep your home in order and impress future buyers.
14. Deep Kitchen Drawers
Deep kitchen drawers provide excellent spaces to store dinnerware, bowls, pots and pans, and more. They avoid many of the space challenges that typical cupboards pose. These drawers can be installed in place of lower kitchen cabinets and/or in your island.
15. Smart Thermostat
A smart thermostat allows you to program your temperature settings according to your daily schedule. That way your A/C isn't running full blast when nobody is home to appreciate it. You can save an average of 25 percent on heating and cooling costs with a smart thermostat.