Transforming your front yard, backyard, or patio into a cozy outdoor living space is the ultimate homeowner's dream. There is nothing like an inviting outdoor space where you can spend time alone or entertain friends all summer. However, some homeowners think outdoor spaces break the bank. Wait until you read these 15 budget-friendly outdoor living space ideas.
1. Pile some poufs
Poufs are versatile and inexpensive, tying your outdoor living space together. They can be used as a footrest, chair, tabletop, and headrest. Poufs are also portable and convenient, allowing you to add them onto simple wooden furniture and put them away when you don't need them. They're also colorful and come in various styles, perfect for pairing with your outdoor coffee table. Piling up poufs is one way to add personality to your outdoor area.
2. Display a stock tank pool
A stock tank pool refers to a standard farm fixture that farmers use to give water to livestock. But who would've thought it could also be a cheap outdoor pool alternative? Building a pool is expensive, but this is a must-try if you're looking for affordable outdoor living space ideas. Plus, you no longer need additional landscaping with a stock tank pool.
3. Create pallet patio furniture
If you can't afford to invest in outdoor furniture set from your favorite furniture outlet, don't fret. Pallet furniture is an excellent alternative that doesn't cost an arm and a leg. Wooden pallets are primarily used to store or lift goods, so upcycling them is a great and cheap idea.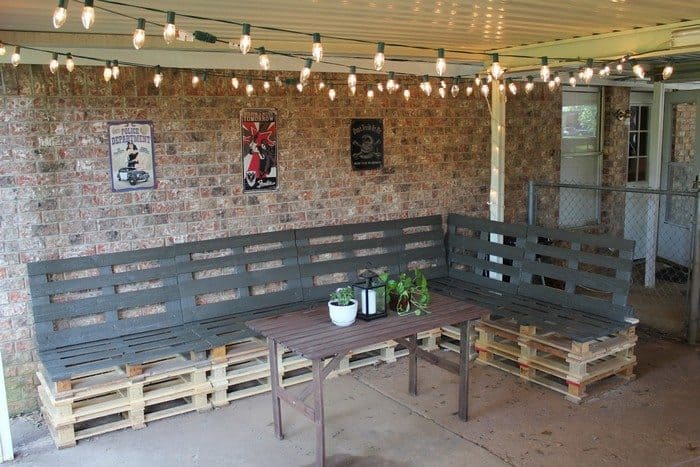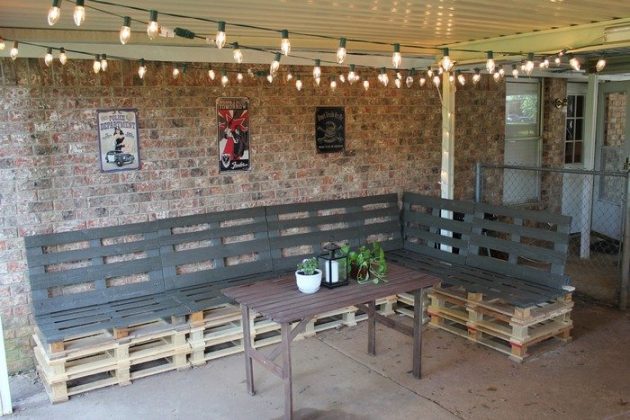 4. Budget-friendly lighting
Don't worry if you can't buy the most expensive lighting fixture for your outdoor living space. String lights, candle-lit lanterns, and solar-powered lights are excellent alternatives for affordable outdoor space lighting.
5. Potted plants
Creating layers in your front yard, backyard, or outdoor garden is essential in aesthetic decor. While planters are expensive, you can always DIY your planters for a more affordable solution. On the other hand, potted plants do the job, provided you arrange them beautifully with your favorite colorful plants and flowers.
6. Consider sod
Outdoor living space is more inviting, with stunning greenery and grass. But if Bermuda or St. Augustine grass is too expensive, go for sod. Sod is harvested into rolls, with grass growing on the upper layer of soil.
7. Go vertical
If you have a smaller outdoor living space, you can still make it enjoyable by drawing the eyes upward. Going vertical creates the illusion that your space is bigger and higher. You can use cheap outdoor living space ideas as focal points, such as hanging driftwood, vintage finds, or large pieces of hanging art.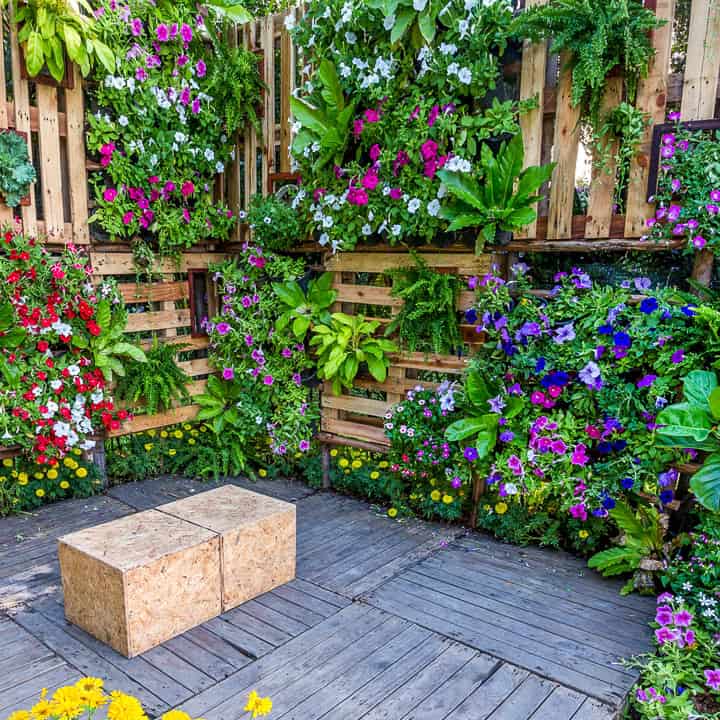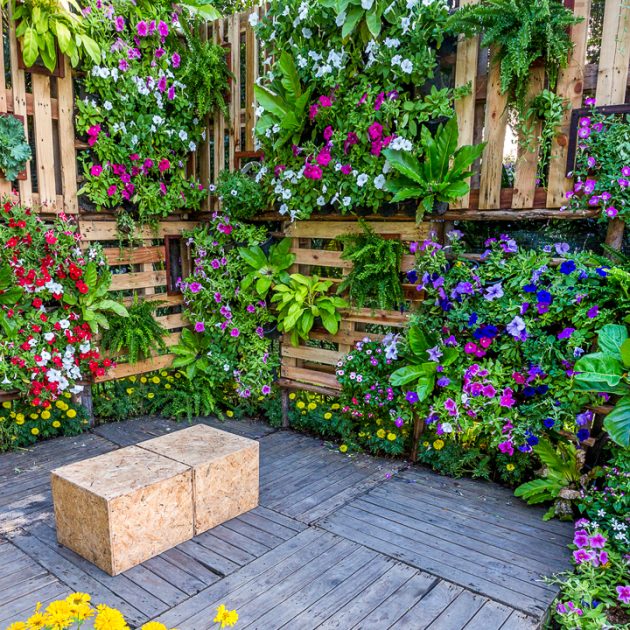 8. Shrubs for seclusion
Sprucing up your outdoor space is perfect, especially if you have a green thumb. Plant evergreen shrubs for privacy if you want to seclude your outdoor living area from the rest of the spaces. Some famous options are arborvitae, white pine, spruce, and hemlock. However, you may also invest in some exquisite curtains and let them hang on a wooden rod if you want a more intimate space.
9. Affordable outdoor space rug
Don't worry if your patio is outdated and you don't have the money to do some repairs. Do you want to cover that old concrete or wood on your deck? Buy inexpensive rugs and layer various colors to create an interesting pattern.
10. Add budget-friendly shades
You want to prepare for long summer seasons that might offer scorching days outside. Don't let this hinder you from using your outdoor living space. Grab an inexpensive umbrella from your favorite home depot or grow plants and vines. Some popular options for a vertical garden are Virginia Creeper and Wisteria.
11. DIY movie theater
You always want to assess how you will use your outdoor area. One way to modernize outdoor spaces is transforming them into cozy movie theaters where the family can gather and movie binge all night. Use a smartphone projector if you can't bring the indoor appliances outside, like your television and sound system set. Pair it with some cold beers and popcorn, and you won't ever have to go to theaters again!
12. DIY fire pit
Adding a fire pit is visually appealing in outdoor living spaces and protects you from cold winter nights. Plus, there are many affordable outdoor backyard ideas for a fire pit, such as all-natural rock, cinder blocks, or even a repurposed washing machine drum!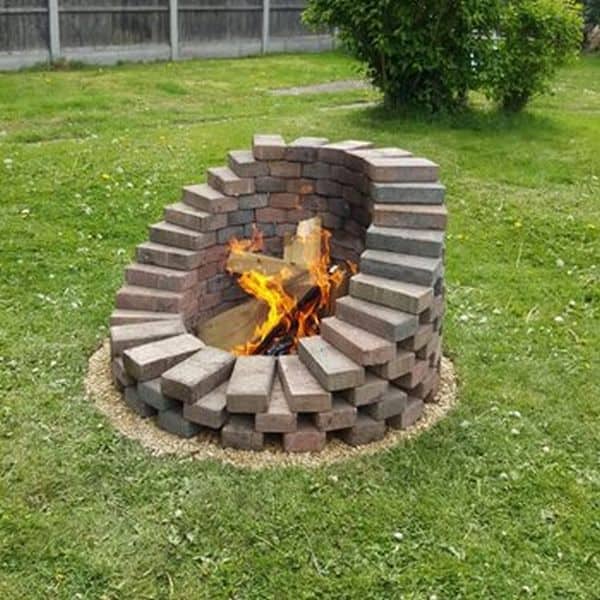 13. Display a hammock
Nothing beats a hammock to make your outdoor living space extra cozy. A hammock is one of the most budget-friendly ideas for an outdoor living space. Plus, it doesn't occupy much space on your patio or deck.
14. DIY water feature
A water feature in your garden complements the entire outdoor living space look. Plants and water go together, so showcase a simple water feature. You don't have to buy a set from the store. You can purchase cheap pots or DIY planters and put them on top of each other. Place some pebbles and rocks and DIY your fountain.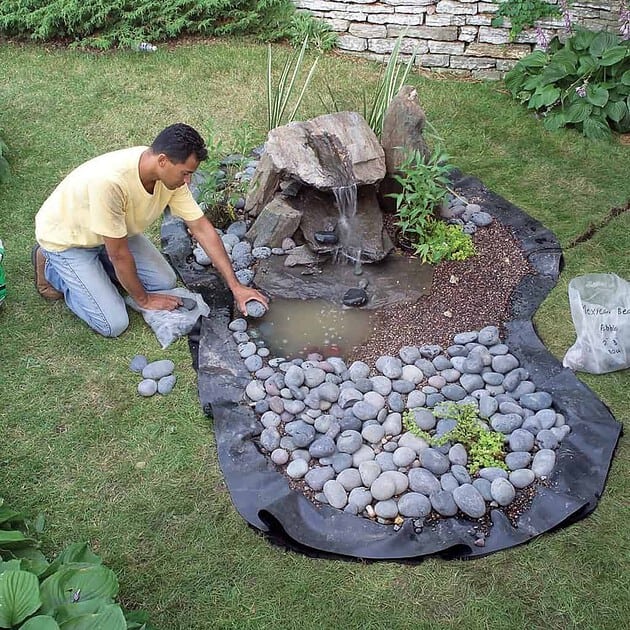 15. Build a pergola
While this may cost the most, there are still some inexpensive outdoor living space ideas for pergolas. A pergola is a popular outdoor garden feature that shades walkways, passageways, or sitting areas. These vertical pillars or posts support cross beams and offer an open lattice. A few ways to lessen pergola construction costs are making it smaller and opting for inexpensive materials like vinyl instead of lumber.
Conclusion
Budget-friendly outdoor living space designs are doable if you put your effort and creativity into their fruition. A cozy and welcoming outdoor area doesn't have to cost much. Sometimes, love, passion, innovation, and upcycling will flourish in the final design outcome.