Everyone wants to live in luxury, yet this is something that feels reserved for high-end hotels, or, worse, other people's homes. However, it's perhaps time to change the perception that luxury is exclusive, or generally out of reach for regular folk. This couldn't be more wrong! There are plenty of ways to infuse your home luxury and make your property a more liveable and comfortable space (and an added bonus: it'll push the value in the right direction). We're going to take a look at just ten ways to increase your home's luxury credentials, none of which are particularly complicated. Take our tips on board, and it won't be long before you're living in luxury!
Make it Private
We're going to go through every aspect of your home in this blog. So let's begin with the edge of your property, your very first interaction with your house. A big part of luxury is privacy and exclusivity. If everyone is able to see into your home when they walk past, then you won't have this option. Take a look at adding a fence, hedge, or gate to the front of your home, all of which will make your property more private. If people can still see in or you really want to boost privacy, then you can add trees and big plants to the front too. As well as keeping people from looking in, this also will keep the noise and chaos of the outside world away from your home.
All of these actions will help to push your home's curb appeal in the right direction. All too often, people end up paying too much attention to the inside of their house. But it's the front yard that sets the tone for the rest of the space. If you've taken the time to ensure that this area of your home is as high-quality as possible, then you'll be on the right track.
Paint and Windows
As well as what's going on "on the ground" in the front of your property, also take a look at the property itself. Is it in as good condition as it could be? Your house will be continually assaulted by the elements, and over time, it'll begin to affect the overall quality. Because it's such a slow process, many people don't even realize that the outside of their home has deteriorated. A fresh lick of paint and changing the windows can both make a huge difference to the overall look of your home. If your home is looking a little tired and dated, and you don't know why then hire someone to paint the home and change the windows. It'll make a big difference.
Entranceway
Now let's move on to the interior of the home. For many people, the entranceway is just a place to dump their jacket and keys; the home really begins once you enter one of the rooms. However, if you're looking to increase the luxury of your property, then you can't take this approach. Think of the lobby of a luxury hotel. Is it ever anything other than fabulous? Nope. It helps to set the tone for the entire hotel. And you can do the same with your home. Even just a few small adjustments can nudge things in the right direction. Perhaps the most important thing is to get organized. The space should be calm and welcoming, and that can't happen if you're bombarded with chaos the moment you walk through the front door. In general, the minimalist approach works best — though don't be afraid to add a statement piece to your entrance way either. For example, a grand light fixture or a work of art.
Plenty of Space
And talking of being organized: let's not confine that exclusively to the entrance way. Your whole home should be this way! It's impossible to really have a luxury space if there are just too many items cluttering up your home. Of course, seldom few people plan to have a cluttered home. It's just one of those things that happen, especially after a few years of living in your house. Fortunately, there are always things you can do that'll help things. For instance, you can periodically go through your property and clear out anything you no longer need. Moving forward, it's all about being mindful, which means actively thinking, 'do I really need this item?' before making a purchase. If you need some inspiration, just take a look at some minimalist designs — it's a trend that seems to go hand in hand with luxury. That's because every item is bought with care, which generally leads to higher-quality.
Adding Light
You could have luxury items everywhere, but if your home is shrouded in darkness, then it's just not going to be as luxurious as it could be. Luxury is all about enjoying the beauty of life, and that becomes a lot more difficult if it's so dark that seeing is difficult. There are two steps to take when it comes to boosting your home's light credentials. One is focusing on letting in more natural light, the other is about creating atmospheric artificial lighting. There are several things you can do that'll let more natural into your property. One is to install shutters in bay window; they'll allow you to make the most of the light throughout the day. Once the sun has set, it'll be the job of artificial lighting to create the atmosphere. You can do this by adding lamps and other side lighting throughout your home. Be sure to choose the right type of bulb lighting, too, so that you get the full effect.
Works of Art
It's unusual that people don't make the most of art in the home. It can add so much. In particular, it can add a sense of luxury to your property, providing you've bought high-quality, good pieces. There's no need to go overboard and add works of art to every room, but a couple of pieces here and there can really add a lot. As well as works of art, look at adding other colorful elements, such as plants.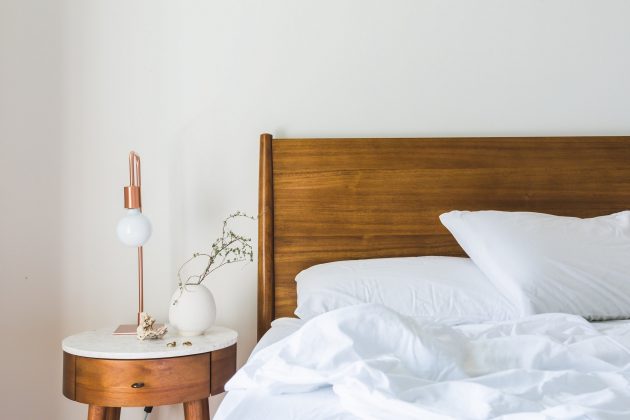 Upgraded Comfort
Luxury is all about deep comfort. If your linens are old and a little tired, then upgrade them; these are things where it can be useful to pay a little more than normal, because they have such a big impact on the enjoyment of your home.
Upcycled Furniture
The problem with furniture for the home is that if you want things to be unique, then you normally have to pay through the roof for it. Because people don't want to do that, many opt for the generic, box-store furniture. This is well made, but it's not all that unique, and that means that it's not all that luxurious (remember: luxury is closely connected with exclusivity). There is another option, however, and that's upcycled furniture. You can buy pre-used items that have been lovingly restored. This isn't like buying normal second hand goods — it's more like buying an artisan piece without the high price tag. You might not want all your furniture to be upcycled, but one or two pieces can really add a lot of character to your home.
In the Backyard
If you have a backyard, then you have the perfect space to create a really luxurious living space on your property. Most people don't make the most of this part of their home, which is odd because it holds so much potential. You can create essentially another room in your property by adding extra comfortable outdoor furniture to your yard. It's also advisable that you get some sort of canopy cover, so you can enjoy the long summer days without wrestling with the sun. If you want to really step things up, then look at adding a couple of standout features. A high-grade BBQ, jacuzzi, and outdoor cinema (they're easier than you might think to install) will really take things to the next level.
Feed the Senses
Finally, think about feeding the senses. If you're going to feel luxury in your home, then you'll need to feel as comfortable as possible — and it's not just the things that we touch that brings us comfort. There are scents, for example, that can really make our homes feel lovely. If you haven't got one yet, look at adding a diffuser to your home. These products could be considered the secret weapon of luxury spaces, actually. They're subtle, yet they have a profound impact. They help to make you feel calm from the moment you walk through the front door.
Conclusion
So there we have it. If you're looking to add luxury to your property, then try incorporating some of the tips above into your home plans. In no time at all, you'll find that you've significantly improved the look and feel of your home. Indeed, your home might become one of the properties that other people feel envious of when they walk through your front door!