Pickle Barrel House in Grand Marais, Minnesota
The Pickle Barrel House is a two-story cabin built to resemble two barrels. This bizzare house design is based on cartoon characters that were two inches tall and lived under a rose bush in a pickle barrel. It is currently located in Grand Marais, Michigan.
The main floor is for the living area and the upstairs is a bedroom. A smaller barrel serves as the kitchen and the two barrels are connected by a pantry. There is an outdoor garden and also a seating area with a garden path between these two.
Photography source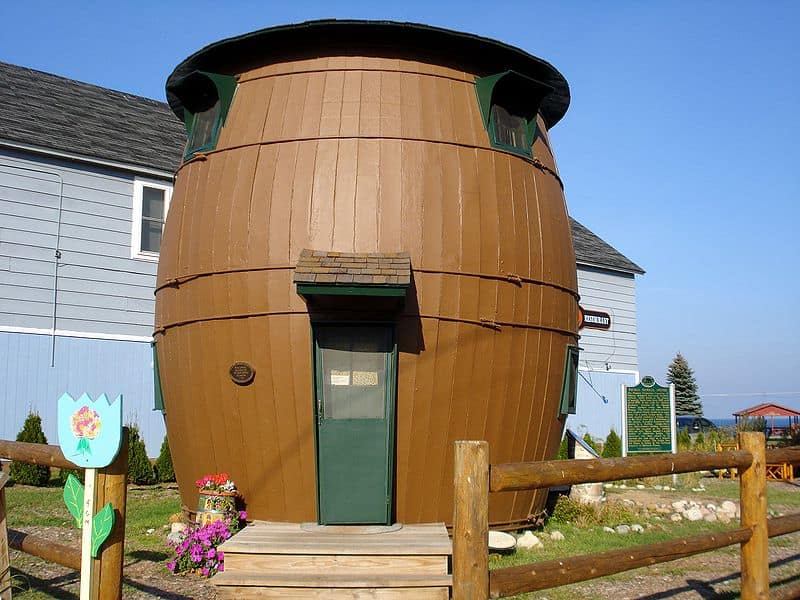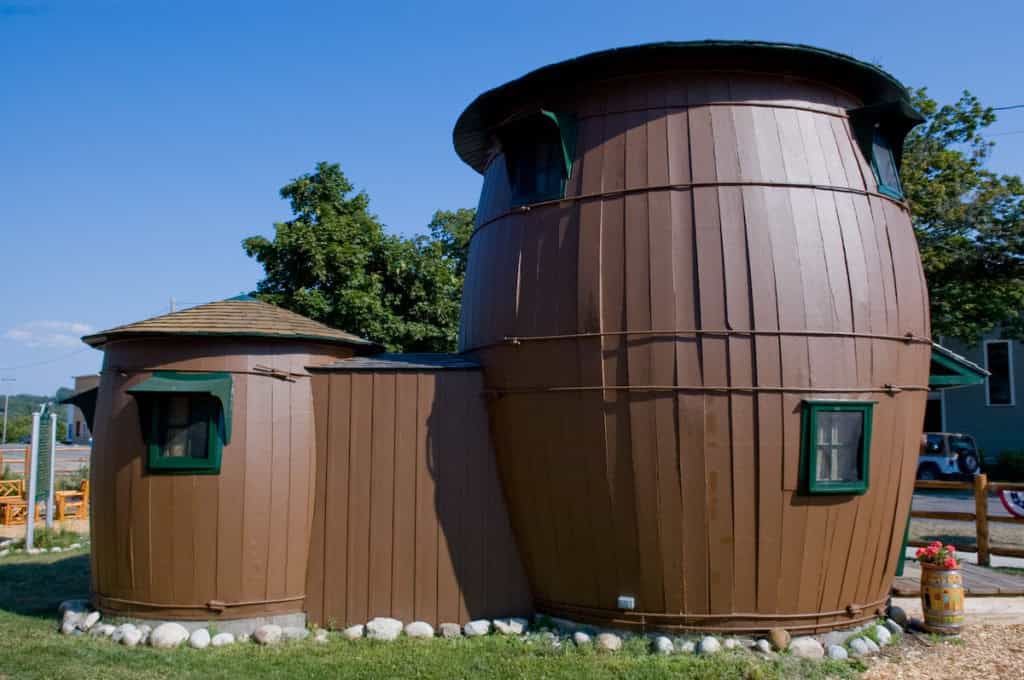 2. Sutyagin house, Arkhangelsk, Russia
This is really strange building, it was a wooden house in Arkhangelsk, Russia. The 13-story, 144-foot-tall residence (44 m) of the local entrepreneur Nikolai Petrovich Sutyagin was reported to be the world's, or at least Russia's, tallest wooden house.
Constructed by Mr. Sutyagin and his family over 15 years (starting in 1992), without formal plans or a building permit, the structure deteriorated while Mr. Sutyagin spent a few years in prison for racketeering.
Photography source
Erwin Wurm's House Attack, Vienna, Austra
Due to the 'House Attack' by famous Austrian sculptor Erwin Wurm the Vienna Museum of Modern Art (MUMOK) got into the list of the strangest buildings in the world.
MUMOK: 'This is the only family house that crashed into the roof of the museum. We can see a symbol of the conservative melancholy and longing of narrow-minded people, the dual metaphor, which explodes like a bomb on the frontage. And now the museum itself became a part of the sculpture'.
Photography source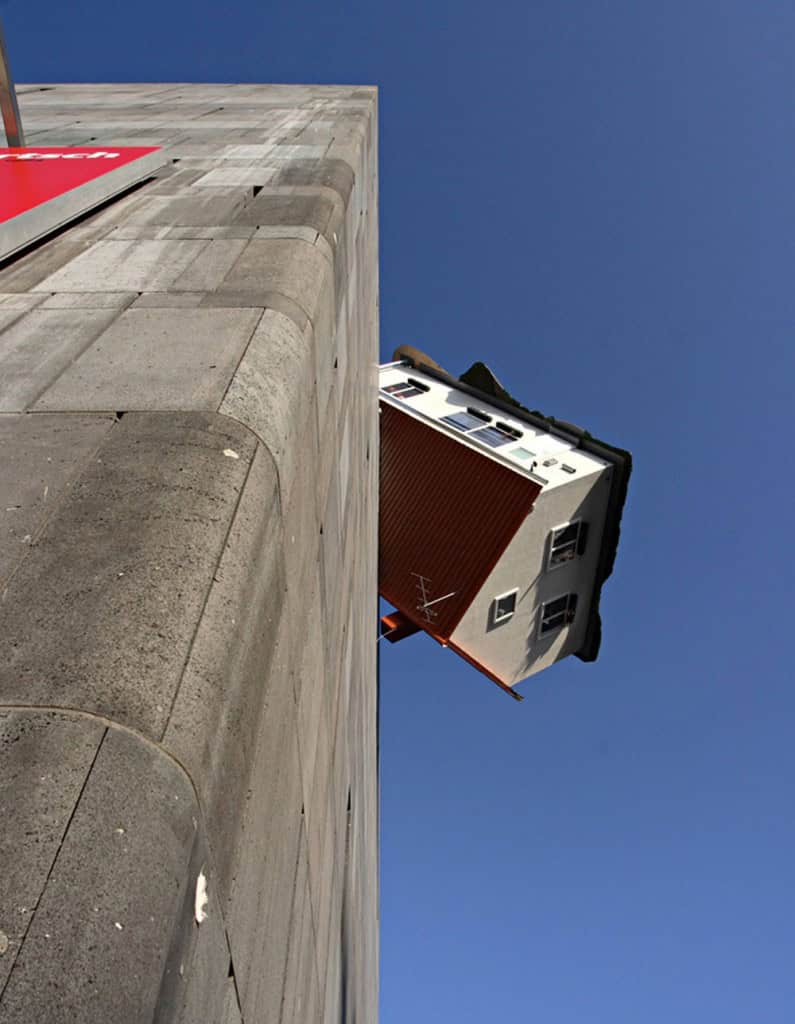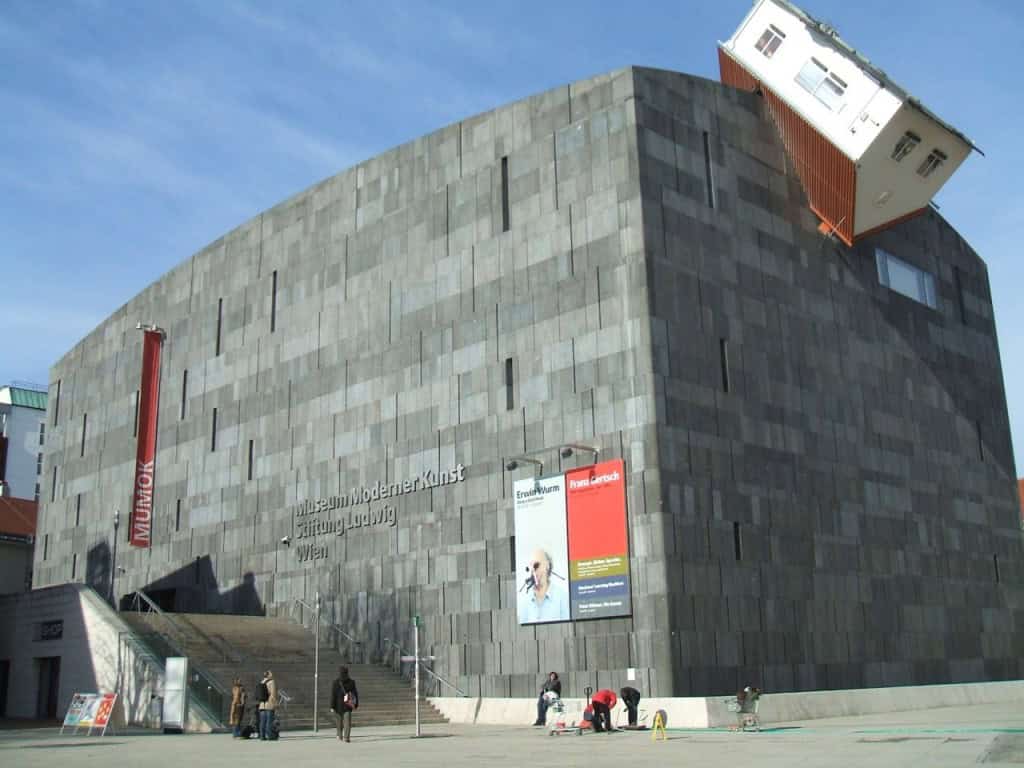 The Hole House, Texas, USA
The Texas bizzare "Hole House" as it became known was in existence for only a few months in 2005. It turns out that in the spring of 2005 two houses slated for demolition were turned into a limited time art project that came to be known…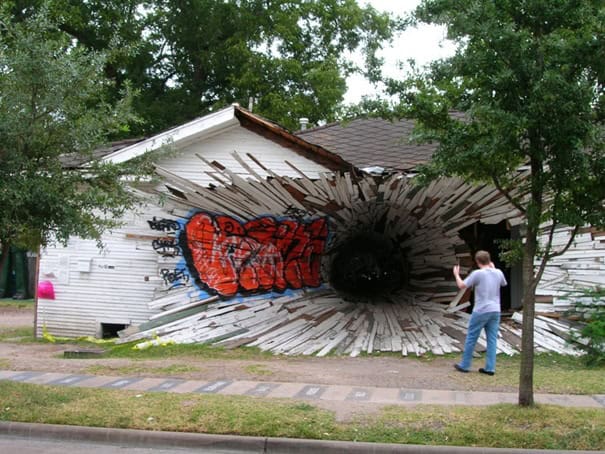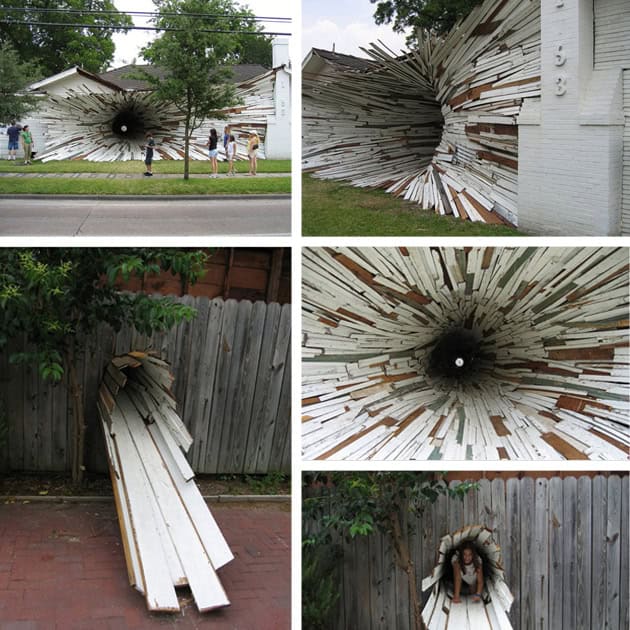 Ufo Houses, Sanjhih, Taiwan
The UFO houses were constructed beginning in 1978. They were intended as a vacation resort in a part of the northern coast adjacent to Tamsui, and were marketed towards U.S. military officers coming from their East Asian postings. However, the project was abandoned in 1980 due to investment losses and several car accident deaths during construction, which is said to have been caused by the unfortuitous act of bisecting the Chinese dragon sculpture located near the resort gates for widening the road to the buildings.
Photography source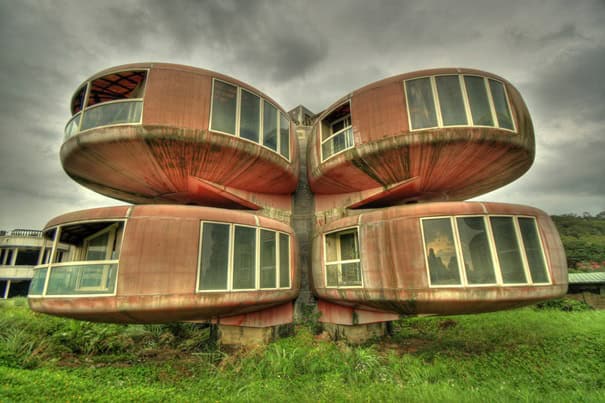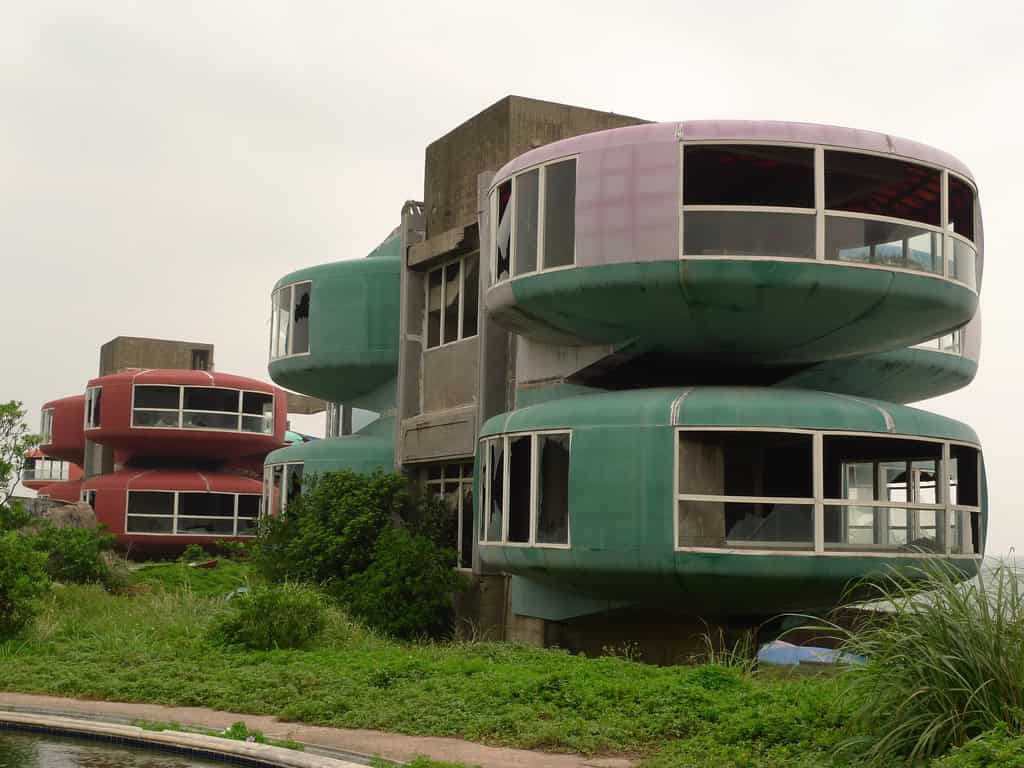 Dancing House, Prague, Czech Republic
The Dancing House or Ginger & Fred is the nickname given to the Nationale-Nederlanden building in Prague, Czech Republic at Rašínovo nábřeží (Rašín's riverbank). It was designed by Croatian – Czech architect Vlado Milunić in co-operation with renowned Canadian – American architect Frank Gehry on a vacant riverfront plot. The building was designed in 1992 and completed in 1996.
The very non-traditional design was controversial at the time because the house stands out among the Baroque, Gothic and Art Nouveau buildings for which Prague is famous and it doesn't accord well with these architectural styles.
Photography source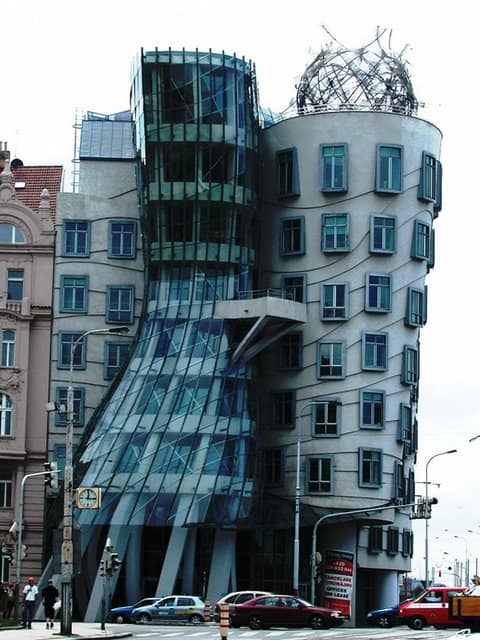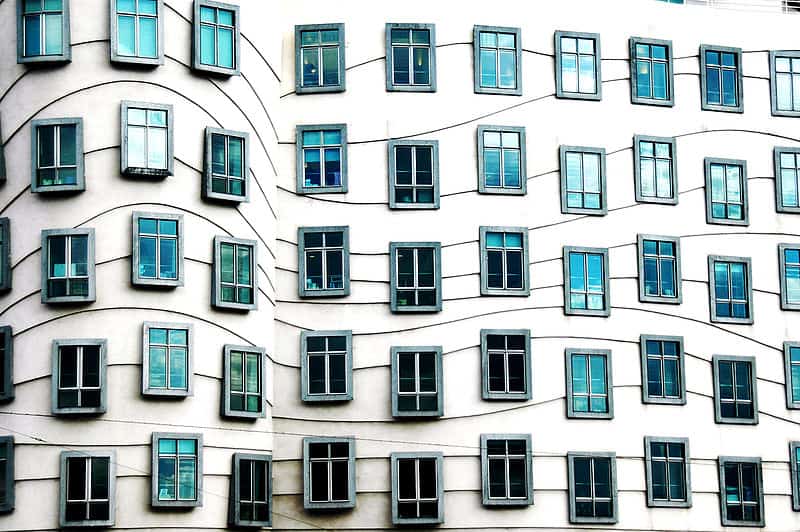 Chapel of the Holy Cross, Sedona, Arizona
The Chapel of the Holy Cross is a Roman Catholic chapel built into the mesas of Sedona, Arizona, which was inspired and commissioned by sculptor Marguerite Brunswig Staude. Richard Hein was chosen as project architect, and the design was executed by architect August K. Strotz, both from the firm of Anshen & Allen.
The American Institute of Architects gave the Chapel its Award of Honor in 1957. In the sculptor's words, "Though Catholic in faith, as a work of art the Chapel has a universal appeal. Its doors will ever be open to one and all, regardless of creed, that God may come to life in the souls of all men and be a living reality." In 2007, Arizonans voted the Chapel to be one of the Seven Man-Made Wonders of Arizona, and it is also the site of one of the so-called Sedona vortices. The Chapel is one of the main tourist attractions in the Sedona area. It is open from 9am to 5pm daily and closed Thanksgiving, Christmas, Good Friday and Easter.
Photography source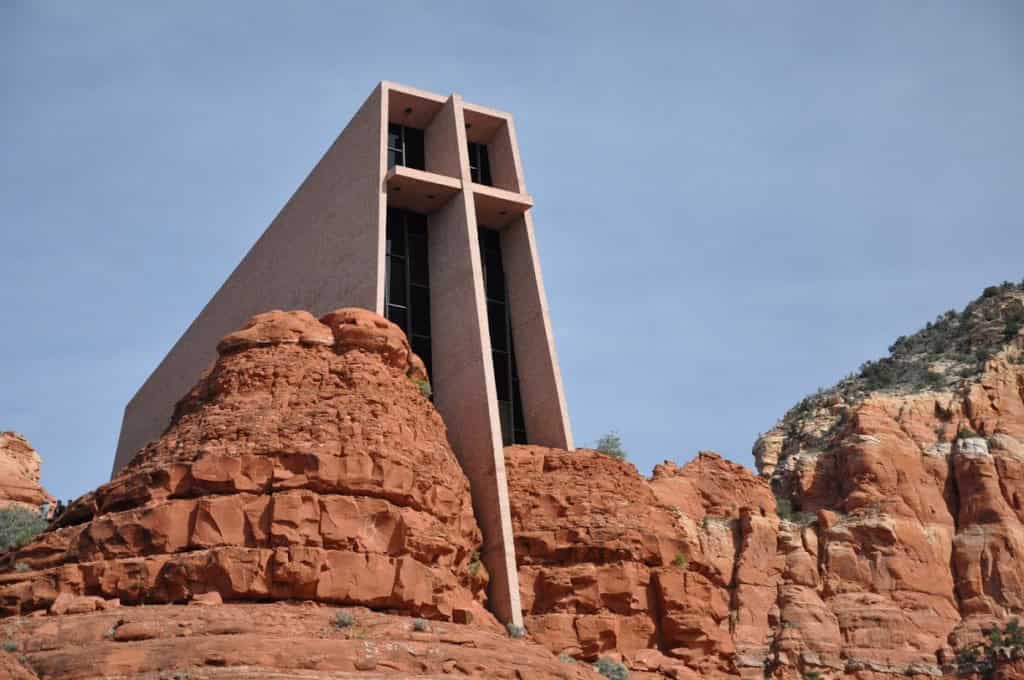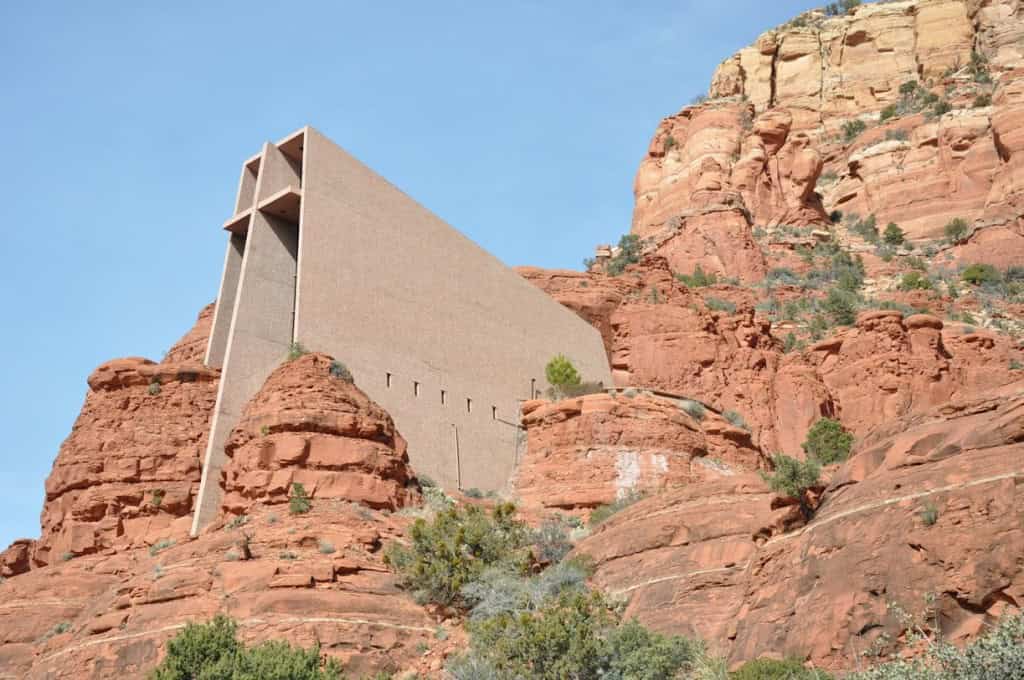 Cubic Houses , Rotterdam, Netherlands
Kubuswoningen, or cube houses, are a set of innovative houses built in Rotterdam and Helmond in The Netherlands, designed by architect Piet Blom and based on the concept of "living as an urban roof": high density housing with sufficient space on the ground level. Blom tilted the cube of a conventional house 45 degrees, and rested it upon a hexagon-shaped pylon. His design represents a village within a city, where each house represents a tree, and all the houses together, a forest
Three test versions were first constructed in 1974, and in 1977 18 houses were constructed in Helmond. The many houses required for a "woonwoud" (English: living woods) were never realized. The houses in Rotterdam were designed in 1977 in a plan of 55, of which 39 were built. The cube houses in Helmond surrounded a theater, Theater 't Speelhuis, which was destroyed by a large fire on 29 December 2011.
Photography source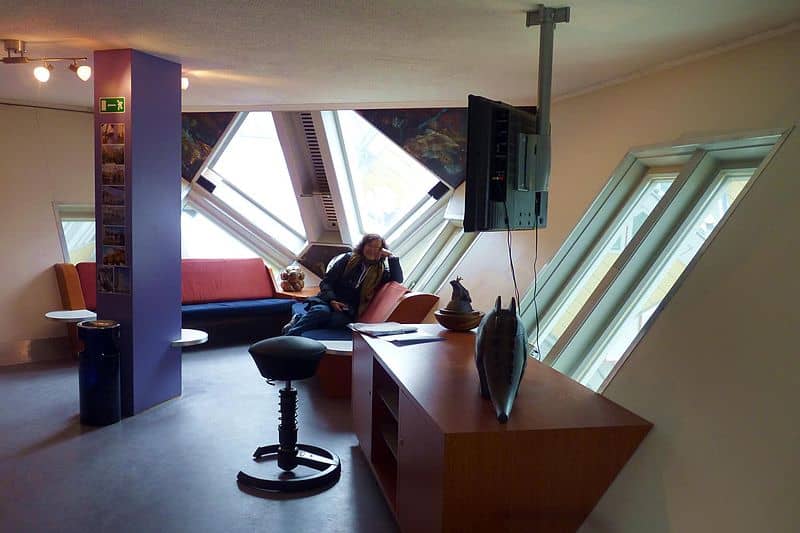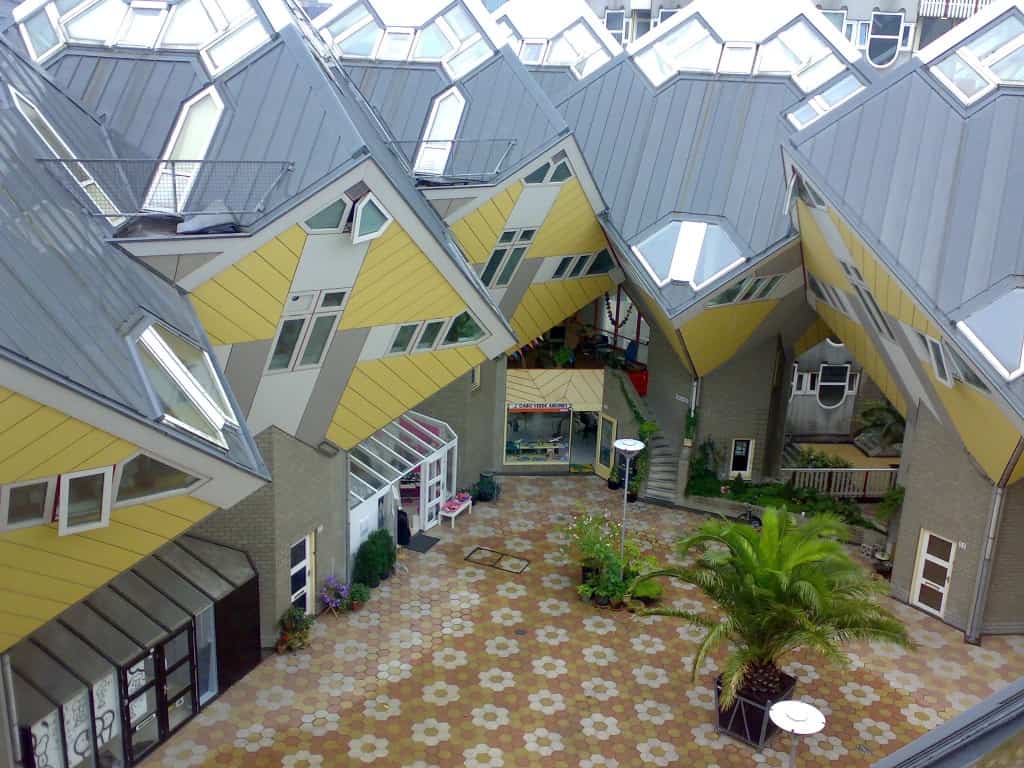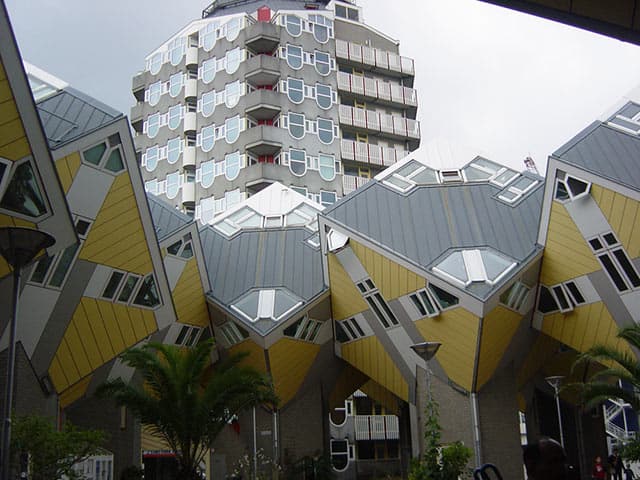 Wonderworks, USA
WonderWorks is a family attraction focused on science exhibits with four locations in the United States. Each WonderWorks location features over 100 interactive exhibits covering space, physics, math, presented in a fun way.
Educational programs are also available at all locations and some locations also offer a dinner magic show. The attraction is housed in a themed building designed to look as it it were picked up by severe weather and dropped upside down on an existing building.
Photography source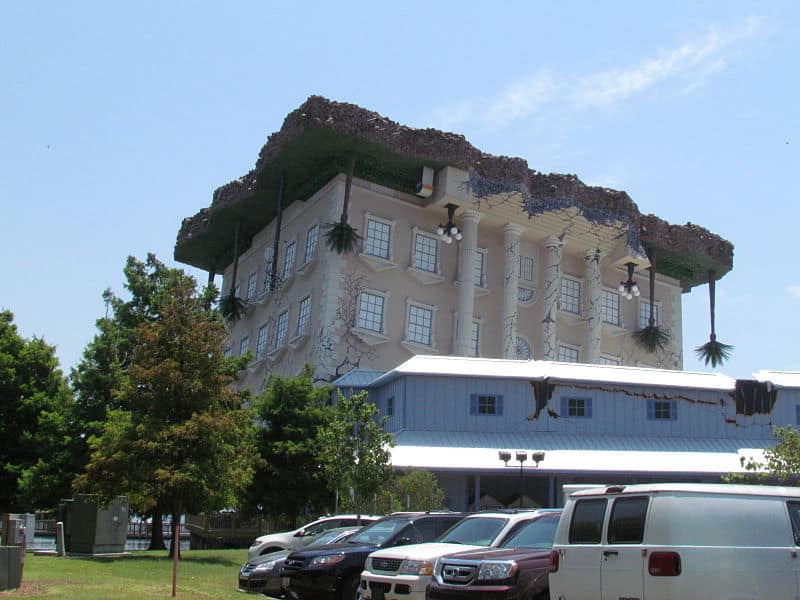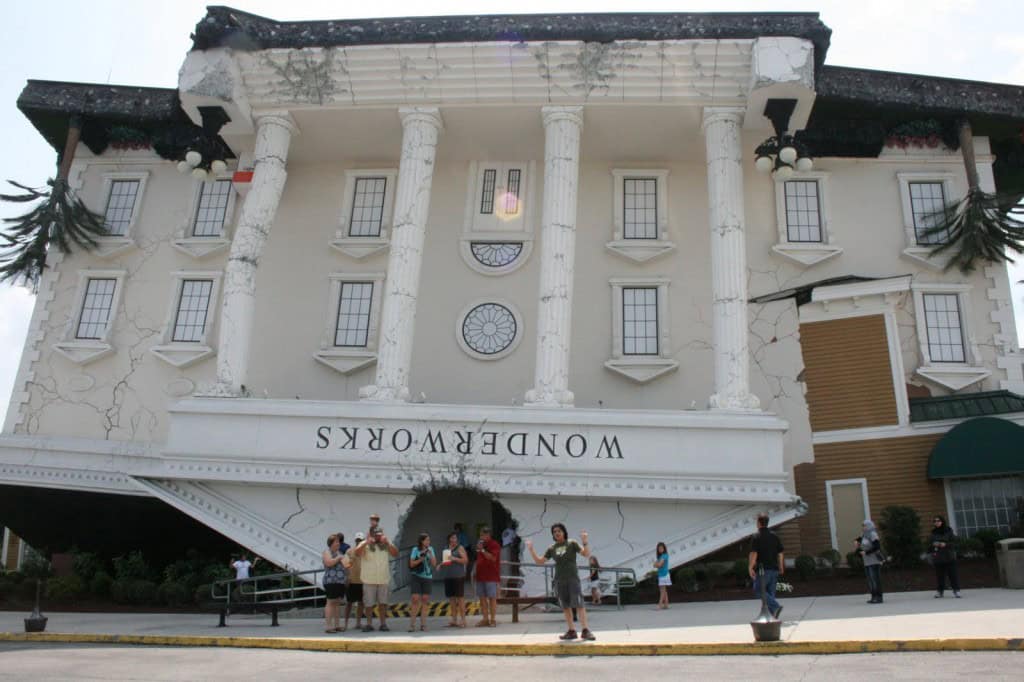 Basket Building, Ohio, USA
Basket-making started with Dave's father J.W. Longaberger in 1919 when he took an apprenticeship with The Dresden Basket Factory. Eventually J.W. came to love and perfect the art of basket making. Even when The Dresden Basket Factory closed as a result of The Great Depression, he still made baskets on the weekends. He and his wife Bonnie Jean Longaberger (Gist) eventually raised enough money to purchase the closed basket factory and start a business of their own.
Photography source