It's no surprise that the West Coast is always coming up with new and innovative ways to display the indoor-outdoor living spaces. So why not get inspired and give these trendy, unique, and creative looks a try?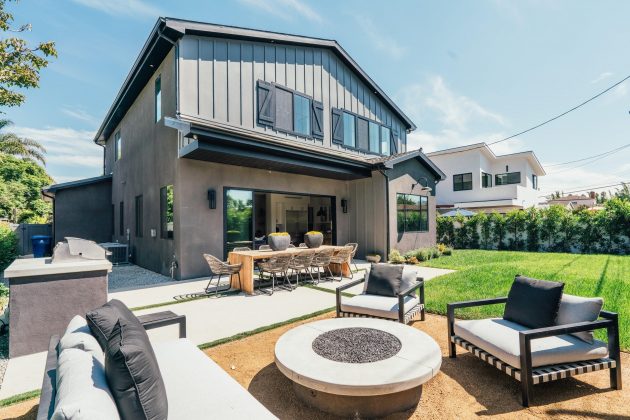 1.Experienced-Based Spaces
Outdoor spaces are being redefined in 2020 to be utilized for more than just a conversational space. By creating experienced-based spaces, the outdoor area can be reimagined and used for future parties, play dates, and other fun outdoor activities. You can make these spaces come to life by envisioning what kind of mood you want your guests to feel in your space. From there, create a vibe that will invite your family and guests outdoors!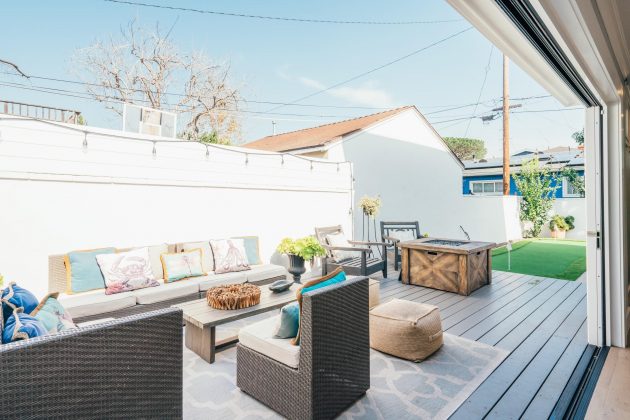 2.Natural Elements
Seamless natural elements that are incorporated into the space will help people feel more connected to the environment. For indoor-outdoor spaces, this means incorporating natural elements with constructed elements. Like a plant wall, garden bed, native plants, water features, rain chains, or pops of bright colors.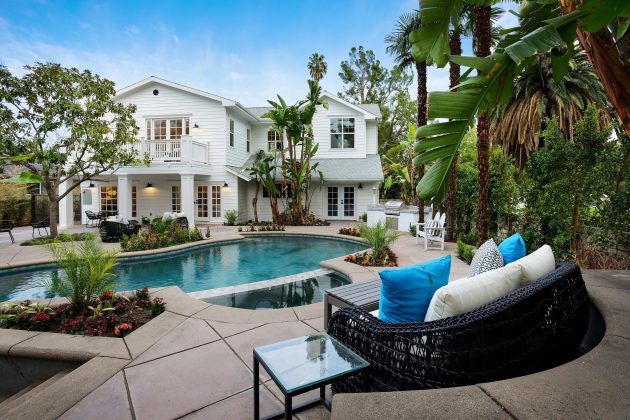 3.Sleek and Modern
Though it appears to be the opposite of incorporating natural design elements, modern, sleek pieces can lend themselves to a nature-filled atmosphere by focusing on minimalism. For example; modern furnishings often come in modular pieces that can easily be moved around to create cohesive design alongside the natural elements.
Many times you'll likely find these simple outdoor layouts using elements such as steel, concrete, glass, and wood that help blend in with nature even while standing out with a contemporary appeal.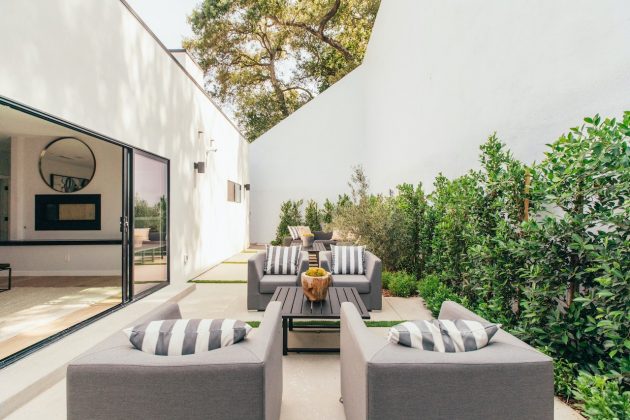 4.Tile on Tile
There's a common misconception that indoor-outdoor spaces have to be literally inside and outside, which isn't true. When done right, inside spaces can have the feeling of natural elements by incorporating tile on tile or warm colors that give off a very natural feel, bringing the outside, inside.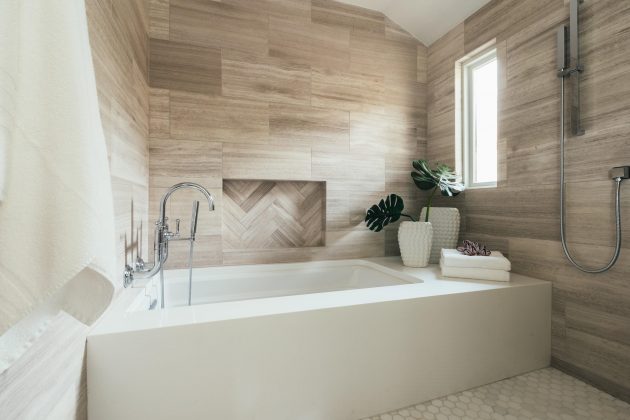 5.Decorative Flooring Taken Outside
Flooring is often overlooked when working on your outdoor design. Most homeowners fall back on concrete flooring as it seems to be the easier option, but decorative flooring is quickly becoming a trend, especially outdoors on pool decks and patios, as there are so many different ways to complete a cohesive and trendy look and feel, merging the indoor and outdoor floor for a more seamless look.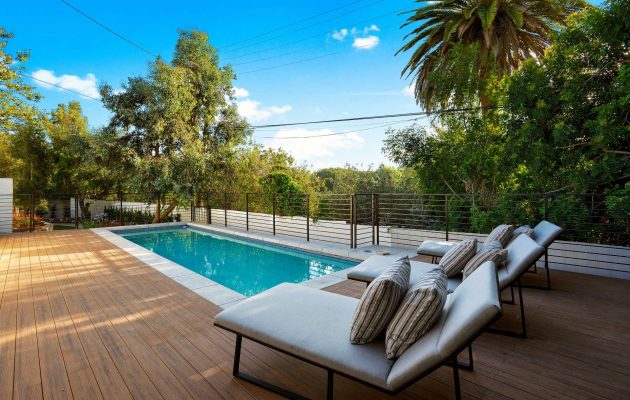 6.Aluminum or Glass Railings
Along with creating a sleek design and modern look, comes the deck and/or stair railing. The railing is a crucial element of your indoor/outdoor spaces overall design and how you use it is of utmost importance. When trying to create the illusion of the indoors being out or vice versa, you want clean and simple, an option that doesn't distract or obstruct the surrounding beauty. Another tip is to use the same railing on the inside staircase, as you would on the deck railing like we did here. It really blends the two spaces and makes for a more cohesive indoor/outdoor experience.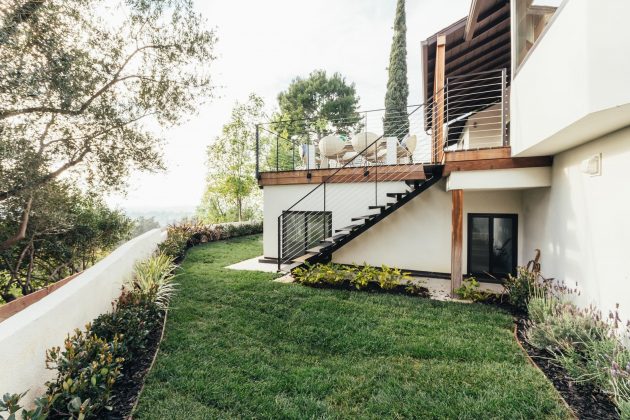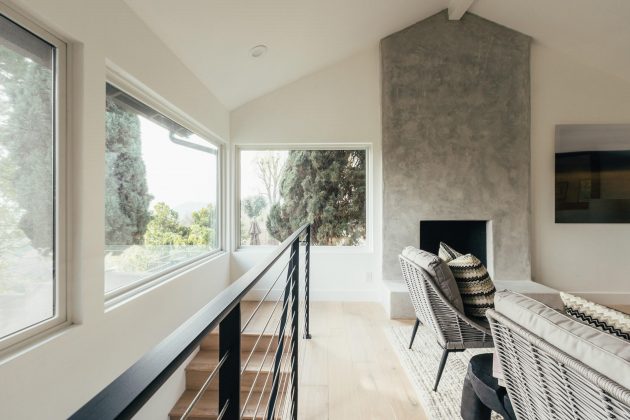 7.Combine the Spaces
We believe making your outdoor space feel like an extension of your living quarters is a trend that should have been a trend a long time ago!
There are various ways to seamlessly make the outside space feel more like the inside. String lights or chandeliers to create the illusion of a ceiling and to add in ambient lighting, take advantage of pocketing patio doors, and use simple elements like rugs and accessories to create a sense of an outdoor "room."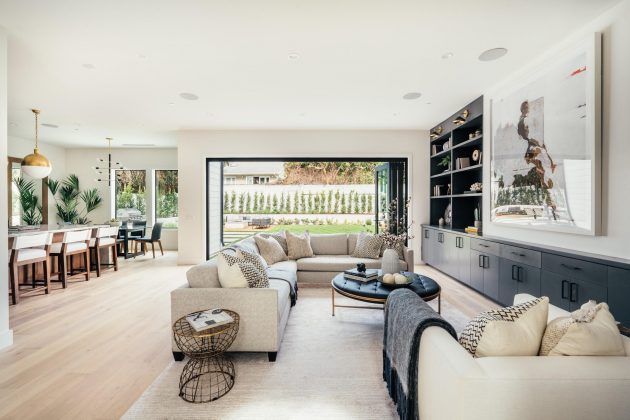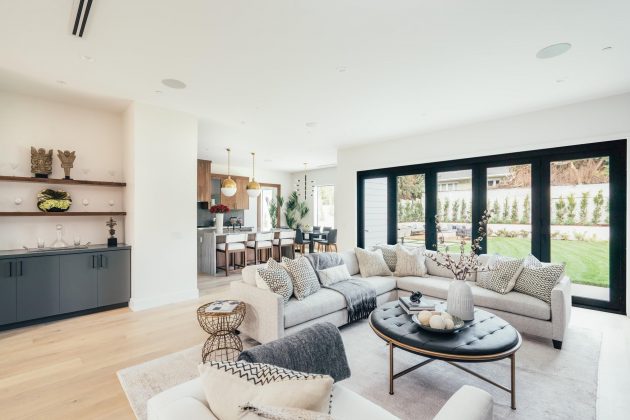 8.Multifunctional Spaces
We totally get that not everyone has a giant sprawling yard filled with green space or even a large entertaining space inside their home. That's why we recommend utilizing whatever space you do have, as you aren't only limited to the backyard and living room. For example, take a look at this more unconventional option for an indoor-outdoor living space- off of the master bedroom. It's the only area we could find that made sense in the house to add this vibe in, and we love the elevated feel it gives off.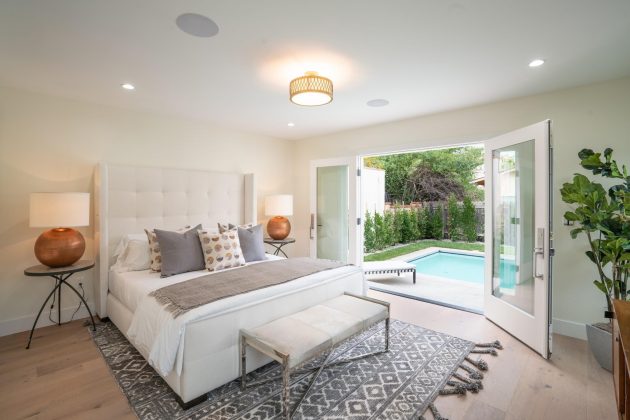 9.Embracing Small Spaces
It's incredibly easy to overlook the small spaces in your home, however, it's time to embrace them, instead! Not only will this give off a cozy and intimate vibe, but also, there are countless possibilities to be creative! You can turn these small areas into a garden, social sitting area, reading nook, yoga or fitness space, or even a grill and fire pit!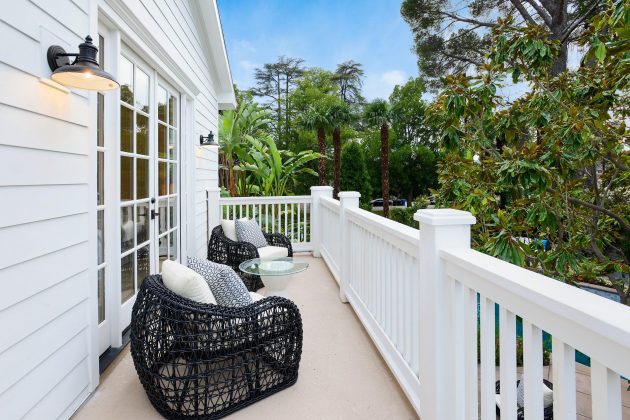 10.Elegant Fire Pits
Long gone are the days of throwing sticks of wood on a rock-made fire pit in the backyard, for the most part. Now you can bring the look of your beautiful, indoor fireplace, outside. Fire Pits have a way of bringing people together and making memories. We recommend investing in furniture with great cushions to encourage people to stay outside longer. It also never hurts to install a fridge so you have everything you need at all times!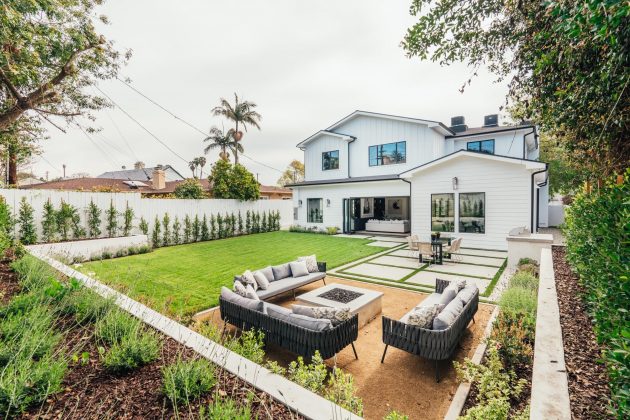 Challenge Yourself
We encourage you to bring some of the West Coast into your home, no matter where you are located! After all, there are so many unique variations to indoor-outdoor spaces, the creative possibilities are endless! And the good news is, it doesn't have to break the bank for your interior design budget either! Remember that even in an indoor-outdoor space, you can still let your personality shine through and make it your own, and make it comfortable year-round, whether in hot or cold climates.